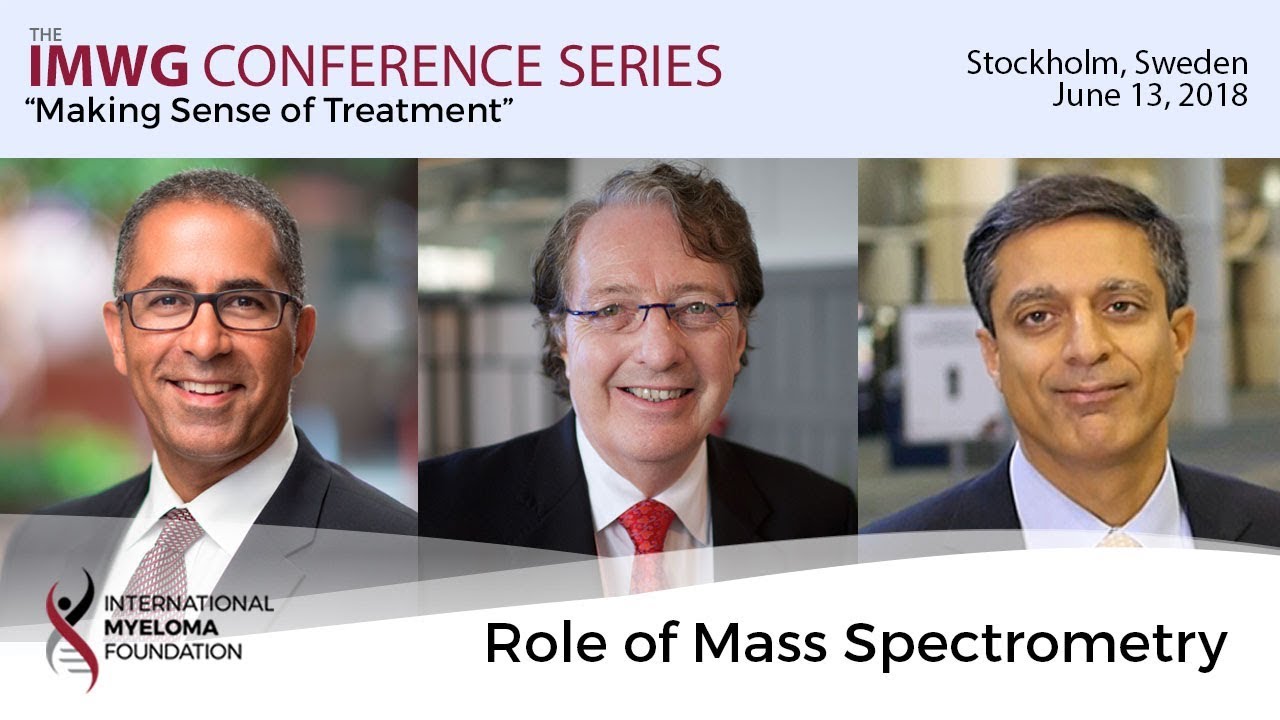 Role of Mass Spectrometry
IMWG Conference Series: Stockholm 2018
click on the image above to watch the webcast
(to view the webcast in fullscreen, click on the bottom right square icon underneath the YouTube logo)
In this video, IMF Chairman Brian G.M. Durie moderates a lively discussion about mass spectrometry with Dr. Joseph Mikhael (IMF Chief Medical Officer) and Dr. Sagar Lonial (Emory University, Atlanta).  
This video is the first in a six-part series that focuses on making sense of multiple myeloma treatment based upon the newly obtained input from three leading research conferences: the American Society of Clinical Oncology (ASCO) 2018 annual meeting, the International Myeloma Working Group (IMWG) 2018 Summit, and the European Hematology Association annual meeting, which all took place during the first two weeks of June 2018.
Dr. Durie opens the discussion by answering the question, "What is mass spectrometry?" It is spectrometry based on the mass or weight of the proteins. Based on the weight of monoclonal proteins, e.g. lambda or kappa, their mass can be distinguished in a very specific way – in a number of daltons, which is the expression of the weight.
Using a MASS-FIX workflow lab, it will be possible to use an automated MALDI machine (rather than immunofixation). The MALDI machine can handle samples and deliver a read-out that will show the presence or absence of monoclonal proteins. The lab promises to be more efficient and reliable. This workflow lab will affect how myeloma patients are diagnosed and continually monitored, as well as allow for better assessment of patients' responses to treatments. In summary, Dr. Durie points out that this lab will allow for
A more sensitive test for M-component measurement
A practical commercial method
Identification of monoclonal antibodies used for therapy
A shift in diagnostic/response criteria
Dr. Durie then asks his colleagues, "How do you view the impact of this mass spectrometry method?"
Dr. Mikhael responds that today, immunofixation test results often differ from lab-to-lab for some patients, and thereby affect the accuracy of staging a patient's myeloma and his or her response to treatment.
Dr. Mikhael finds that the MASS-FIX labs will benefit myeloma patients by allowing for
Better assessment of disease
Better detection of very small amounts of disease in case of relapse
More efficient delivery of lab results, after the labs get a chance to implement this type of testing
Dr. Durie clarifies that patients will see the rollout of MASS-FIX workflow labs over the course of the next two years where it will be seen as an experimental test before full commercial implementation.
Next, Dr. Sagar Lonial gives his opinion on the impact of MASS-FIX workflow labs. He points to "consistency and convenience" are two obvious benefits of mass spectrometry. He also looks forward to be able to know within a Dalton where a protein is. For a future research perspective, Dr. Lonial sees opportunity to better understand the biology of evolution of MGUS.
Dr. Mikhael feels that screening studies, such as iStopMM, will use mass spectrometry to allow for researchers to better understand the biology of the disease and be able to detect myeloma at lower levels. Dr. Mikhael comments that the incidence of MGUS might increase through this more precise detection method.
He also looks forward to possible opportunities for earlier intervention.
Dr. Durie agrees that it will be interesting to use mass spectrometry in Iceland to study
how many more cases of MGUS might be detected
the age distribution of these cases (when the M-spikes occur)
the etiology of M-spikes, such as environmental, social, or genetic patterns
Dr. Sagar Lonial continues that one of the challenges in today's method of testing (immunofixation), is that it is not as precise, and misses some types of myeloma. Dr. Mikhael agrees that if myeloma is able to be identified more accurately, it could open the door for more patients to become eligible for clinical trials.
Other Topics:
---
We thank supporters of this program:
AMGEN Oncology, Celgene Corporation, and Takeda Oncology
Previous Post
How does minimal residual disease (MRD) testing affect treatment decisions?
Next Post
How does a myeloma patient's lifestyle impact overall health?