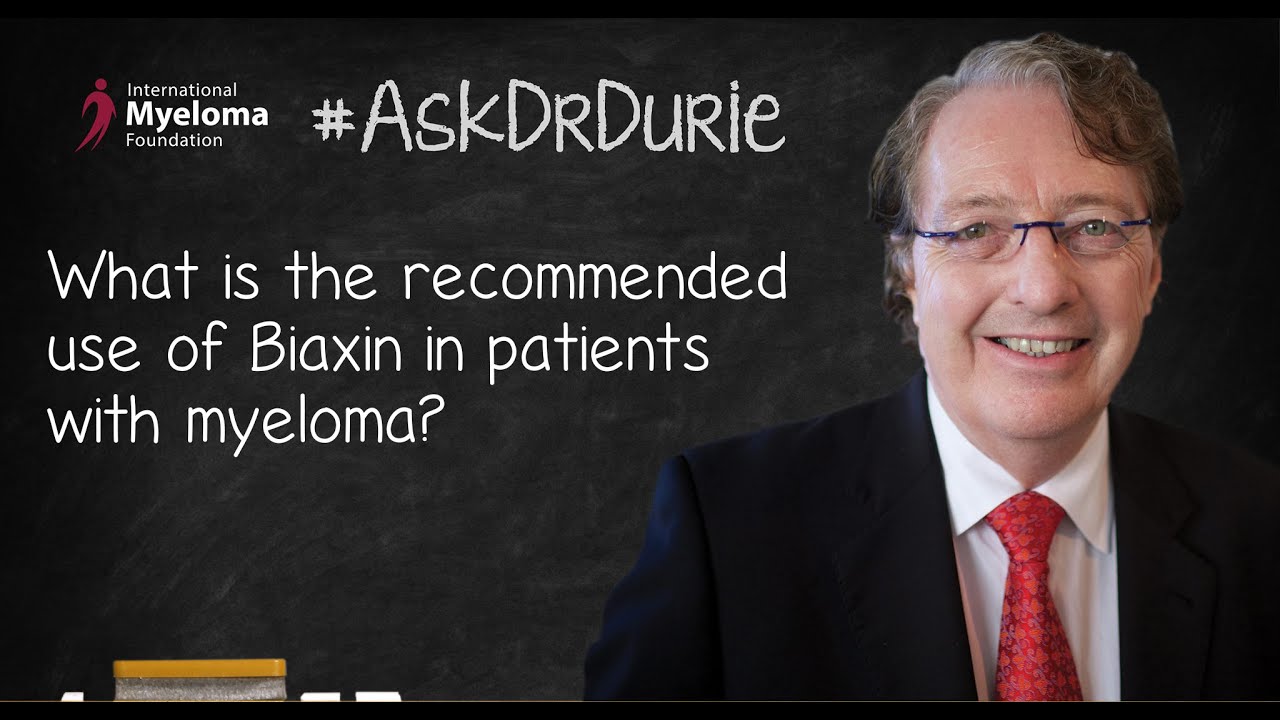 What is the recommended use of Biaxin in patients with myeloma?
In this episode of the IMF's weekly web series, #AskDrDurie, IMF Chairman Dr. Brian G.M. Durie discusses his recommendation for use of the antibiotic Biaxin for patients with myeloma.
This week's #AskDrDurie is about the antibiotic Biaxin. The patient is anxious to know, 'What is the recommendation for the use of Biaxin in patients with myeloma?'
Biaxin is an antibiotic, which is also called clarithromycin, and is a type of antibiotic that many myeloma patients may have in fact used because it's often used for upper respiratory infections, lung infections, and the like, which are common in myeloma patients. And this is a very effective antibiotic and frequently used.
But the additional point is that over time, it's been shown that Biaxin can improve or enhance the activity of other drugs in combination used to treat myeloma. And the main group who has investigated this synergy, this improvement in outcome in using Biaxin along with myeloma therapy is the group with Dr. Ruben [?] and the team at Cornell Medical in New York. And so, they have studied three types of combinations where they have combined Biaxin with thalidomide and dex, which they did some years ago, and this produced a regimen which was called BLTD. These regimens, they love to come up with acronyms; this was a good one, very popular—BLTD. They also used a combination with Revlimid® called the BIRD regiment—BI--Biaxin, Revlimid, and dex. And then more recently they have used a combination of Biaxin along with pomalidomide and dex.
Each one of those regimens has been well tolerated and has actually produced extremely good results. A matched comparison was conducted along with the Mayo Clinic team to show that Biaxin plus Revlimid and dex produce responses and survival outcomes that appear to be superior to using Revlimid and dex in the Mayo Clinic and ECOG [?] trials. And so, although there has not been a formal randomized study with or without Biaxin in different arms of trial, this matched comparison did indicate that there was true value in adding this in in terms of both response and overall outcomes.
And so, this is interesting for patients to be aware of. Biaxin can be added in; it's very simple, well-tolerated, and can be quite useful when it's difficult to find a therapy that's working well, and can also be used to enhance outcomes with these IMiD combinations. And so, this is a very important piece of information about a useful therapy that is also providing some antibiotic benefit along the way.
---
Dr. Brian G.M. Durie serves as Chairman of the International Myeloma Foundation and serves on its Scientific Advisory Board. Additionally, he is Chairman of the IMF's International Myeloma Working Group, a consortium of nearly 200 myeloma experts from around the world. Dr. Durie also leads the IMF's Black Swan Research Initiative®.
Previous Post
What is the typical speed of improvement in the Freelite and protein levels with myeloma treatment?
Next Post
Bringing Next Generation Flow (NGF) Cytometry to Japan