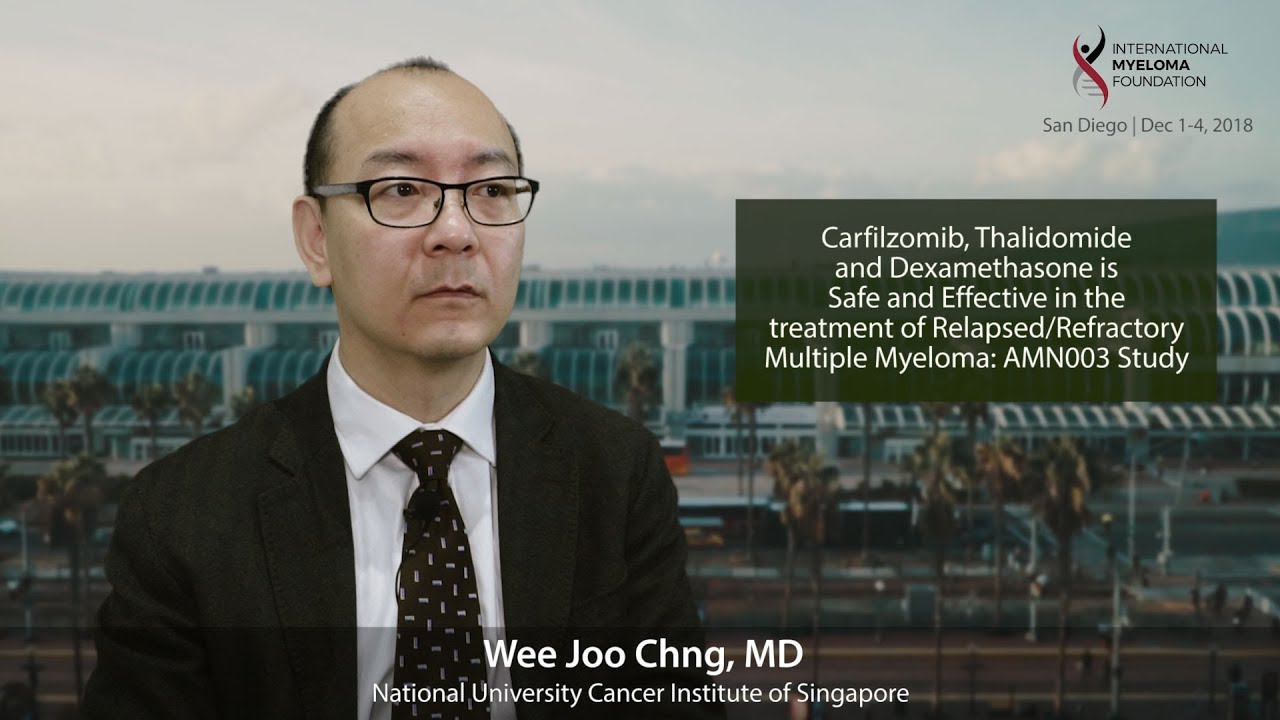 Preliminary Outcome from the Open Label Phase II ALLGMM018/AMN003 Study
Carfilzomib lenalidomide and dexamethasone (KRd) is FDA-approved for the treatment relapsed/refractory multiple myeloma (RRMM) based on data from the ASPIRE study (Stewart K et al. NEJM 2015). Thalidomide, a first generation immunomodulatory drug (IMiD) is less costly than lenalidomide and is synergistic in combination with proteasome inhibitors in the treatment of MM. ALLG MM018/ AMN003 is an open label phase II study of carfilzomib thalidomide and dexamethasone (KTd) for patients with RRMM. The primary end point is progression free survival (PFS). Secondary endpoints include overall response rate (ORR), duration of response (DOR), safety and health related quality of life.
Conclusion:
This preliminary analysis demonstrates that the KTd combination is a tolerable regimen for patients with RRMM with a safety profile in line with previous reports for each of carfilzomib and thalidomide. Initial response rates appear very promising and durable with responses up to 13.7 months thus far in some patients. Patient accrual is ongoing.
Authors:
Hang Quach, MD, FRACP, FRCPA, MBBS, Simon J. Harrison, MBBS, MRCP, FRCPath, FRACP, PhD, Slavisa Ninkovic, MBBS FRACP FRCPA, Jane Estell, MBBS FRACP, Noemi Horvath, MBBS FRACP FRCPA, Nick Murphy, MBBS FRACP FRCPA, Richard Eek, MBCHB, Bradley Augustson, MBBS FRACP FRCPA, Philip Campbell, MBBS, FRACP, FRCPA, Rajeev Rajagopal, Akash Kalro, MD, Robyn Hemme, Belinda Butcher, BSc(Hons) MBiostat PhD CMPP AStat, Tracey Gerber, Peter Mollee, FRACP, FRCPA, MBBS, MMSc, Brian GM Durie, MD and Wee-Joo Chng, MBBS, PhD, FRCPath, FRCP
---
ABOUT WEE JOO CHNG, MD
Dr. Wee Joo Chng obtained his medical degree from the University of Leeds, UK, and did his internal medicine residency in the United Kingdom. Fellowship training in hematology was completed in Singapore before he obtained an A*STAR international fellowship in 2004 to go to the Mayo Clinic for a research fellowship in multiple myeloma genetics. His current research is very translational and involves the use of a high-resolution global genomic technique to understand biology, identify drug targets, understand drug resistance and improve disease prognosis in hematological malignancies, with the ultimate aim of improving patient's outcome and personalizing treatment. Visit Dr. Wee Joo Chng's full biography.
Previous Post
Top Multiple Myeloma Research Presented at ASH 2018
Next Post
Seeking AL Amyloidosis Very Early: The SAVE Trial