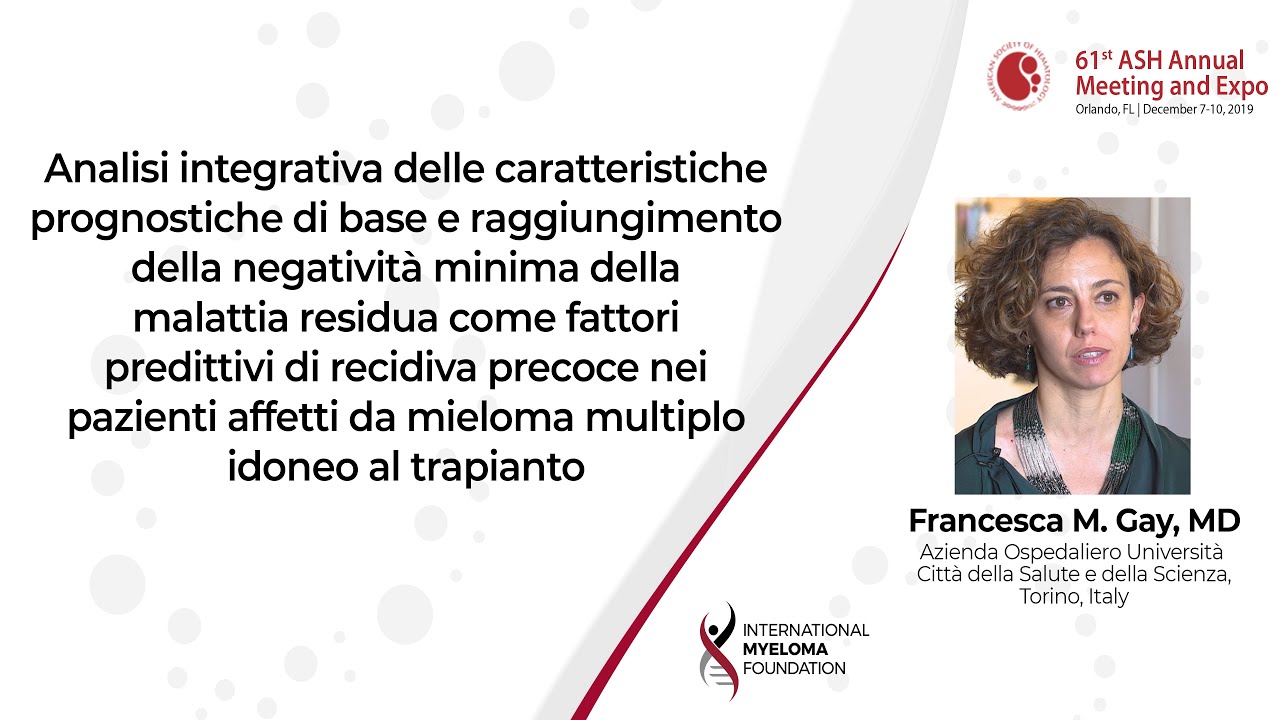 Negatività minima della malattia residua come fattori predittivi di recidiva precoce nei pazienti affetti da mieloma multiplo idoneo al trapianto
Analisi integrativa delle caratteristiche prognostiche di base e raggiungimento della negatività minima della malattia residua come fattori predittivi di recidiva precoce nei pazienti affetti da mieloma multiplo idoneo al trapianto
Background: High rates of response and minimal residual disease (MRD) negativity have been reported with the use of novel treatment options in multiple myeloma (MM) patients (pts) eligible for autologous stem-cell transplantation (ASCT). Despite very promising results, there is still a proportion of pts who do not respond to therapy or relapse early. This represents an unmet medical need. 
Conclusion: In the context of novel highly effective treatment approaches, creatinine levels, PCbm and, in particular, presence of del17p reduced the probability of achieving MRD negativity. Multivariate analysis combining baseline features and MRD negativity highlights how comprehensive baseline evaluation including baseline R-ISS (or in particular high LDH levels, which may have an independent role) and circulating PC can help to identify patients at high risk of early relapse. However, the achievement of MRD negativity is the factor that may reduce the risk of early relapse. 
---
ABOUT FRANCESCA GAY, MD, PhD
FRANCESCA GAY, MD, PhD Dr. Francesca Gay is a hematologist at the Myeloma Unit, Division of Hematology, Azienda Ospedaliero Università Città della Salute e della Scienza, in Torino, Italy. She completed her medical degree in 2004 and her fellowship in hematology in 2008 at the University of Torino, Italy. She obtained her PhD in Medicine and Experimental Therapy in 2014. She focuses on multiple myeloma and associated disorders, as well as helps the design and development of myeloma clinical trials. Her papers have been published in peer-reviewed journals, and she has been a reviewer for medical journals including Leukemia and Haematologica.
Previous Post
Minimal Residual Disease Negativity As Predictors of Early Relapse in Transplant-Eligible Multiple Myeloma Patients​​​​​​​
Next Post
Impact of Daratumumab Monotherapy on Bone Parameters in Relapsed Refractory Multiple Myeloma Pts