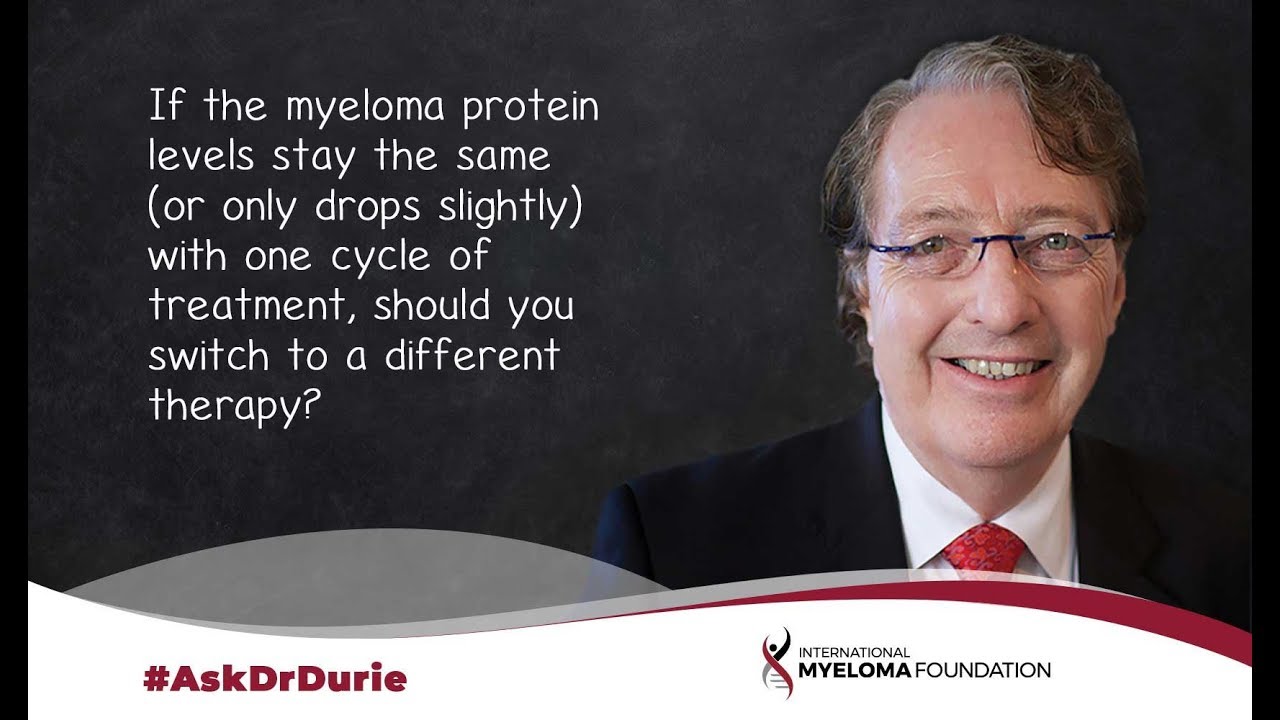 If the myeloma protein levels stay the same (or only drops slightly) with one cycle of treatment, should you switch to a different therapy?
In this weeks' video, Dr. Durie discusses what effect a new treatment can have on your myeloma protein levels, and when it can be time to consider changing your treatment regimen with your doctor.
BOTTOM LINE:
Carefully discuss the results of your myeloma protein levels during the first three cycles with your doctor. If protein levels do not improve after two or three cycles, review the next best treatment options with your doctor.  
If you have a question that you'd like to suggest for a future episode of Ask Dr. Durie, please submit it to [email protected]. 
To reach the IMF InfoLine Coordinators, please call 800.452.2873 or email them at [email protected].  
Transcript:
This weeks' 'Ask Dr. Durie' is actually a pretty common question and concern which comes from a patient who is worried about the fact that with one cycle of combination chemotherapy or therapy involving several drugs that myeloma protein didn't come down or just came down very very slightly. And so, this is a very common concern where obviously we would be wanting to see the myeloma protein coming down right away with even one round of treatment, and the protein would steadily be coming down with each further cycle.
However, as you start treatment for myeloma, it's important to keep in mind that the protein level is going up rapidly, frequently and so, as it turns out, stabilizing or staying at about the same level does frequently represent an improvement. Because you see, without the treatment the protein level would probably have continued to go up, maybe by one, two, three grams. And so, stabilizing can often be a very key first step towards ongoing and further improvement. So, key point: Do not panic. This is something which does happen, and it's not sufficient to say, "Oh gosh, the treatment is not working."
The ongoing therapy, of course, we would be expecting the myeloma protein to come down after that first cycle. And so, improvement in the second and third cycles. And so, without panicking, if there were not an improvement after two, three cycles in particular then we would want to review and decide what is best.
So, the BOTTOM LINE, very very important discuss carefully the results of your myeloma protein levels and other tests, during that first one, two, three cycles. And then, just decide together what is the best strategy. One point to emphasize is that, if you get a protein test result that comes back and it seems a little bit strange, maybe completely out of line, well sometimes the lab can make a mistake. And so, it's important to be ready to repeat a test, if necessary, if it seems like a crazy result.  But if you do have confirmation that numbers are not coming down, that is, without panicking, a time to carefully sit down and review your options and see what a best next step could be. With the good news being we do, fortunately, have quite a number of options and chances are that there can be a good and safe and effective alternate option.
---
Dr. Brian G.M. Durie serves as Chairman of the International Myeloma Foundation and serves on its Scientific Advisory Board. Additionally, he is Chairman of the IMF's International Myeloma Working Group, a consortium of nearly 200 myeloma experts from around the world. Dr. Durie also leads the IMF's Black Swan Research Initiative®.