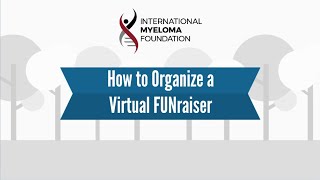 How To Organize a Virtual FUNraiser
Meet Tim. Tim wants to do a virtual fundraiser for myeloma research, but he needs a hand. So he contacts the International Myeloma Foundation to help out. In this fun video, Tim learns the steps to organize a virtual fundraiser. Track Tim's fundraising journey and learn how you too can get involved to give to the myeloma community.
Previous Post
Top Myeloma Research Presented at ASCO and EHA 2020
Next Post
What are the results from the ENDURANCE trial that compares KRd to VRd in newly diagnosed myeloma patients?