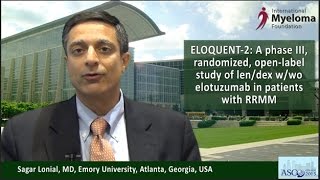 Dr. Sagar Lonial discusses the results from the ELOQUENT-2 Phase III clinical trial (ASCO 2015)
Post date
October 13, 2015
Dr. Sagar Lonial
Emory University
Atlanta, GA, USA
Background: Elo, a monoclonal antibody (mAb) targeting Signaling Lymphocytic Activation Molecule F7 (SLAMF7), kills myeloma cells with minimal effect on normal tissue. Elo showed encouraging activity with Len/dex (Ld) in a phase Ib/II study in pts with RRMM. This phase III study (NCT01239797) compared efficacy and safety of Elo/Len/dex (ELd) vs Ld.
Methods: Pts with RRMM, 1–3 prior therapies (not Len-refractory), were randomized 1:1 to ELd or Ld in 28-day cycles to disease progression/unacceptable toxicity: Elo (10 mg/kg intravenously) weekly cycles 1+2 then biweekly; Len (25 mg) D1–21; dex weekly (40 mg or [Elo wks] 28 mg oral + 8 mg intravenous). Response/progression was assessed by independent review committee by EBMT criteria. Primary endpoints were progression-free survival (PFS) and overall response rate (ORR). Results of an interim analysis are reported.
Results: Six hundred and forty-six pts were randomized (321 ELd, 325 Ld; median age 66; del(17p) 32%; t[4;14] 9%; refractory to last therapy 35%). Median (range) prior therapies: 2 (1–4), including bortezomib 70%, thalidomide 48%, Len 6%. At data cut-off (4 November 2014), 35% (ELd) and 21% (Ld) of pts remained on therapy; discontinuation was mainly for disease progression (42% ELd, 47% Ld). Median follow-up was 24 months; median (95% CI) PFS: ELd 19.4 (16.6, 22.2) months, Ld 14.9 (12.1, 17.2) months (HR [95% CI] 0.70 [0.57, 0.85]; p = 0.0004). 1-year PFS was 68% ELd, 57% Ld; 2-year PFS: 41% ELd, 27% Ld. PFS benefit with ELd was consistent across key subgroups. ORR (95% CI) was 79% (74, 83) ELd, 66% (60, 71) Ld (p = 0.0002). G3–4 adverse events ≥ 15% (ELd vs Ld) were neutropenia (25%, 33%); anemia (15%, 16%). Exposure-adjusted infection rate was the same in both arms (incidence rate/100 person-years of exposure, 197). Infusion reactions (IRs) occurred in 10% of pts with ELd (mostly G1–2). There were 210 deaths (94 ELd, 116 Ld).
Conclusions: A clinically relevant 30% reduction in risk of progression or death was seen with ELd vs Ld. More pts remain on ELd vs Ld and follow-up for long-term outcomes, including survival, is ongoing. IRs were manageable. Elo, a mAb with a novel immunotherapeutic mechanism of action, showed improved PFS, with minimal added toxicity in combination with Ld vs Ld alone, in pts with multiple myeloma. Clinical trial information: NCT01239797
---
ABOUT SAGAR LONIAL, MD, FACP
Dr. Sagar Lonial is Chief Medical Officer at the Winship Cancer Institute at Emory University in Atlanta. He is board certified in hematology and medical oncology. His research focus is "with combinations of novel agents as therapy for myeloma and lymphoma, particularly evaluating combinations that may result in synergistic inhibition of the PI3-K/Akt pathway." Visit Dr. Sagar Lonial's full biography.
Previous Post
Dr. Sagar Lonial discusses the results of the daratumumab monotherapy clinical trial (ASCO 2015)
Next Post
Dr. Shaji Kumar - ASCO 2015 Overview