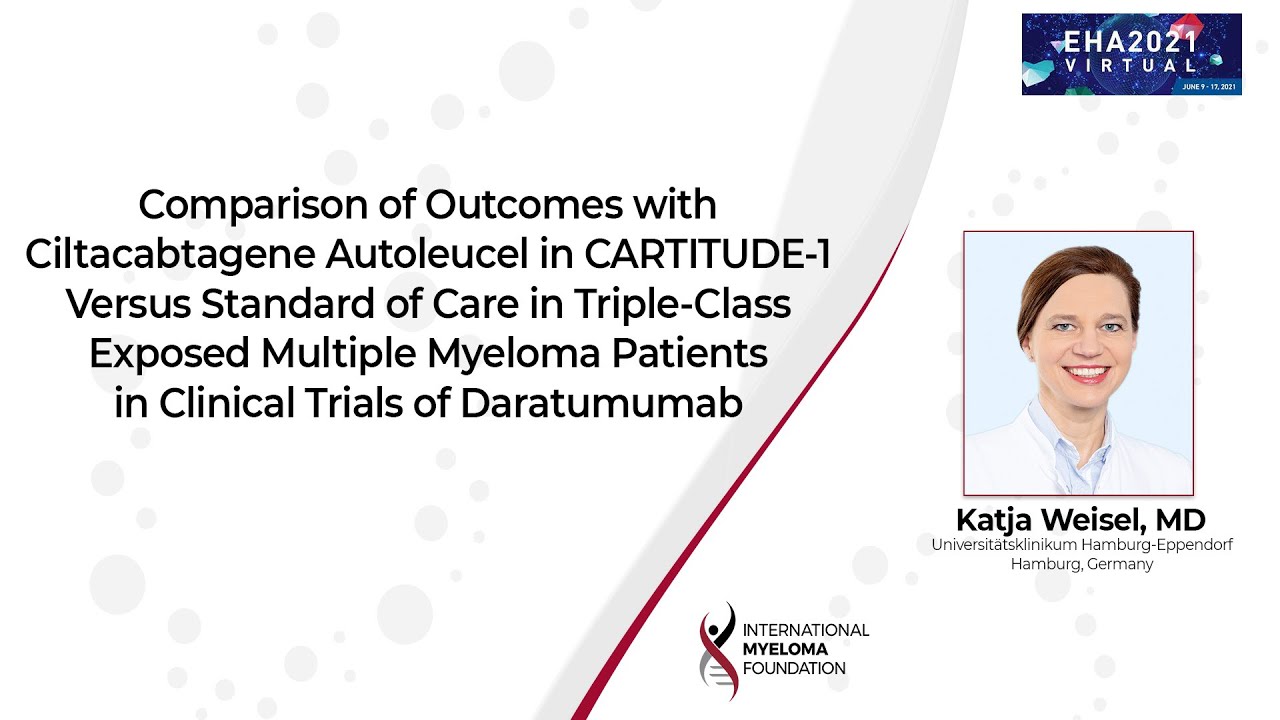 Comparison of Outcomes with Ciltacabtagene Autoleucel in CARTITUDE-1 Versus Standard of Care in Triple-Class Exposed Multiple Myeloma Patients in Clinical Trials of Daratumumab
Dr. Katja Weisel on Cilta-Cel Versus the Standard of Care in the CARTITUDE-1 Study
What is the background of the study?
Triple-class exposed relapsed/refractory multiple myeloma (RRMM) patients (ie, those exposed to a proteasome inhibitor [PI], immunomodulatory drug [IMiD], and an anti-CD38 monoclonal antibody) tend to relapse, leading to progressively worse outcomes, including shorter progression-free survival (PFS) with each subsequent relapse. CARTITUDE-1 (NCT03548207) is a single-arm, phase 1b/2 study evaluating the efficacy and safety of cilta-cel, a chimeric antigen receptor T-cell therapy with 2 B-cell maturation antigen-targeting single-domain antibodies, in heavily pretreated patients with RRMM.
In this video:
Dr. Katja Weisel (Universitätsklinikum Hamburg-Eppendorf, Hamburg, Germany) discusses how ciltacabtagene autoleucel compares to the standard of care in triple class refractory patients in the CARTITUDE-1 clinical trial.
Conclusions:
Cilta-cel shows significantly better efficacy outcomes over standard of care in patients previously treated with a PI, IMiD, and daratumumab, highlighting its potential as an effective treatment option in triple-class exposed patients with RRMM.

Previous Post
Matching Adjusted Indirect Comparison of Ciltacabtagene Autoleucel Versus Belantamab Mafodotin in Patients with Relapsed Refractory Multiple Myeloma Treated with ≥3 Lines of Prior Therapy
Next Post
Should smoldering myeloma patients start treatment?