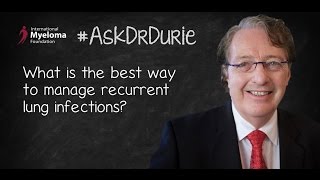 What is the best way to manage recurrent lung infections?
In this week's video, Dr. Brian Durie explains some the different causes of lung infections and how to possibly treat each kind. 
BOTTOM LINE:
​Discuss with your doctor how to treat recurrent lung infections.
IMF Chairman and Co-Founder Brian G.M. Durie, MD welcomes your questions about the latest myeloma treatments, research, controversies and quality of life issues. If you have a question you think might be of interest to the myeloma community, please send to askdrdurie@myeloma.org!

For questions of a specific personal nature, please call the IMF InfoLine coordinators at 800.452.2873 or email them at infoline@myeloma.org. 
Next Post
Ask The Experts - Boca Raton PFS 2017