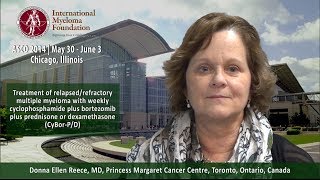 ASCO 2014: Treatment of RRMM with weekly CyBor-P/D
Donna Reece, MD
Princess Margaret Cancer Centre
Toronto, Ontario, Canada

Treatment of relapsed/refractory multiple myeloma with weekly cyclophosphamide plus bortezomib plus prednisone or dexamethasone (CyBor-P/D): Updated experience at Princess Margaret Cancer Centre (PMCC)
Abstract No: e19568
Background: We previously defined the efficacy of CyBor-P, a 28-day regimen consisting of cyclophosphamide 300 mg/m2 (days 1,8,15, 22), bortezomib 1.5 mg/m2 (days 1,8, 15) and prednisone 100 mg q 2 days in a phase I/II trial involving patients (pts) with relapsed/refractory multiple myeloma (rel/refr MM) [Reece et al, JCO 2008; 26; 4777]. Variations of this regimen have since been reported (bortezomib weekly and replacement of prednisone with dexamethasone), along with its use as first-line therapy.
Methods: We now retrospectively review our PMCC experience with CyBor-P/D in rel/refr pts who received ≥ 1 cycle of this regimen to gauge its effectiveness in the real-world setting.
Results: Between 2007 and 2013, 98 pts with rel/refr MM received CyBor-P (prednisone 50-100 mg q 2 days) or CyBor-D (dexamethasone 20-40 mg/wk). Median age was 64 yrs (36-86); median # prior regimens was 2 (1-6), including ASCT (75%), bortezomib (28%) and IMiDs (85%). Median creatinine was 94 umol/L (range 53-900). Pts received a median of 5 cycles (range 1-47). Overall response rate (ORR) was 68%, with 42% achieving ≥ VGPR; 24% had stable disease. Median PFS was 14.9 mos (95% CI 12-17.9) and OS 24.2 mos (95% CI 20.2-28.1). Reasons for discontinuation included: progression (44%), planned 2ndASCT (11%), neuropathy (5%), cytopenias (4%), other (5%). The Table shows outcomes according to prior bortezomib exposure. There were no significant outcome differences between bortezomib-naïve pts, or pts treated at first vs. > first relapse. Cytogenetic data was incomplete but 9/15 (60%) del13q and 3/6 (50%) t(4;14) pts responded.
Conclusions: 1) The ORR of 68% and PFS of 14.5 mos seen with CyBor-P/D in the real-world setting compare favorably with other 3-drug regimens; 2) CyBor-P/D is well-tolerated; 3) This regimen is effective as re-treatment in bortezomib-exposed pts. 
---
ABOUT DONNA REECE, MD, FRCPC
Dr. Donna Reece is the Director and Professor of Medicine, Program for Multiple Myeloma and Related Diseases at the University Health Network in Toronto, Canada. She is the Director of a clinical research program at Princess Margaret Cancer Centre with a focus on multiple myeloma and related diseases, particularly light chain amyloidosis. Visit Dr. Donna Reece's full biography.
Previous Post
ASCO 2014: DETERMINATION trial: A phase III multi-center study examining the timing of SCT for MM
Next Post
ASCO 2014: Overall survival results of MM-003 after adjustment for crossover