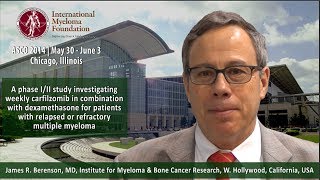 ASCO 2014: Results of CHAMPION-1 investigating weekly carfilzomib in combination with dex for R/R MM
James R. Berenson, MD
Institute for Myeloma & Bone Cancer Research
West Hollywood, California, USA

Results of the dose-escalation portion of a phase 1/2 study (CHAMPION-1) investigating weekly carfilzomib in combination with dexamethasone for patients with relapsed or refractory multiple myeloma
Abstract No: 8594
Background: Carfilzomib (CFZ) is a selective proteasome inhibitor approved in the US for the treatment of relapsed and refractory multiple myeloma (MM). This multicenter, single-arm phase 1/2 study (NCT01677858) is evaluating the safety and efficacy of once-weekly CFZ with dexamethasone (DEX).
Methods: Patients (pts) with relapsed or refractory MM who received 1−3 prior regimens were eligible. Pts received CFZ as a 30-minute IV infusion on days (D) 1, 8, and 15 of a 28-day cycle in a standard 3+3 dose-escalation scheme. All pts received CFZ at 20 mg/m2 on D1 of cycle 1; subsequent doses started at 45 mg/m2 and were escalated to 56, 70, or 88 mg/m2in successive cohorts until the maximum tolerated dose (MTD) was reached. Pts received 40 mg DEX (IV or oral) on D1, 8, 15, and 22 of cycles 1–8; DEX was omitted on D22 in cycles ≥9. Response was assessed by IMWG criteria; minimal response (MR) was assessed by EBMT criteria. The primary objective of the phase 1 portion of the study was to determine the MTD.
Results: As of 11/5/2013, 27 pts were enrolled (median age, 64 years [range, 43–84]; median prior regimens, 1 [range, 1–3]). At 88 mg/m2, 2 dose-limiting toxicities (DLTs) were observed: grade [Gr] 3 dyspnea and Gr 3 vomiting. At the MTD (70 mg/m2), 1 patient of 15 experienced a DLT (Gr 3 dyspnea). Gr ≥3 AEs reported in >1 pt were thrombocytopenia, increased blood creatinine, dyspnea, and hyperglycemia (n=2 each; all Gr 3). No Gr ≥3 peripheral neuropathy was reported. All 27 pts were included in the preliminary efficacy evaluation. The overall response rate (ORR; ≥partial response) was 63% and the clinical benefit rate (CBR; ≥MR) was 74%. At the MTD, the ORR was 60% and the CBR was 67%. Pharmacokinetic analysis (n=21) showed a dose-dependent increase in mean Cmax and AUC for 20–88 mg/m2CFZ. The mean terminal half-life was ~0.8 hours.
Conclusions: At the MTD, weekly CFZ with DEX had an acceptable safety and tolerability profile with promising efficacy after a short follow-up period in pts with relapsed or refractory MM. The phase 2 portion of the study is currently enrolling pts at 70 mg/m2 CFZ. Updated results from the phase 1/2 study will be presented.
Clinical trial information: NCT01677858.  
Author(s): James R. Berenson, Leonard M. Klein, Robert M. Rifkin, Priti Patel, Sandra Dixon, Ying Ou, Alan Cartmell; Institute for Myeloma and Bone Cancer Research, West Hollywood, CA; Illinois Cancer Specialists, Niles, IL; US Oncology Research, Inc., Denver, CO; Onyx Pharmaceuticals, Inc, South San Francisco, CA; Comprehensive Blood and Cancer Center, Bakersfield, CA
---
ABOUT JAMES R. BERENSON, MD
James R. Berenson, MD is a Hematologist and Oncologist practicing in West Hollywood, California. He specializes in the treatment of patients with multiple myeloma, MGUS, amyloidosis, Waldenstrom's macroglobulinemia, and metastatic bone disease as well as conducting research related to these diseases both in the basic and clinical areas for more than 20 years. He serves as a member of the National Institutes of Health – Center for Scientific Review, Clinical Oncology Study Section. Dr. Berenson has authored and co-authored numerous books, articles, and abstracts in journals including Blood, Cancer, Cancer Research, Journal of Clinical Investigation, Journal of Clinical Oncology, New England Journal of Medicine, and Science. Visit Dr. James R. Berenson's full biography.
Previous Post
ASCO 2014: A phase Ib dose escalation trial of SAR650984 in combination with len/dex in RR MM