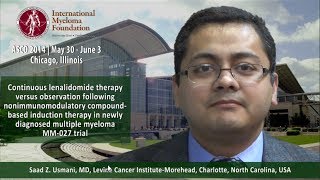 Saad Z. Usmani, MD
Levine Cancer Institute - Morehead
Charlotte, North Carolina, USA

Continuous lenalidomide (LEN) therapy versus observation following nonimmunomodulatory compound-based induction therapy in newly diagnosed multiple myeloma (NDMM): MM-027 trial
Abstract No: TPS8630
Background: Several recent trials have shown improvements in progression-free survival (PFS) with continuous LEN treatment (Tx) in NDMM patients (pts). PFS was 45%-59% higher using LEN therapy vs. control arm and rates of overall survival (OS) were consistently improved (Attal, NEJM 2012; Facon, ASH 2013, McCarthy, NEJM 2012; Palumbo, NEJM 2012, Palumbo ASCO 2013). Therefore an effective strategy of continuous Tx is of great importance to outcomes.
Methods: This phase 3b, multicenter, randomized, open-label study will compare PFS of LEN single-agent vs. observation after non-immunomodulatory compound based induction therapy in NDMM pts (≥ 65 yrs) or < 65 yrs non eligible for/decline SCT. Main inclusion criteria are: induction Tx with 6–12 cycles of non-immunomodulatory compound, achievement of ≥ stable disease (SD) according to the International Myeloma Working Group (IMWG) criteria. Exclusion criteria include: previous antimyeloma Tx and pts who did not achieve ≥ SD after > 6 cycles of non-immunomodulatory Tx. Eligible pts will be screened and randomized 1:1 in either the LEN arm (10 mg/day on day 1–21/28-day cycle) or observation arm until progressive disease (PD). Dose adjustments will be made in case of adverse events (AEs). All pts who progress will enter long-term follow-up and will be monitored for OS and second primary malignancy every 3 months (mos) for at least 5 yrs. Primary endpoint is PFS from time of randomization to PD or death from any cause; secondary endpoints will include overall response rate and safety. AEs will be evaluated and graded according to the NCI CTCAE Version 4.0. Group sizes were calculated for a median PFS of 20 mos in the LEN arm and 10 mos in the observation arm, 90% power and a two-sided 0.05 level test. Counting for a non-evaluable rate of 15%, a total of 172 pts will be needed (86 per arm). Exploratory objectives will include assessment of minimal residue disease (MRD), clonal heterogeneity measurements and their correlation to clinical outcomes, molecular, immunological and mechanistic biomarkers will be assessed.
---
ABOUT SAAD USMANI, MD
Dr. Saad Usmani is Chief of Plasma Cell Disorders and Director of Clinical Research in Hematologic Malignancies at the Levine Cancer Institute Hematologic Oncology and Blood Disorders and Carolinas HealthCare System.
Previous Post
ASCO 2014: Results of CHAMPION-1 investigating weekly carfilzomib in combination with dex for R/R MM