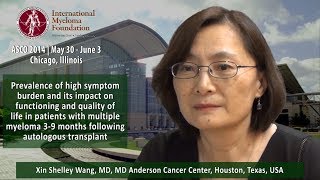 ASCO 2014: Prevalence of high symptom burden and its impact on functioning and quality of life in MM
Post date
October 13, 2015
Xin Shelley Wang, MD
MD Anderson Cancer Center
Houston, Texas, USA

Prevalence of high symptom burden and its impact on functioning and quality of life in patients with multiple myeloma 3-9 months following autologous transplant
Abstract No: e19580
Background: Although multiple myeloma (MM) patients are expected to have lower disease burden post autologous hematopoietic stem cell transplantation (AuSCT), symptom burden and its impact on patient's quality of life (QoL) have not been prospectively studied in this time period, when maintenance therapy may be implemented.
Methods: 51 patients with MM were enrolled at 3 months post AuSCT. Patients rated symptom severity and interference weekly on the M. D. Anderson Symptom Inventory (MDASI-MM) for 6 months. Trajectory modeling identified a subgroup of patients who constantly reported higher symptom burden. Linear mixed-effect models and regression models were used to examine symptom impact on total symptom interference, and on QoL (EORTC-QLQ30 at 9 month). The effects of lenalidomide maintenance therapy on symptoms was examined.
Results: Of 51 patients, 22 (43%) received lenalidomide maintenance therapy, 29 (57%) were in observation. Over time, the most severe symptoms were pain, fatigue, numbness, muscle weakness, and bone aches for all patients. Thirty-five percent of patients formed a high symptom burden cohort, which consistently reported moderate to severe symptoms (4.65 ±1.41 at baseline and 4.78 ±1.62 at month 6 for a composite score of these symptoms). Maintenance therapy with lenalidomide or other patient factors (age, sex, staging, BMI, race) were not predictive of high symptom burden. High symptom burden was predicted by higher post-AuSCT fatigue (est=0.58, P=0.002). Greater impairment of daily walking, work, and general activity was longitudinally related to higher levels of muscle weakness (est=2.43, P<.0001), fatigue (est=1.50, P=0.007), or pain (est=1.31, P=0.025). By end of study, patients with high symptom burden reported poorer QoL (61.1±26.5 vs. 82.1±16.9, P=0.003). A reduced physical functioning subscale score was related to higher levels of fatigue (P=.012) and bone aches (P=.005).
Conclusions: Our study observed that 35% of MM patient consistently reported high symptom burden that was not related to use of maintenance therapy or other clinical variables, but significantly impacted on QoL and daily functioning.
Author(s): Qiuling Shi, Xin Shelley Wang, Nina Shah, Robert Z. Orlowski, Muzaffar H. Qazilbash, Loretta A. Williams, Tito R. Mendoza, Charles S. Cleeland; The University of Texas MD Anderson Cancer Center, Houston, TX; Department of Stem Cell Transplantation and Cellular Therapy, The University of Texas MD Anderson Cancer Center, Houston, TX; Department of Sarcoma Medical Oncology, The University of Texas MD Anderson Cancer Center, Houston, TX
---
ABOUT XIN SHELLEY WANG, MD, MPH
Dr. Xin Shelley Wang is a Professor at the Department of Symptom Research, Division of Internal Medicine, The University of Texas MD Anderson Cancer Center, in Houston, Texas. Her main areas of focus include the measurement of patient-reported outcomes (PROs), the impact of culture and nationality on symptom reporting, and mechanism-driven interventions for cancer-related symptoms. She investigates symptom burden in cancer survivors and in patients who are undergoing active treatment or who have advanced disease View Dr. Wang's full biography here.
Previous Post
ASCO 2014: Remission of Disseminated Cancer After Using Modified Measles Vaccine