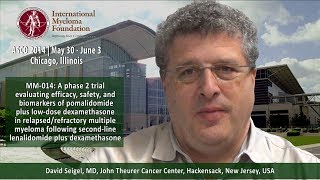 ASCO 2014: MM-014 A phase 2 trial evaluating efficacy, safety, and biomarkers of POM+LoDEX in RRMM
Post date
October 13, 2015
David Siegel, MD
John Theurer Cancer Center
Hackensack, New Jersey, USA

MM-014: A phase 2 trial evaluating efficacy, safety, and biomarkers of pomalidomide plus low-dose dexamethasone (POM + LoDEX) in relapsed/refractory multiple myeloma (RRMM) following second-line lenalidomide plus dexamethasone (LEN + DEX)
Abstract No: TPS8627
Background: Challenging relapsed disease with drugs of the same class remains an area of investigation. Subanalyses of MM-002 and MM-003 in advanced RRMM demonstrated comparable efficacy for POM + LoDEX in patients (pts) refractory to LEN as last prior treatment (Tx) vs. all pts (Richardson, 2014; San Miguel, 2013). To confirm this, MM-014, a multicenter, single-arm, open-label phase 2 trial in the US and Canada evaluating POM + LoDEX immediately following second-line LEN + DEX, was designed (NCT01946477).
Methods: Pts (N = 85 planned) must have received 2 prior lines of myeloma Tx, with LEN + DEX as second line. Pts must have relapsed from or become refractory to LEN + DEX as last prior Tx (≥ 2 cycles). Prior Tx may include all predetermined components of induction followed by ASCT and maintenance. Key exclusion criteria are creatinine clearance < 30 mL/min requiring dialysis, ECOG PS > 2, neutrophils < 1000/μL, platelets < 75,000 or < 30,000/μL (for pts with < 50% or ≥ 50% of bone marrow [BM] nucleated cells as plasma cells, respectively), Hb < 8 g/dL, and prior (< 5 y) non-MM malignancies. Pts must provide a BM sample at screening to establish presence or absence of myelodysplastic changes. Tx is POM 4 mg D1-21 of a 28-day cycle and LoDEX 40 mg/day (20 mg for pts aged > 75 y) on D1, 8, 15, and 22 until progression or unacceptable toxicity. Thromboprophylaxis with low-dose aspirin or equivalent is mandated. Upon discontinuation, follow-up will continue for OS, second primary malignancies, and subsequent anti-MM Tx for up to 5 y from enrollment. The primary endpoint is ORR by modified IMWG criteria (with minimal response). Secondary endpoints include PFS, OS, duration of response, TTP, and safety. To elucidate POM mechanism of action in LEN-exposed disease, MM-014 includes exploratory endpoints to identify molecular, immune, and cellular biomarkers and evaluate clonality. Specifically, markers that may predict POM response or resistance, underlie POM + LoDEX synergy, indicate dysregulated pathways or key MM targets, and chromosomal aberrations will be evaluated. Sites are open for enrollment.
Clinical trial information: NCT01946477.
Author(s): David Samuel DiCapua Siegel, Richy Agajanian, Rakesh Gaur, Kasra Karamlou, Hakan Kaya, Michael Sturniolo, Rosanna J. Ricafort, Gail Larkins, Shankar Srinivasan, Rajesh Chopra, Anjan Thakurta, Yasir M. Nagarwala, Flavio Kruter; John Theurer Cancer Center, Hackensack, NJ; The Oncology Institute of Hope and Innovation, Downey, CA; St Luke's Cancer Institute, Kansas City, MO; Bay Area Cancer Research Group, Pleasant Hill, CA; Cancer Care Northwest, Spokane, WA; Celgene Corporation, Summit, NJ; Carroll Regional Cancer Center, Westminister, MD
---
ABOUT DAVID S. SIEGEL, MD, PhD
David S. Siegel, MD, PhD, is one of the nation's foremost authorities on multiple myeloma. His research has almost exclusively focused on multiple myeloma, Waldenstrom's macroglobulinemia, and AL amyloidosis, and has been published in many leading medical journals, including Nature, New England Journal of Medicine, Blood, and Journal of Clinical Oncology. Dr. Siegel is the founding Director of the Multiple Myeloma Institute. He has also led John Theurer Cancer Center's development of a program to offer CAR T-cell therapy to patients with multiple myeloma. Visit Dr. David Siegel's full biography.
Previous Post
ASCO 2014: Survival benefit and cost of Auto HSCT in elderly patients with MM
Next Post
ASCO 2014: A phase 1 trial of MK-3475 combined with Len and Lo-dose Dex in patients with RRMM