What is the Global Myeloma Action Network (GMAN)?
In 2013, the International Myeloma Foundation led the development of the Global Myeloma Alliance, which later became the Global Myeloma Action Network (GMAN) in 2014.
GMAN is a group of multiple myeloma leaders and patient organizations from around the world whose aim is to support the needs of myeloma patients.
While each member organization has its own mission and vision, GMAN works to convene members and partners to share best practices, address mutual areas of concern, and elevate awareness of multiple myeloma.
Global Mission
GMAN's Mission
GMAN's global mission is to improve the lives of myeloma patients, raise myeloma awareness, enhance the capabilities of patient advocacy groups, build the capacity of local myeloma organizations, and increase worldwide access to medicine and treatment.
What are the Goals?
The goals set forth are those that GMAN can aspire to work on collaboratively.
Raise the profile and enhance the capabilities of patient advocacy groups around the globe through best practice sharing and capacity- building
Elevate global awareness of multiple myeloma
Ensure access to new and effective treatment for myeloma patients around the world
Improve patient outcomes through earlier diagnosis
Advance innovation in blood cancer through advocacy and policy engagement
Promote education and information to patients, caregivers, physicians, and policymakers
b
Image Left
Learn More About the IMF's Global Advocacy Initiative
Achieving Our Goals with Global Patient Advocacy 
In order to achieve GMAN's goals, members must fulfill their stated roles, agree upon core success factors and be willing to support the execution identified strategies in a collaborative way.
Core success factors
GMAN must establish a number of critical success factors in order to effectively execute its goals.
Operating structure
Maintain at least one IMF staff person dedicated to overseeing the operations of GMAN with additional support from IMF staff as needed.
Financial support
Cultivate additional funding from a diverse base of external stakeholders supportive of the multiple myeloma patient population. Donation parameters should be developed and agreed upon by members and/or the steering committee.
Member engagement
Members must meet identified criteria and agree to member requirements to enjoy full member benefits.
Synergistic external partnerships
Identify collaborative initiatives, programs, and activities of value with strategic partners to help empower and broaden audience reach, build credibility and/or sustain/develop financial support.
Marketing
Execute a modest marketing initiative to generate awareness and begin to build the brand of GMAN among key audiences.
b
Image Left
White
The Susie Novis Durie Grant Awardees Announced
Susie Novis Durie Educational Grants, created to help member organizations of the IMF's Global Myeloma Action Network (GMAN) increase education, awareness, and access to treatment.

b
Image Left
Floating Circles
GMAN Meets at the 2022 American Society of Hematology (ASH) Meeting
On December 15, 2022, representatives of the Global Myeloma Action Network (GMAN) member organizations gathered to hear about upcoming myeloma therapies and other news from the 2022 American Society of Hematology Annual Meeting (ASH 2022).
b
Image Right
White
Multiple Myeloma: International Bill of Rights
Global Myeloma Action Network (GMAN) developed the International Myeloma Patient Charter to ensure that no matter where in the world a person lives the following principles apply to people affected by multiple myeloma and those involved in their lives and treatments. We believe that all parties involved in a patient's journey have a responsibility to meet the expectations expressed in this document.
b
Image Left
White
2022 GMAN Annual Summit Report
A summary report from the 2022 GMAN annual meeting which took place in-person from May 20-22 in Milan, Italy.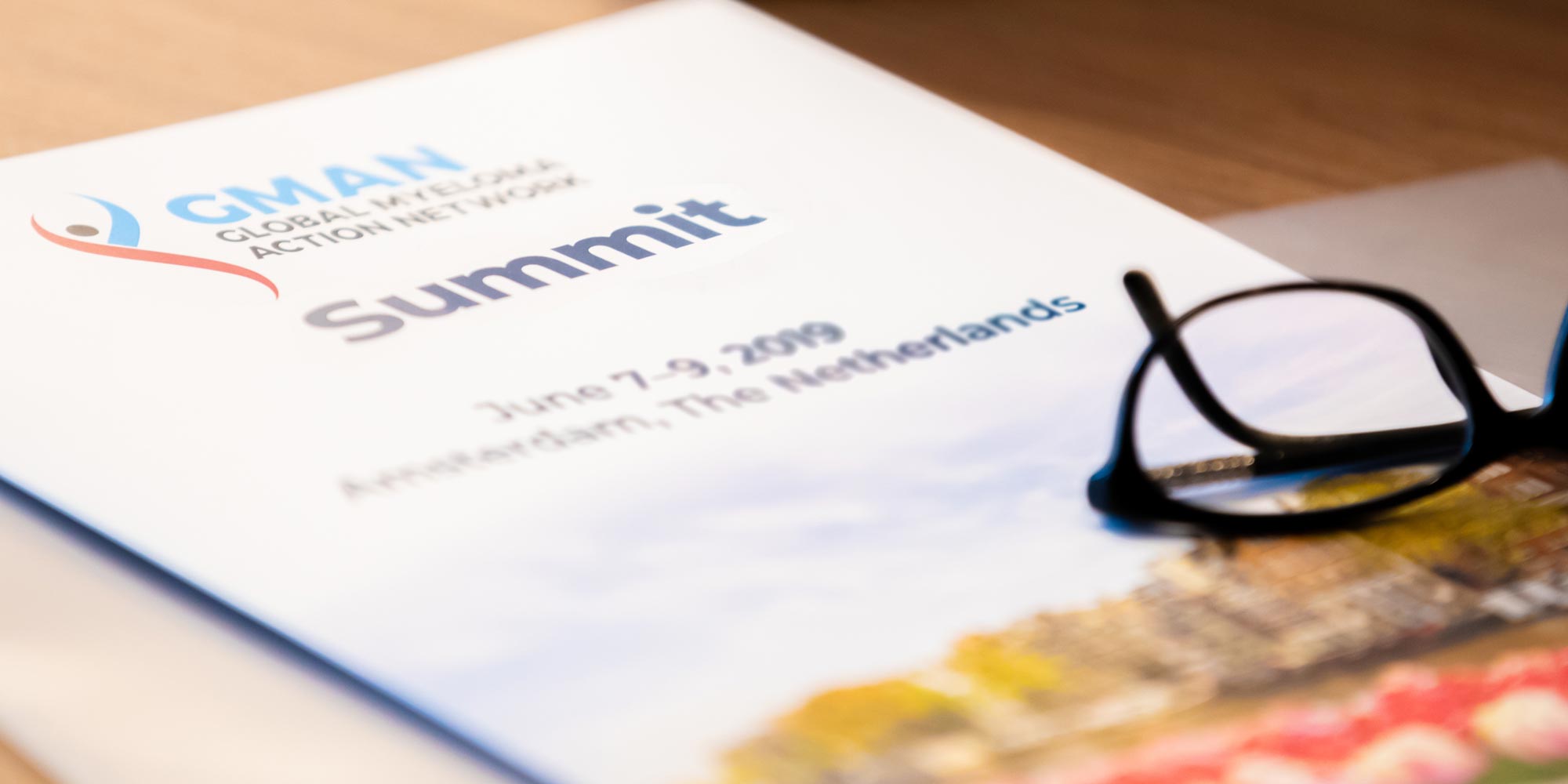 d
Image Left