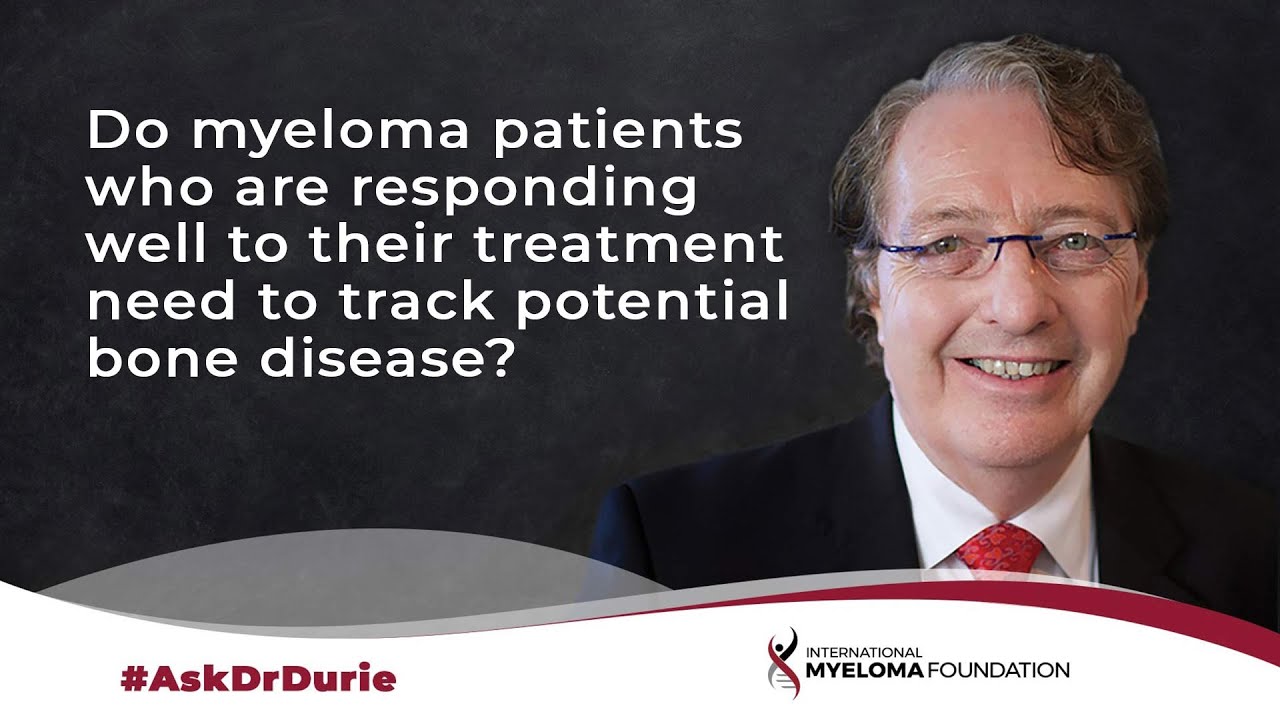 In this episode, Dr. Brian G.M. Durie discusses the importance of routine bone testing for patients with multiple myeloma.  
The BOTTOM LINE:
Myeloma patients should continue to monitor their bone health. Talk to your doctor about scheduling routine follow-up tests to detect emerging bone disease.   
If you have a question that you'd like to suggest for a future episode of Ask Dr. Durie, please submit it to [email protected]. 
To reach the IMF InfoLine Coordinators, please call 800.452.2873 or email them at [email protected].  
Transcript:
This week's "Ask Dr. Durie" is a common question, and it comes from several patients who want to know: If they're doing well, myeloma protein level is low do they still need to continue to track possible bone disease? 
And the answer to that is a definite yes. Especially, if there was any significant bone disease at the start of the disease, or some have emerged during the course of the disease. It really, really, is important to keep track of that. 
So, how do you track that? Well, the main thing is to follow along with the initial testing that was performed. If you had x-rays at the beginning, then follow up on the x-rays. If you had MRI, CT scan, low-dose CT, or PET scanning with CT, then, then you need to be able to compare with that initial testing to see if anything has changed. 
Now, if there's a new area of pain, it may be that CT, MRI, or PET/CT is necessary to investigate something new. However, the main thing is to have a plan with your doctor so that you know what regular follow up testing is going to be done to monitor your bone, bones. 
And so, there's absolutely no doubt that this is essential, because what we know is, unfortunately, even though the myeloma protein may be lower, maybe even has gone away, we still know that myeloma can be a little bit sneaky, and it's very important to keep track of the bone disease. 
And so, BOTTOM LINE, absolutely. Set up a protocol with your doctor to follow up on the bone disease, whether it be a follow-up MRI periodically, or a CT scan, or a whole-body PET/CT, if that is covered by your insurance. This should be done at least once a year in patients who have had bone disease, and obviously, might be needed in-between times if there's any question or concern. But please do keep track of your bones. This is an area where there can be new problems, and it's important to stay ahead of the game and be alert to anything new that's changing. 
 
---
Dr. Brian G.M. Durie serves as Chairman of the International Myeloma Foundation and serves on its Scientific Advisory Board. Additionally, he is Chairman of the IMF's International Myeloma Working Group, a consortium of nearly 200 myeloma experts from around the world. Dr. Durie also leads the IMF's Black Swan Research Initiative®.