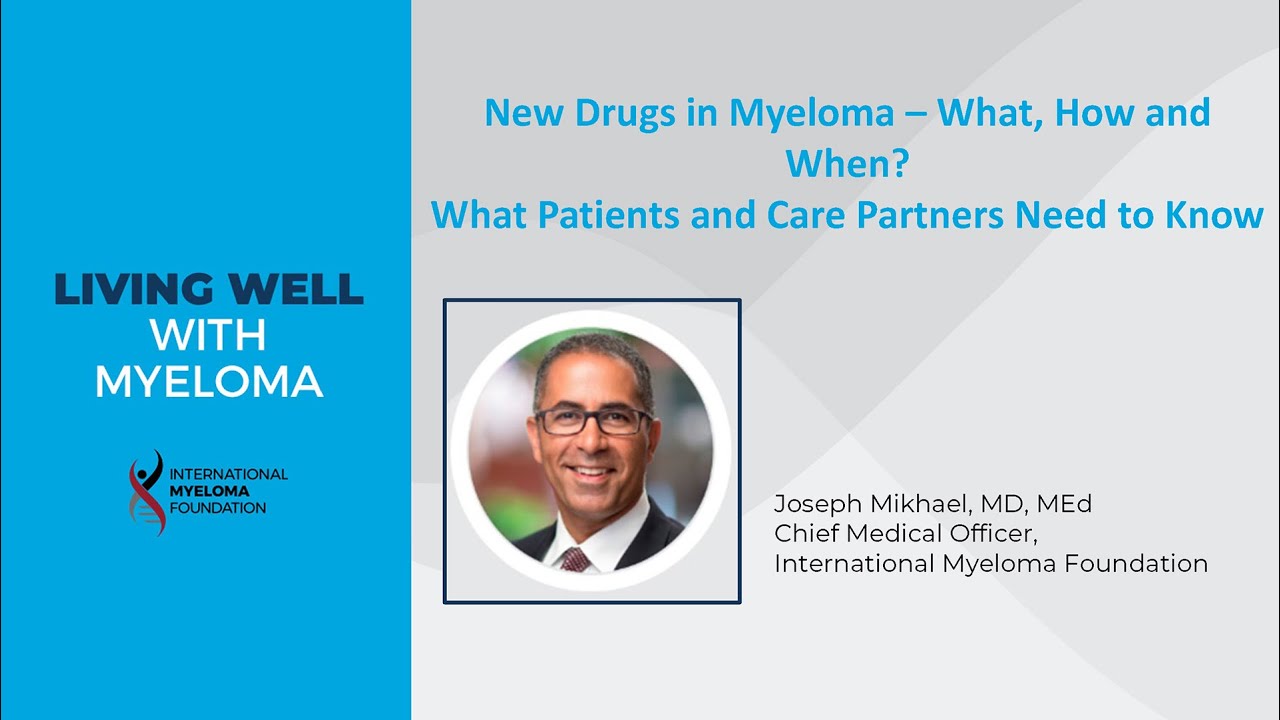 Living Well with Myeloma Webinar - New Drugs in Myeloma – What, How and When? What Patients and Care Partners Need to Know
In recent years, many new myeloma drugs have been developed and have greatly improved patients' lives. Patients need to know how each drug works so they can make informed decisions with their healthcare providers.
What to Expect
An explosion in drug development in myeloma over the last several years has significantly improved the lives of patients with myeloma. 
By watching this webinar, patients and care partners will have a better understanding of new therapies that are now available and accessible—allowing them to make sound decisions on the best treatment with their providers.
In this webinar, Dr. Mikhael will:
Review the key classes of drugs we use in myeloma
Provide an overview of how myeloma drugs work in simple terms
Discuss the concept of immunotherapy and what it means in myeloma
Outline the process of drug development where clinical trials start in the relapsed setting and then move up to the frontline
Introduce the newest drugs in myeloma and how they will be used
Speaker:
Joseph Mikhael MD, MEd, is the Chief Medical Officer of the International Myeloma Foundation and a professor at the Translational Genomics Research Institute. He did his medical training, hematology residency, and myeloma fellowship in Canada. Prior to joining the IMF in 2018, Dr. Mikhael was a myeloma physician at Mayo Clinic Arizona.
Previous Post
What does it mean to have functional high-risk multiple myeloma?
Next Post
Myeloma ACTION Month: Special Q&A with Beth Faiman