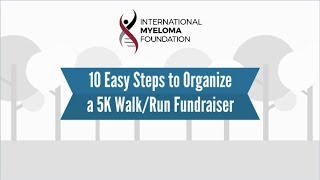 IMF 10 Steps to Organize a 5K Walk/Run Fundraiser
Meet Carol. Carol wants to fundraise for myeloma research, but she needs a hand. So she contacts the International Myeloma Foundation to help out. In this fun video, Carol learns 10 easy steps to organize a 5 K Walk/Run event. Track Carol's fundraising journey and learn how you too can get involved to give to the myeloma community.
Previous Post
What are the immediate and long-term side effects of an autologous stem cell transplant (ASCT)?
Next Post
Can Kyprolis (carfilzomib) be administered once a week, rather than twice a week?