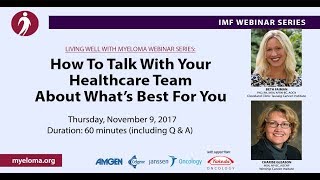 How to Talk with your Healthcare Team about What's Best for You
click on the image above to watch the teleconference
​(to view the webinar in fullscreen, click on the bottom right square icon beside the YouTube logo)
Join the IMF's Nurse Leadership Board members, Beth Faiman and Charise Gleason, for a Living Well with Myeloma webinar on Shared Decision Making – How to talk with your healthcare team about what's best for you.
Patients face many challenges as they move through their journey with myeloma including how to effectively communicate with their healthcare team on their personal goals for treatment and relate what is most important about their care to them. This webinar will introduce patients to shared decision making and provide case studies illustrating successful communication between patients and healthcare providers that illustrate how to have more productive conversations with their healthcare team.
---
Educational grant provided by: 
Amgen, Celgene , Janssen Oncology,  and Takeda Oncology
Previous Post
What do you recommend if a patient experiences fatigue on a combination of Revlimid, Darzalex, and dexamethasone?
Next Post
Is Kyprolis (carfilzomib) a treatment option for a first relapse of myeloma?