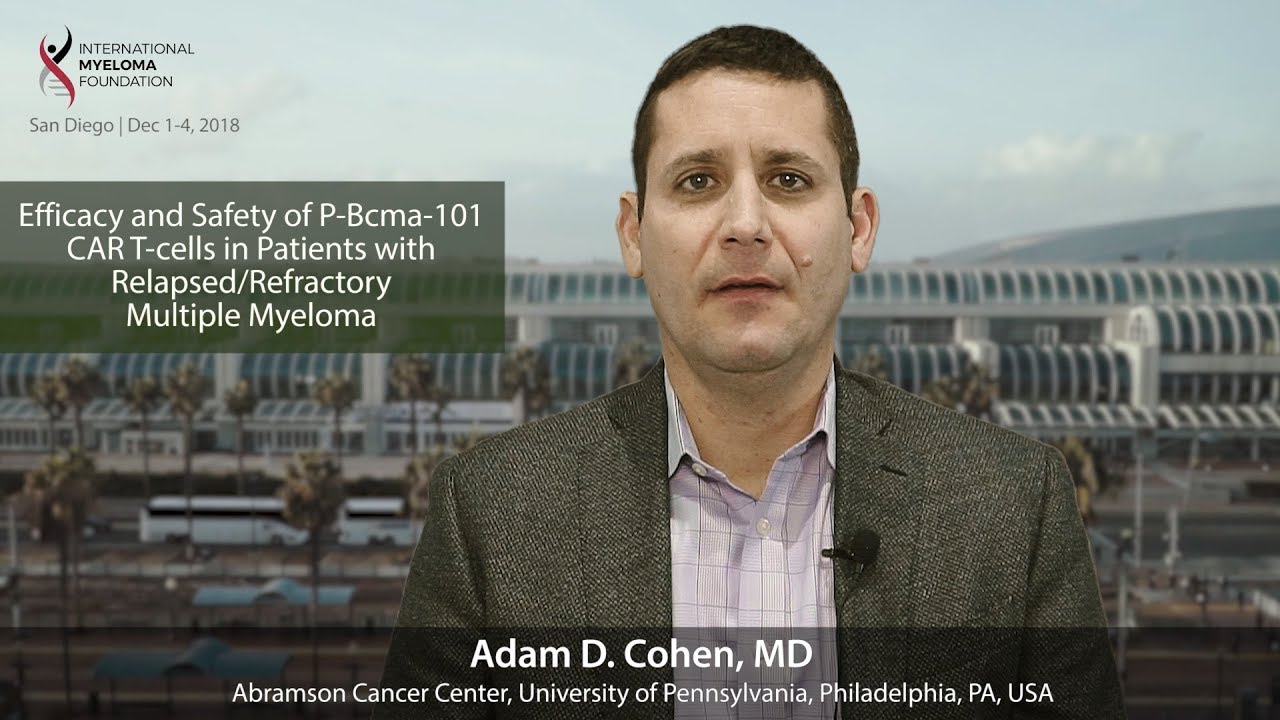 Efficacy and Safety of P-BCMA-101 CAR-T Cells in Patients with Relapsed/Refractory Multiple Myeloma
P-BCMA-101 is a novel chimeric antigen receptor (CAR)-T cell therapeutic targeting BCMA, which is highly expressed on MM cells. It is designed to increase efficacy while minimizing toxicity through reduced immunogenicity, lack of tonic signaling, a safety switch, and a product comprised predominantly of early memory T cells that are effectively all CAR-positive. Rather than using a traditional antibody-based binder, P-BCMA-101 utilizes an anti-BCMA Centyrin™ fused to a CD3ζ/4-1BB signaling domain. Centyrins are fully human and have high binding affinities, but are smaller, more stable and potentially less immunogenic. P-BCMA-101 is produced using the piggyBac™ (PB) DNA Modification System instead of a viral vector, and requires only plasmid DNA and mRNA. This eliminates the need for virus, is less costly, and produces a purified population of CAR+ cells with a preponderance of the favorable stem cell memory T phenotype (TSCM). The higher cargo capacity permits the incorporation of other genes, a safety switch that allows for rapid depletion of product in vivo if indicated by adverse events, and a selection gene that allows for enrichment of CAR+ cells. These features are predicted to result in a greater therapeutic index. Efficacy of P-BCMA-101 in NSG mice bearing aggressive human MM.1S and p53 -/- MM.1S MM was reported (Hermanson, AACR 2016). Whereas control animals died early, tumor burden was reduced to the limit of detection after P-BCMA-101 treatment, and recurrences were spontaneously re-controlled without re-administration of product.
In conclusion, current clinical trial data in patients with r/r MM support preclinical findings that the novel design of P-BCMA-101 can produce significant efficacy, comparing favorably with other anti-BCMA CAR-T products at similar doses, with notably less CRS and no neurotoxicity, consistent with the hypothesis of an improved therapeutic index.
Authors:
Tara Gregory, MD, Adam D. Cohen, MD, Caitlin L. Costello, MD, Syed Abbas Ali, MD, Jesus G. Berdeja, MD, Eric M Ostertag, MD, Christopher Martin, PhD, Devon J Shedlock, PhD, Michelle Lynn Resler, BS, Matthew A. Spear, MD, Robert Z. Orlowski, MD, PhD and Krina K. Patel, MD, MSc
---
1012 Efficacy and Safety of P-Bcma-101 CAR-T Cells in Patients with Relapsed/Refractory (r/r) Multiple Myeloma (MM)
---
ABOUT ADAM D. COHEN, MD
Dr. Adam Cohen is an Assistant Professor in the Hematology and Oncology Division at the Abramson Cancer Center of the University of Pennsylvania, Philadelphia. Dr. Cohen is board certified in internal medicine, medical oncology, and hematology. He is a member of the American College of Physicians, American Society of Clinical Oncology, American Association for Cancer Research, American Society for Blood and Marrow Transplantation, and the American Society of Hematology. He is also a member of the Multiple Myeloma Committee, Eastern Cooperative Oncology Group and the Multiple Myeloma Panel, National Comprehensive Cancer Network. Dr. Cohen is a reviewer for Annals of Oncology, Cytotherapy, Journal of Translational Medicine, Blood, Amyloid, and Clinical Cancer Research. Visit Dr. Adam Cohen's full biography.
Next Post
One-Year Update of Alcyone: Phase 3 Randomized Study of D-VMP Versus VMP in Patients with Transplant-Ineligible Newly Diagnosed Multiple Myeloma