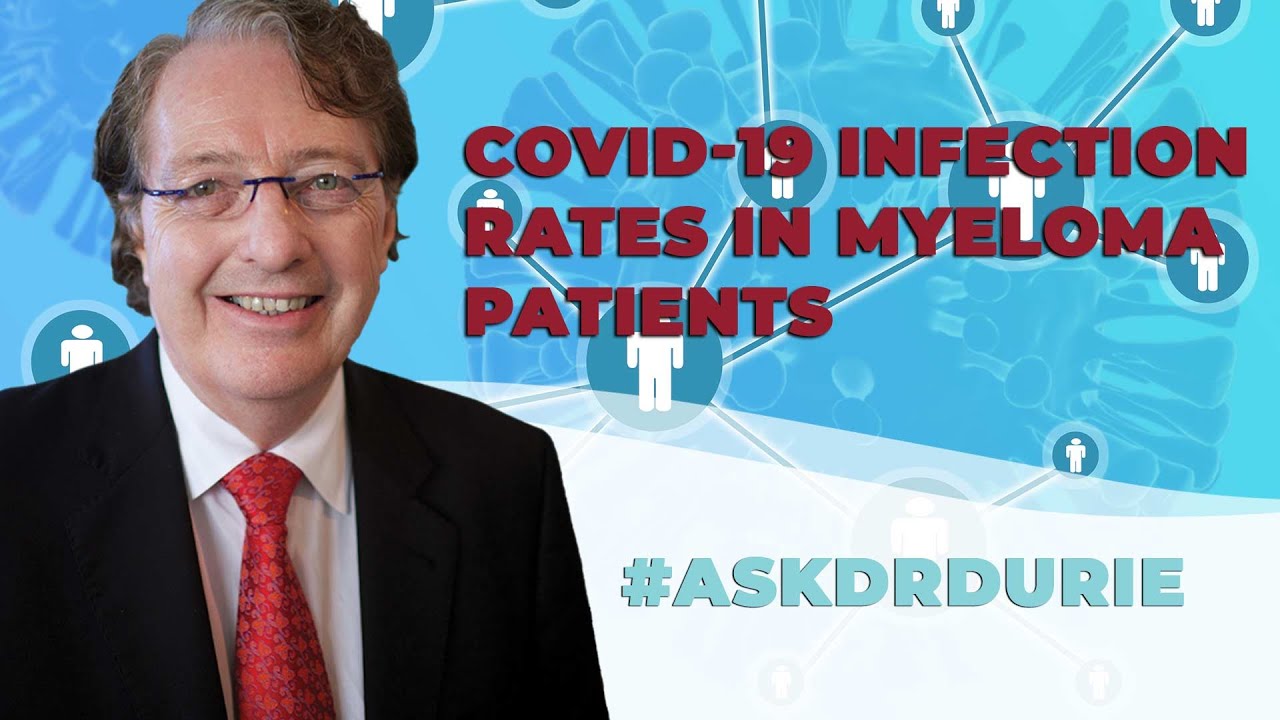 COVID-19 FAQ #32: How common are COVID-19 infections in myeloma patients?
What is the current COVID-19 rate of infection within the myeloma community?
In this episode, Dr. Brian G.M. Durie discusses the level of COVID-19 infections within the myeloma community and if patients can safely visit the clinic to receive treatment.
The BOTTOM LINE: 
Despite a lower antibody response rate from the COVID-19 vaccinations in myeloma patients, the risk of infection in myeloma patients has significantly decreased. Continue with the current precautions and wear masks while indoors.
If you have a question that you'd like to suggest for a future episode of Ask Dr. Durie, please submit it to [email protected]. Please note that Ask Dr. Durie is designed to address myeloma questions of the broadest possible audience interest. If you have a question of a personal nature, please contact our InfoLine Coordinators at 800.452.2873 or [email protected]. 
Transcript:
This week's "Ask Dr. Durie" is from a gentleman who wants to know: How common are COVID-19 infections in myeloma patients right now? 
A reason for asking this question is that despite getting vaccinated, there's a concern that the antibody response to the COVID vaccination is not as good as it might be in patients with myeloma where they've been measured antibody levels, particularly for older patients who have been on the low side. So, there's still a concern about contracting the COVID-19 infection.
The good news is that there have been very, very few new COVID-19 infections in myeloma patients in recent months. The reason for this is that there is some protection with the vaccination, even though it may not be full protection. In addition, the level of infection in the community has mostly been dropping, particularly in the last several weeks. The risk of getting the infection in the community has been much lower.
Over the many months, over the past year, clinics and hospitals have put tremendous precautions in place so that when patients go in to see the doctor and go into the hospital, there are precautions in place, everyone is wearing masks, all the staff have been tested and vaccinated, and so the risks of getting infected at the clinic or in the hospital are low. There doesn't need to be a concern to go in for regular check-ups and to get the myeloma treatment that is needed. Overall, in the big picture, the risk of getting COVID-19 has dropped substantially. The concerns are much less. 
Despite that, I strongly recommend that myeloma patients continue with the various precautions that have been emphasized in recent months including continuing to wear their masks or even double masks when they're in any situation of risk where there are individuals where their vaccination status is unknown, or particularly when you're indoors and the ventilation is possibly uncertain.
So, continue with your precautions, be assured that your risk of getting infected is quite low. That is the good news although maybe you don't have that hundred percent or extra benefit from the vaccination like a normal person might have. Be assured that fortunately, the risks are substantially lower now than they have been in the past year or so.
---
Dr. Brian G.M. Durie serves as Chairman of the International Myeloma Foundation and serves on its Scientific Advisory Board. Additionally, he is Chairman of the IMF's International Myeloma Working Group, a consortium of nearly 200 myeloma experts from around the world. Dr. Durie also leads the IMF's Black Swan Research Initiative®.
Previous Post
Are steroids always used as part of myeloma treatment?
Next Post
COVID-19 FAQ #33: Which COVID-19 vaccine should myeloma patients get?