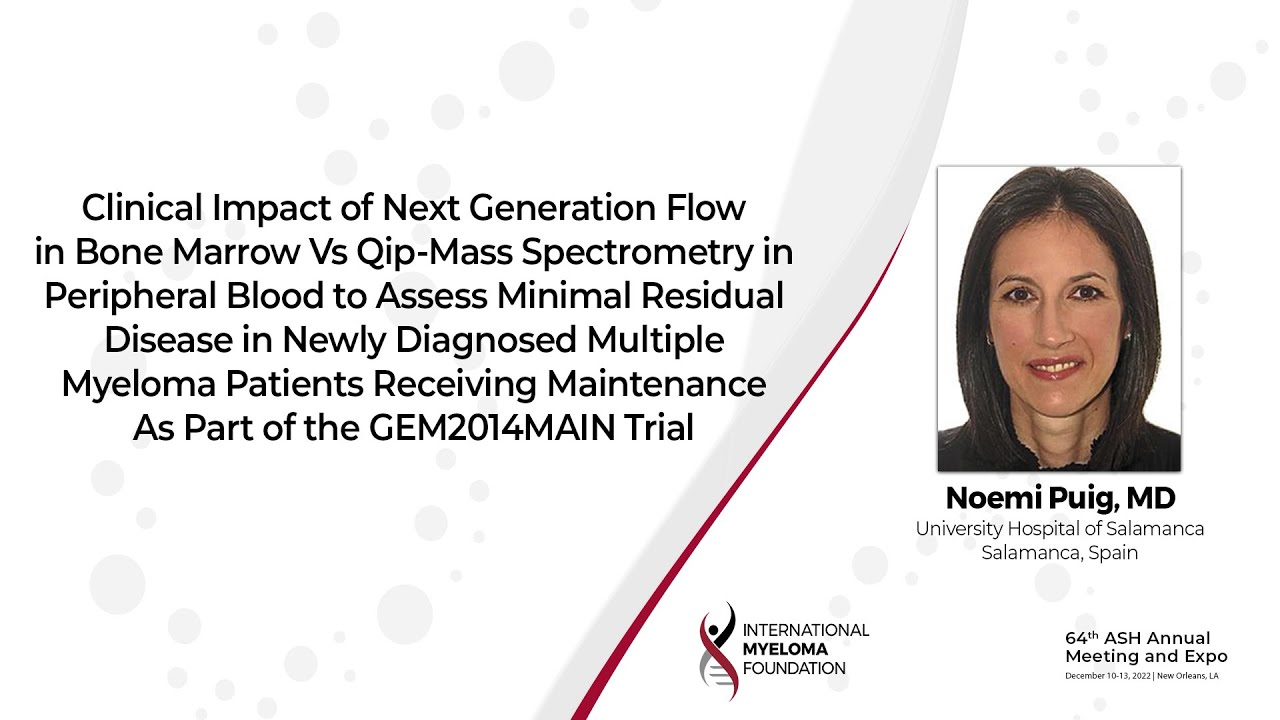 Clinical Impact of NGF in Bone Marrow Vs Qip-Mass Spectrometry in Peripheral Blood to Assess MRD in Newly Diagnosed Multiple Myeloma Pts Receiving Maintenance
Dr. Noemi Puig, University of Salamanca, discusses an abstract on the clinical impact of Next Generation Flow in bone marrow vs QiP-Mass Spectrometry in peripheral blood to assess Minimal Residual Disease in newly diagnosed multiple myeloma patients.
Background:
GEM2014MAIN is a phase 3, multicenter, open-label, randomized trial exploring maintenance treatment with lenalidomide and dexamethasone (Rd) vs lenalidomide, dexamethasone and ixazomib (IRd) after autologous stem cell transplantation in newly diagnosed patients with multiple myeloma (MM). The study includes yearly analysis of minimal residual disease (MRD) in bone marrow (BM) by Next Generation Flow (NGF) and the results at year 2 guide further management. Mass spectrometry methods measuring low-level immunoglobulins have shown potential for peripheral-blood (PB) based MRD assessment in MM.
Conclusions:
Our study shows that, during maintenance, the identification of MRD by NGF and EXENT and its evolutionary pattern are both associated with a comparable clinical value in terms of PFS. Supported by a NPV of 87% as compared to NGF, mass spectrometry could be used to define the optimal time-point for BM-based MRD assessments as well as, alongside with standard methods, to introduce MRD adapted treatment approaches.
Authors:
Noemi Puig, MD, PhD, Cristina Agulló, Teresa Contreras Sanfeliciano, Bruno Paiva, María Teresa Cedena, MD, PhD, Laura Rosinol Dachs, Ramon Garcia-Sanz, Joaquín Martínez-López, MD, PhD, Albert Oriol, María Jesús Blanchard, MD, Rafael Rios, MD, PhD, Jesus Martin, MD, Anna Sureda, Miguel Hernández, Javier de la Rubia, MD, Jose Maria Moraleda, MD, PhD, Felipe De Arriba, PhD, Luis Palomera, MD, PhD, Belén Iñigo, MD, Joan Bargay, Joan Bladé Creixenti, MD, PhD, Jesús San-Miguel, MD, PhD, Juan Jose Lahuerta, MD, PhD and María-Victoria Mateos, MD, PhD
ASH Abstract #866: https://ash.confex.com/ash/2022/webprogram/Paper165441.html
Previous Post
Mezigdomide Combined with Dex in Relapsed/Refractory MM Pts: CC-92480-MM-001 Trial
Next Post
Isatuximab Plus Pomalidomide/Low-Dose Dexamethasone Versus Pomalidomide/Low-Dose Dexamethasone in Patients with Relapsed/Refractory Multiple Myeloma (ICARIA-MM)