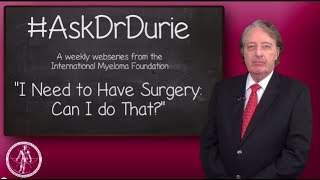 #AskDrDurie: I Need to Have Surgery: Can I Do That?
Post date
October 20, 2015
This week Dr. Durie answers the question "I need to have surgery - can I do that?"

Dr. Brian G.M. Durie is the Chairman of the Board of Directors of the International Myeloma Foundation. He began studying multiple myeloma over 30 years ago, and is recognized around the world as one of the top myeloma doctors.
Previous Post
#AskDrDurie: If Myeloma is Diagnosed, Is It Okay to Start With A Holistic Type of Approach First?
Next Post
Do the new NCCN "Evidence Blocks" help patients?