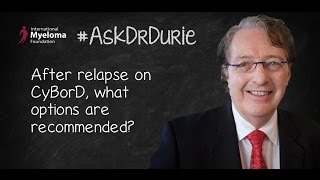 After relapse on CyBorD, what options are recommended?
Post date
January 12, 2017
In this video, Dr. Brian Duries shares different treatment options that may be available to a myeloma patient for whom CyBorD has not been effective. 
BOTTOM LINE:
Discuss treatment with your doctor and match accordingly to the pattern of your myeloma history.
IMF Chairman and Co-Founder Brian G.M. Durie, MD welcomes your questions about the latest myeloma treatments, research, controversies and quality of life issues. If you have a question you think might be of interest to the myeloma community, please send to askdrdurie@myeloma.org!

For questions of a specific personal nature, please call the IMF InfoLine coordinators at 800.452.2873 or email them at infoline@myeloma.org. 
Previous Post
The good and the good for 2017: how results of the SWOG 0777 trial and serum Freelite testing can help myeloma patients
Next Post
Can MGUS be linked to kidney problems?