*Due to the COVID-19 pandemic, we have transitioned our Regional Community Workshops to a virtual format. Please continue to check this page for updates on upcoming virtual events. Thank you.
Designed for those seeking support and more information in smaller communities, IMF Regional Community Workshops offer families a condensed version of the full Patient & Family Seminar at no charge.
They usually take place on Saturdays from 9 a.m. – 3 p.m.
Lunch and refreshments are provided.
Why attend an IMF Regional Community Workshop?
Maybe you live too far away from a metropolitan hub. That's why the IMF hosts Regional Community Workshops. Seating is limited at these workshops to only 75–100 attendees. For that reason, patients gain one-on-one interactions with myeloma experts during the meetings.
In this video, Kelly Cox, IMF Director of Regional Community Workshops and Support Groups, shares his passion for helping myeloma patients.
b
Kelly Cox
IMF Director of Regional Community Workshops and Support Groups
Sunrise
"We have a seat for every person that's dealing with myeloma, whether they want to deal with it or not: I have a seat for them."
When are upcoming IMF Regional Community Workshops?
Click any of the boxes below to learn about a Regional Community Workshop near you:
We are wrapped up for 2020. Thank you for everyone that attended or joined our virtual meeting. If you would like to watch the replay of our Virtual Regional Community Workshops, please continue to scroll down. Stay tuned for the 2021 calendar!
I'm about to attend an IMF Regional Community Workshop. What should I know in advance?
At each IMF Regional Community Workshop, myeloma experts present slides of topics such as multiple myeloma 101, treatment for newly diagnosed patients, treatment for relapsed and refractory patients, maintenance therapy, and more. Before attending a Regional Community Workshop, we encourage you to review the slides below. They are listed according to location and by myeloma expert.
Great Lakes USA - November 21, 2020
Watch the Replay

Speakers

Craig Cole, MD
Michigan State University Breslin Cancer
Agne Paner, MD
Rush University Medical Center
Amy Pierre, RN, MSN, ANP-BC
IMF Nurse Leadership Board
Southwest USA - November 14, 2020
Watch the Replay

Speakers

Joseph Mikhael, MD
International Myeloma Foundation
Nina Shah, MD
University of California San Francisco
Kimberly Noonan, RN, ANP, AOCN
IMF Nurse Leadership Board
Southern USA - October 10, 2020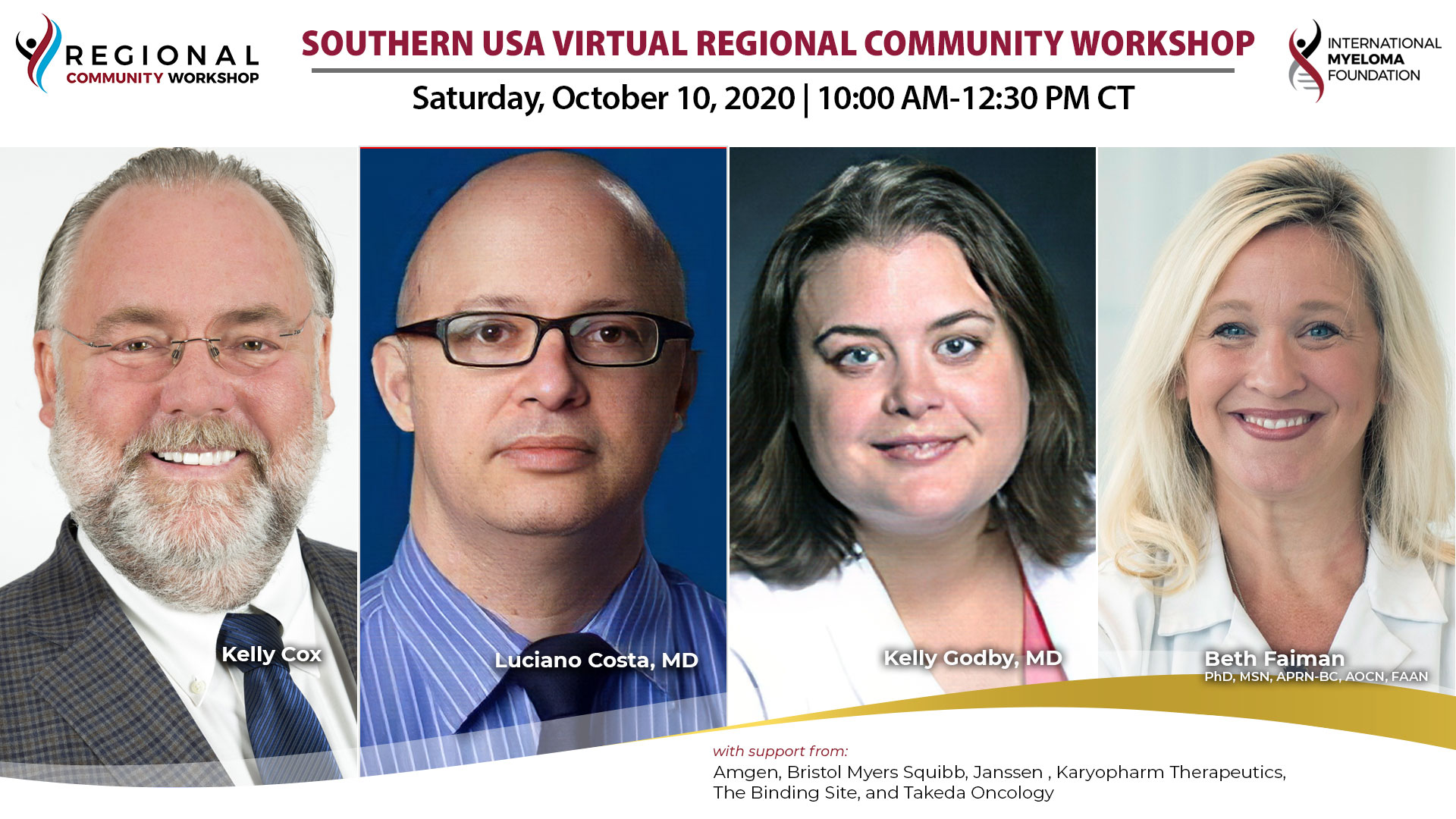 Watch the Replay

Speakers

Kelly Godby, MD
University of Alabama Birmingham
Luciano Costa, MD
University of Alabama Birmingham
Beth Faiman, PhD, MSN, APRN-BC, AOCN, FAAN
IMF Nurse Leadership Board
Pittsburgh, PA - June 29, 2019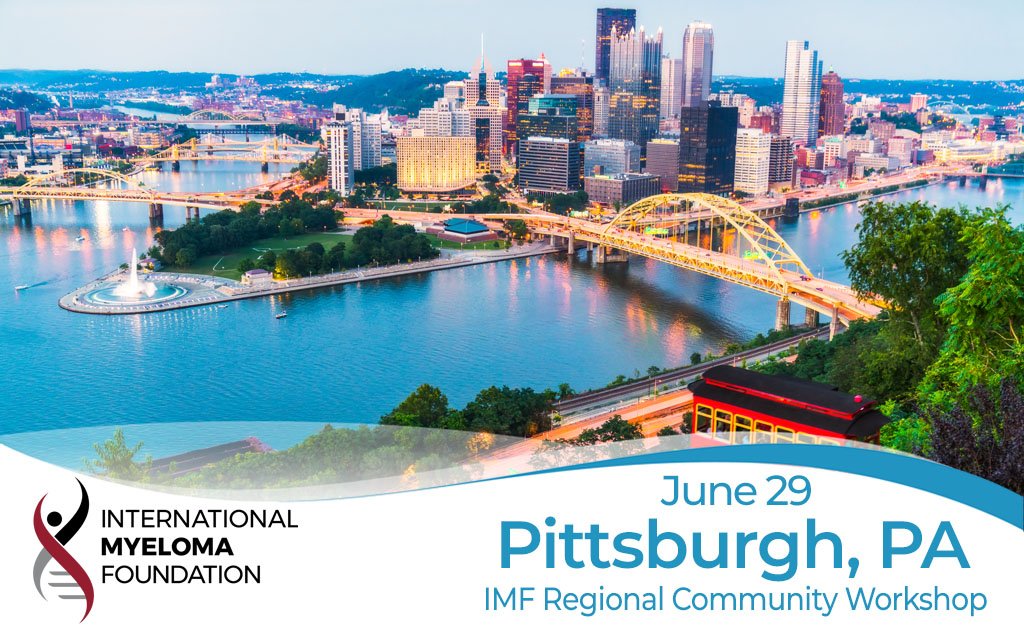 Seattle, WA - April 6, 2019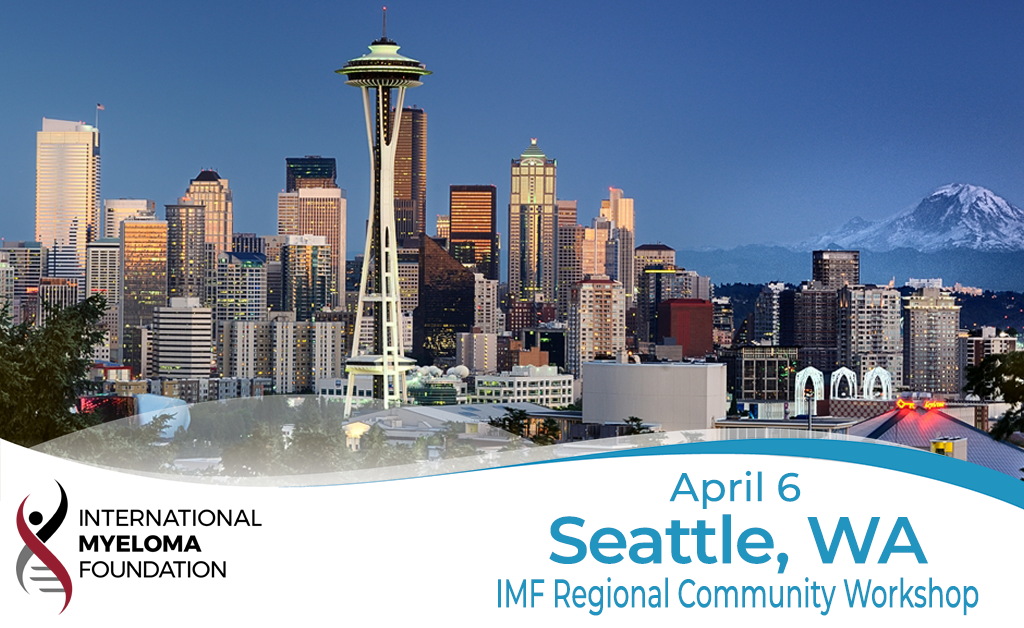 La Jolla, San Diego, CA - March 23, 2019