Myeloma Today Winter 2010 Volume 8 Issue 5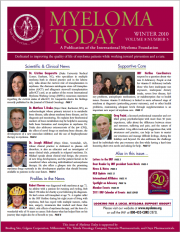 Dear Reader
A Message from the President
Scientific & Clinical
The Current Role of Transplantation in Multiple Myeloma: Myeloma Today in conversation with Dr. Cristina Gasparetto

Bone Disease in Multiple Myeloma: Myeloma Today in conversation with Dr. Matthew T. Drake
Clinical Trials in Multiple Myeloma: Myeloma Today in conversation with Dr. Joseph Mikhae
News and Notes
ASH/ASCO clinical practice guideline on the use of ESAs has been updated
MGUS follow-up and early diagnosis and prevention of myeloma-related concerns
Phase 3 Vista studys results highlight CR on an important treatment goal
ASH 2010 Myeloma Highlights for Patients
Nurse Leadership Board
Report from NLB VI, the sixth meeting of the full membership of the Nurse Leadership Board, and the fourth anniversary of the Board's inaugural meeting in November 2006.

Supportive Care
Hope, Stress, Myeloma and the Holidays: Myeloma Today in conversation with Greg Pacini, MS, LPC, CGP
IMF Hotline Coordinators Answer Your Questions: "I have read several articles about vitamin D supplementation. As a multiple myeloma patient, I am curious if vitamin D deficiency plays a role in myeloma?"
International Affiliates
Myeloma Initiatives in Japan
IMF-Japan annual seminar in Toyama
IMF co-sponsored activities in Germany
Education and Awareness
Wrap up of IMF advocacy priorities
September designated as Blood Cancer Awareness Month
President signs Improving Access to Clinical Trials Act
Health insurance reform signed into law
The IMF honored in the congressional record
Final FY 2011 cancer funding on hold until after 2010 elections
Introducing the all NEW A.C.E. training program!
Patient & Caregiver Experience
"A Wonderful Success Story...8 Years and Counting" by Robert Reeves
Member Events
A Celebration of Life at Kasbah
Afternoon Tea
Casual Week at Blue Shield
Casual Day in LA
Upcoming Member Events
Cell Phones for a Cure
Support Groups
People Helping People
The Delaware & Neighboring Maryland Multiple Myeloma Support & Networking Group
Letters to the IMF