Myeloma Today Summer 2013 Volume 9 Issue 3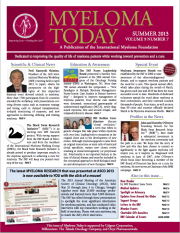 Dear Reader
The IMF convened the first-ever Global Leaders' Summit in Stockholm, Sweden.
Scientific & Clinical
Dr. Kazuyuki Shimizu, president of the 14th International Myeloma Workshop (IMW), shares some of the highlights of this important biennial event.
IMF Chairman Dr. Brian G.M. Durie discusses the Black Swan Research Initiative™ (BSRI™), an exciting breakthrough in myeloma.
Nurse Leadership Board
The NLB presents New Paradigms in Multiple Myeloma Management Satellite Symposium, a satellite symposium at the 38th Annual Congress of the Oncology Nursing Society (ONS).
Supportive Care
IMF Hotline Coordinators Answer Your Questions - "What is clonal evolution?"
Medical Updates
The latest myeloma research that was presented at ASCO 2013 is now available to YOU with the click of a mouse!
Live from Stockholm – The IMF brings the latest myeloma news to a global audience via live and recorded webcasts, including…
The U.S. Food and Drug Administration (FDA) fast-tracks the human CD38 monoclonal antibody daratumumab.
Dr. Brian G.M Durie is featured on BBC radio program "Food, Cancer and Well-Being," an in-depth look at the role of diet.
IMF Responds to proposed changes in the Centers for Medicare & Medicaid Services (CMS) PET scan policy.
Dr. Suzanne Lentzsch, a myeloma researcher at Columbia University Medical Center and member of the IMF's International Myeloma Working Group (IMWG) wins a $100,000 research grant from the American Society of Hematology (ASH).
The American Society of Clinical Oncology (ASCO) is creating a searchable database of information on the treatment of cancer patients typically not studied in clinical trials.
Staff Updates
IMF welcomes Kelly Quiggle and Miko Santos.
Education and Awareness
Spotlight on Advocacy
IMF holds Capitol Hill briefing on health disparities in cancer
Introduction of H.R.1801, the Cancer Drug Coverage Parity Act
The IMF Advocacy Voice: Get Fired Up! Raise Your Voice! Get Out There and Take Action!
How to contact the IMF Advocacy Team
2013 Myeloma Awareness Month report from Robin Tuohy (Senior Director, Support Groups) and Aimee Martin (Grassroots Liaison)
International Affiliates
Updates from Around the Globe
IMF in China by Dr. Brian G.M. Durie
AMN meeting in Japan by Dan Navid
Support Groups
2013 has truly become the year of the MM support groups, with 22 new groups holding or organizing their inaugural gatherings!​
Investing in the Future
John & Dorothy O'Dwyer, founding donors for The Black Swan Research Initiative™ make a commitment of $500,000 with the goal of finding the cure for myeloma​
Charitable Gift Annuities
IMF announces new donor program
The epitome of a win-win investment​
Member Events - IMFers raise funds to benefit myeloma community
The IMF plays at Ladies Game Day
Iron Chef Fun-Raiser
Dairy Queen for a Day
Shop for the Cure!​
2013 IMF Calendar of Events
Letters to the IMF