Myeloma Today Summer 2011 Volume 8 Issue 8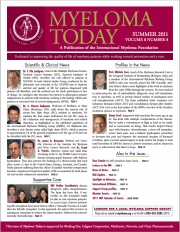 Dear Reader
A Message from the President

Scientific & Clinical
Myeloma Today in Conversation with C. Ola Landgren, MD, PhD
The Current Role of Serum Free Light Chain Analysis in Myeloma - Myeloma Today in conversation with Dr.S.Vincent Rajkumar
Treating Spinal Fractures with Balloon Kyphoplasty - Myeloma Today in conversation with Drs. James Berenson and Frank Vrionis
Scientific Advisor Profile - Myeloma Today in conversation with Prof. Michele Cavo
News & Notes:
The IMF at IMW (International Myeloma Workshop) Paris
Long-Term Continuous Treatment
Next-Generation Drugs Moving Towards Approval
Help the IMF learn more about myeloma patients
Exciting News: The IMF is Blogging
Join us: The IMF has a social community
Myeloma Manager™ Personal Care Assistant™ Version 4.0.2
Supportive Care
IMF Hotline Coordinators Answer Your Questions: "I have had myeloma for 3 years and am relapsing after a stem cell transplant using my own cells. I am 45 years old and I have a sister who is a bone marrow match for me. My doctor is encouraging me to consider doing what he calls an allogeneic transplant using her cells as a treatment for myeloma, which could cure my myeloma. What is the current thinking on this type of transplant?"
Nurse Leadership Board
Long-Term Survivorship Guidelines for Multiple Myeloma Patients
Spotlight on Advocacy:
A Day at the Capitol
David's Story
IMF Welcomes Christina Vargas
Support Groups:
International Affiliates
Asian Myeloma Network
IMF Europe Focuses on Collaboration
Associazione Schirinzi A. Mario Onlus
Patient & Caregiver Experience
I Concentrate on Living! by Danny Scott
Member Events
Central Florida Support Group's Spaghetti Supper

Concannon Family Fundraiser
Myeloma 200 - Closer to a Cure
Birthday Brunch For A Cure
IMF Staff Update
Judy Webb, Project Manager
2010 IMF Calendar of Events

Letters to the IMF