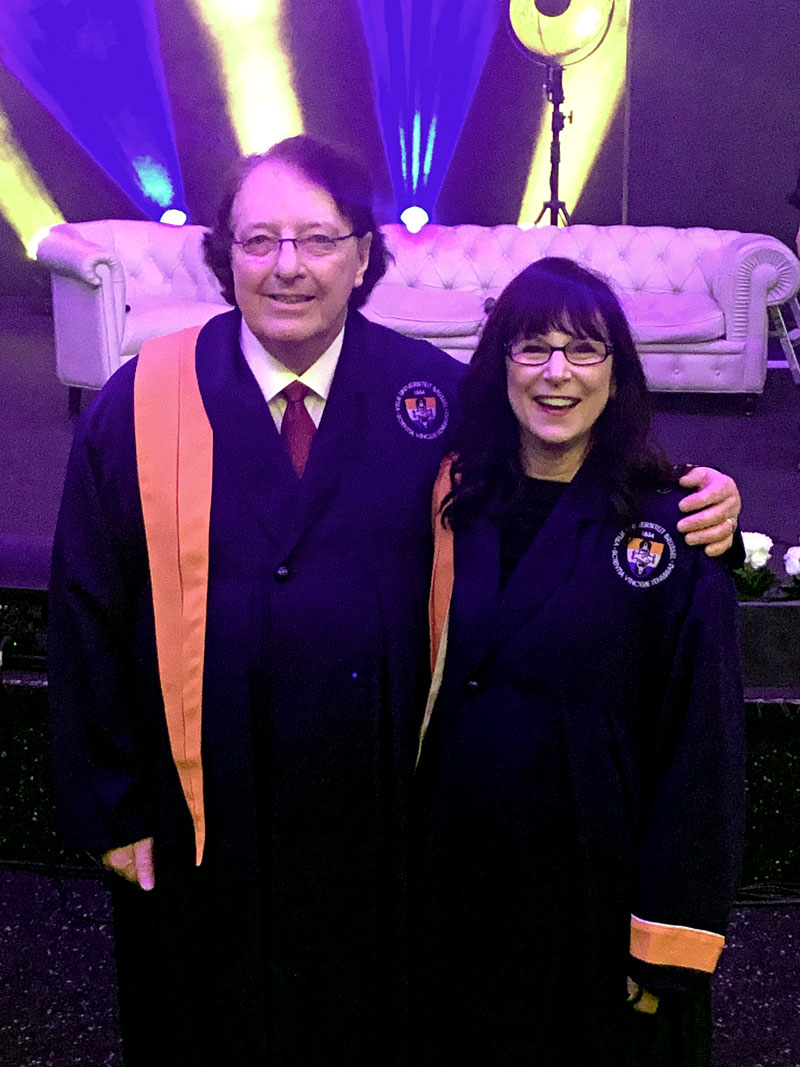 Brussels, Belgium--In a ceremony on April 2, 2019 dedicated to "the beauty, the power, and the wisdom of science," International Myeloma Foundation (IMF) Co-founder and President, Susie Durie, and Chairman Brian G.M. Durie, MD were awarded a joint honorary doctorate for scientific excellence from the Vrije Universiteit Brussel (VUB) at a ceremony in Brussels, Belgium. Jacques Cousteau, Nelson Mandela and Václav Havel are among past recipients of the award.
"We are tremendously honored that the work of the International Myeloma Foundation has been recognized in this way," said Susie Durie. "It is humbling to be in the company of other such accomplished honorees."
Dr. Durie said he was likewise truly honored to be recognized in this fashion. "The global impact of the IMF's education, support, and research programs is a shared achievement with collegial and committed stakeholders in the myeloma community. This award is also for them."
"Figures That Matter" was the theme of the ceremony, an idea that will echo throughout VUB's academic year, said VUB rector Caroline Pauwels. Honorary doctorates were also bestowed upon Swedish statistician Hans Rosling (given posthumously), French mathematics historian Karine Chemla, Belgian pioneering mathematician Freddy Van Oystaeyen, American mathematician and champion of better STEM education Padmanabhan Seshaiyer, Dutch physicist and science communicator Robbert Dijkgraaf, and political cartoonist Gerard Alsteens.
A special dinner for the honorees was held the evening before the awards ceremony at Brussels' beautifully restored art-deco cultural institute, the Villa Empain.
The university praised what its leadership called Dr. Durie's "extraordinary" merit: "He is at the foundation of the development of new diagnostic and therapeutic possibilities, which have led to a significant increase in life expectancy following the diagnosis of multiple myeloma." Together with Susie Durie, they founded the IMF "to inform patients and to involve them in the knowledge about their illness, but also to encourage doctors worldwide to work together to develop best practice guidelines."
The IMF leaders met with VUB's medical faculty on Wednesday, April 3, followed by a press conference for Belgian and Dutch media.