In the News: The Search to Achieve a Cure Is Never Easy
Yesterday the FDA halted a third Merck myeloma trial involving the checkpoint inhibitor pembrolizumab (Keytruda®). In all three trials, Keynote 183, 185, and 023, there have been more deaths among patients receiving the Keytruda combinations versus other patients. In each case, the combinations involve the immunomodulatory drugs (IMiDs) lenalidomide (Revlimid®) and/or pomalidomide (Pomalyst®). It is assumed that some type of unexpected interaction between the two immune therapies is putting patients at risk.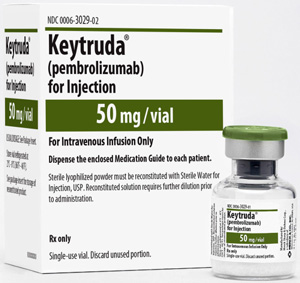 When Keytruda is used to treat other hematological cancers, such as Hodgkin lymphoma, it is effective as a single agent. In myeloma, responses occur only with the combination approach. But now it seems that not all combinations are safe! Unlike the combinations of IMiDs with another immune therapy (daratumumab), which are remarkably effective and safe, autoimmune and other effects have emerged with the double- immune-therapy combos with Keytruda. More information is required to understand this unforeseen interaction. Is this related to the dose or schedule? Is it only occurring in certain patients? It is too soon to know.
All of this is very disappointing, since there were high expectations that Keytruda combinations would really improve outcomes for myeloma patients. This is especially true since myeloma is one of the cancers which can have microsatellite instability, a type of genetic defect which is particularly amenable to the impact of Keytruda.  
Within the Black Swan Research Initiative (BSRI), we have worked carefully to evaluate combinations with a track record of safety. For example, the CESAR trial in high-risk smoldering multiple myeloma with Dr. María-Victoria Mateos as principal investigator has just finished accrual of the planned 90 patients over the last two years. The safety profile with the Kyprolis/Revlimid/dexamethasone combination used in the CESAR trial is excellent and responses are fantastic. The ASCENT trial in which daratumumab is added to the KRd combination is about to begin. A Phase I-B trial of the four-drug combination conducted by Andrzej Jakubowiak again shows an excellent safety profile. A careful step-by-step approach is essential to achieve the best possible outcomes!  
Positive FDA news
Some good news comes with the approval by the FDA of an immunophenotyping flow cytometry test system developed by ClearLLab for blood cancer screening and detection. This is a first of its kind and a rather unusual approval which has been in the works for some time. The test system involves five antibodies in each of five cancer detection tests. Myeloma, T and B cell leukemias, lymphoma, and myeloid leukemias are assessed. This five-color approach is shown to be very effective using the screening diagnostic approach. The approval is very a very encouraging acceptance of the flow cytometry methodology by the FDA.
At the level of minimal residual disease (MRD), much greater sensitivity and specificity are required. The recently developed Next Generation Flow (NGF) method, launched as part of the Black Swan Research Initiative, is an eight-color, two-tube approach, which can be used with bone marrow and/or blood samples. The approval of the ClearLLab multicolor reagents bodes very well for the planned submission of the NGF test for FDA approval.
In a separate approval, the FDA granted market approval to Praxis for a Next Generation Sequencing (NGS) test to detect certain RAS gene mutations (in this case, linked to colon cancer). Since RAS mutations are now increasingly recognized in myeloma patients, especially at relapse, it seems that this type of tool can also become available for myeloma patients as the need emerges. So more good news for the future!
So, as they say, the devil is in the details. We will try to share the details that are key to understanding and implementing the best- and safest-strategies moving forward to achieve a cure.
---
Dr. Brian G.M. Durie serves as Chairman of the International Myeloma Foundation and serves on its Scientific Advisory Board. Additionally, he is Chairman of the IMF's International Myeloma Working Group, a consortium of nearly 200 myeloma experts from around the world. Dr. Durie also leads the IMF's Black Swan Research Initiative®.