For more information, please contact
Rich Bails 972-801-8030
E-mail: [email protected]
A parking voucher is available when you park in parking garage #4.
Meeting time
2nd Saturday of each month from 10:00 AM - 1:00 PM
Meeting Location
Baylor Charles A. Sammons Cancer Center, 10th floor, ARA meeting room 10105 3410 Worth Street Dallas, TX 75246
Upcoming events
IMF Events
Patient & Family Webinar: The Future is Looking Bright for Myeloma Patients!
Support Group Events
What Is Multiple Myeloma?
Multiple myeloma is a cancer of the bone marrow plasma cells. It is synonymous with "myeloma" and "plasma cell myeloma." Plasma cells make antibodies against infectious agents such as viruses and bacteria. A cancerous or malignant plasma cell is called a myeloma cell. Myeloma is called "multiple" because there are frequently multiple patches or areas in bone marrow where it grows.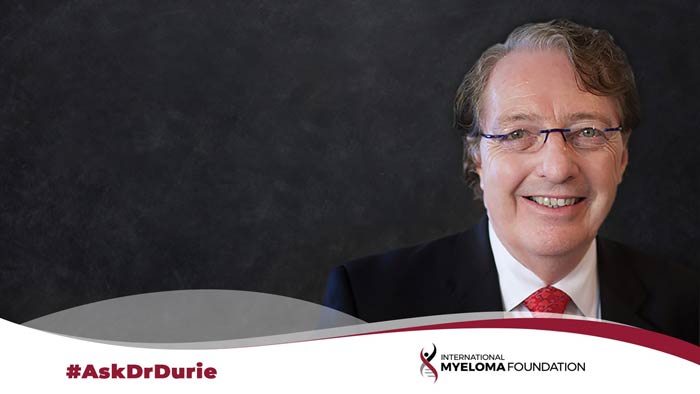 deep-ocean
Week in Review by Dr. Brian G.M. Durie
deep-ocean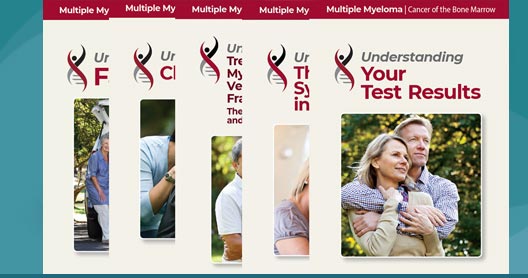 deep-ocean
Keeping track of your LAB results
Testing History Template: Have you wondered which of your laboratory test results to track or how best to track them? Wonder no more. Developed by our own Dennis McClure, these templates will help you organize and record your test results that you should track as a Myeloma Survivor. There are two types of tools:
1. Automated MS-Excel Spreadsheet Tool - Contains automated formulas and automatically creates trend line charts for some of the more important tests. Trends are usually more relevant than individual test results. The "Directions For Use" should answer most questions and provides suggestions. All versions of the MS-Excel tools can be personalized and customized (see "Directions For Use") before printing to fit each patient better
(To open/save these to your machine, please right click on each link and do a "Save Target As". Once saved on your machine, you can open it using Word or Excel)
2. Manual Use Forms - Don't have a computer or know how to use MS-Excel? Have a family member, friend, or support group member print out a supply of Manual Use Forms to fill in with pencil or pen. While the MS-Excel version of this manual use form can be personalized and customized before printing to fit each patient better, the PDF forms can not be modified.
(To open/save these to your machine, please right click on each link and do a "Save Target As". Once saved on your machine, you can open it using Excel or PDF Reader)
​If you encounter any problem with downloading these files, please e-mail Yelak. If you have any problems with the template itself and/or have any questions related to the template, please e-mail Dennis.
Myeloma Manager - At its core, the Myeloma Manager™ provides a tool to capture laboratory results and display and print tables and charts to show how those results change over time. Other features include automatic backup of your data each time you shut down the program, calendars, and graph features such as plotting multiple tests on one graph and time-scaled graphs. The software also includes real-time news feeds from the IMF web site and a reference shelf, with links to useful publications and web pages.
At this time, the Myeloma Manager™ is available for Windows computers running XP, Vista, Windows 7 and 8. It is not yet available for Mac OS, although this is planned for the future. It can be run on the Macintosh if you use one of the available tools for running Windows on the Macintosh hardware. If you would like help with this, please contact us at [email protected]
Living Successfully with Multiple Myeloma - By Peter Tischler
How to start a support group - If you need more information about how to start a support group in your area, please send a message to Peter and he would be glad to share his extensive experience with you.
IMF - The International Myeloma Foundation is there to help everyone battling Myeloma - patients, families, friends, caregivers and the medical and scientific communities.
IMF's eMail news distribution service and Myeloma Today - As part of the eMail updates, you will receive information related to the treatment and management of multiple myeloma, including updates on current research and available clinical trials. In addition, you will also learn about new programs and services available via the IMF. Lastly, items of interest to the cancer community as a whole will also be distributed.
Care givers need care too: Web site for caregivers
Directions
The North Texas Myeloma Support Group meets at the Baylor Charles A. Sammons Cancer Center at 3410 Worth Street, Dallas, TX 75246
We meet on the second Saturday of every month from 10:00 a.m. to 1:00 p.m.
Directions to new North Texas Myeloma Support Group meeting room: You are encouraged to park in Parking Garage #4 across Worth Street from the new Cancer Center. (You can park under the Cancer Center, but our parking passes DO NOT work and you will park at your own expense). You can enter Parking Garage 4 from Junius Street or Worth Street. The entrance is labeled #4 on Junius Street and #3601 on Worth Street. (See map and pictures below)
| | |
| --- | --- |
| | |
| Worth Street Entrance | Julius Street Entrance |
If possible, park on Level 3 as close to the stairway and elevators on the southwest corner of the garage. The entrance to the Sky Bridge crossing Worth Street to the Cancer Center is on level 3, and is in the same location as the stairway and elevators.
Follow the walk-way through the double doors. When you come to the main walk-way (Sky Bridge), turn left and down an incline towards the new building.
Go through the next set of double doors. You will now be on level 2 of the Cancer Center. Continue on this floor past the gift shop and the cafeteria until you reach the bank of elevators on your left.
To the right of the bank of elevators, you will see an art work that looks like an airplane
Take the elevators to the 10th floor. We meet in the ARA meeting room (#10105) located down a long hallway on your right.
As you exit the elevator on the 10th floor, make a left turn followed by a right turn. Down the long hallway, you will find ARA #10105
We will have our signs up in various locations, so follow the signs. The room is beautiful, large and well equipped and wheelchair accessible.
There will be no food service available in this building on Saturdays. We will be furnished drinks, as usual, and we can continue bringing our own snacks. If you feel the need for more nourishment during the meeting time, please feel free to bring a sack lunch.
Click here to get driving driving directions from Map Quest
In Celebration of the Lives & Memory of Members of the North Texas Myeloma Support Group: A Fundraising Project for Myeloma Research
| | |
| --- | --- |
| 1st Anniversary | 10th Anniversary |
| | |
NTMSG Mission
"To create and share hope with Myeloma patients, caregivers, family, and friends through education, support, and our personal experiences".
The NTMSG is recognized by the IMF as one of the best global support group role models.

The NTMSG serves all of North Texas and meets monthly in Dallas.

To learn more about the NTMSG, visit us at:

http://northtexas.support.myeloma.org

, call us

at:

972-504-6307 and leave a voice mail message or e

mail us

at:

[email protected]

The NTMSG thanks you in advance for your donations and support to develop a cure for Multiple Myeloma!