We are seeing exciting research lately that has serious implications for myeloma.
An easy blood test to catch cancer early was featured recently in the prestigious journal Science. Called "CancerSeek," the new blood test, created by an international team, is designed to detect solid cancers (breast, pancreatic, and ovarian, among others). The study included more than 1,000 patients.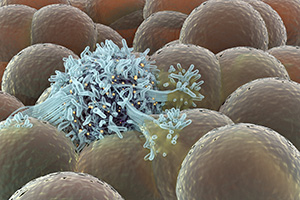 Readers can take a deeper dive into the issues raised by early screening, diagnosis, and treatment of disease in several good articles: "Why cancer screening has never been shown to 'save lives'—and what we can do about it," in the BMJ; "A Hard Look at Liquid Biopsies," by science blogger Derek Lowe; " 'Liquid biopsy' promises early detection for cancer," in Science magazine; and "A cheap and easy blood test could catch cancer early," in MIT Technology Review. 
The results are quite impressive and have earned widespread attention. However, a fundamental question has emerged. Does this type of early screening, diagnosis, and potential treatment really improve outcomes? If this question sounds familiar it is because it is the same one asked in the early screening for MGUS (monoclonal gammopathy of undetermined significance) and myeloma. However, in myeloma, we are fortunate to have the specific monoclonal protein in the serum that readily identifies the presence of disease, and in smoldering myeloma, circulating plasma cells that can tell you if the disease is active or not.  (See 2017 IMWG Conference Series slide, page 28).
Screening for MGUS and myeloma
Last week, I drew attention to a new paper from the Mayo Clinic team that noted that with long-term follow-up—now out to 30 years—MGUS patients still have, as previously reported, a 1% risk of developing myeloma or related disorders. However, the eventual overall outcome for MGUS patients is significantly shorter in terms of survival compared to matched controls without MGUS. Thus MGUS patients' so-called "relative survival" is shorter.
This is the same issue with patients developing solid cancers. In some of these patients, there are multiple other factors that can lead to shortened survival. Thus, patients developing cancer appear to be at risk for other important health issues.
Not always "undetermined" significance?
What is interesting and important with regard to MGUS patients is that we are learning MGUS is not always of "undetermined" significance. A 2008 paper in the journal Blood shows high correlations with both MGUS and myeloma to infections and to autoimmune and inflammatory conditions. There is quite a list of associated conditions, including infectious diseases such as pneumonia, hepatitis, meningitis, septicemia, herpes zoster, and poliomyelitis; autoimmune conditions such as polymyositis/dermatomyositis, systemic sclerosis, autoimmune hemolytic anemia, pernicious anemia, and ankylosing spondylitis; and inflammatory conditions such as glomerulonephritis, nephorotic syndrome, and osteoarthritis.
The common denominator for all of these conditions is that each can serve as an "immune trigger" for MGUS and myeloma. This means that detailed evaluations are necessary to diagnose  and manage these potential underlying entities. This is a whole new way of looking at myeloma and its precursor states!
iStopMM project can lead the way
The Black Swan Research Initiative-supported iStopMM study, a huge, early screening project in Iceland, provides a unique opportunity to assess the types of underlying conditions noted above as participants over the age of 40 are screened for evidence of MGUS. The project offers options for early intervention in evolving myeloma and efforts to improving outcomes by addressing underlying conditions early. Quality of life and overall survival are the key endpoints in the iStopMM project.
The role of CRISPR technology
In previous blogs (here, here, and here) I have discussed the potential major role of the gene editing technology CRISPR. In the setting of MGUS or smoldering myeloma (SMM), this technology can be proposed to edit out harmful genes which lead to disease progression. It is highly likely that this will prove feasible, and this approach is being strongly considered in the iStopMM project if harmful genes amenable to gene editing are discovered.
Patient trials at the University of Pennsylvania will use CRISPR gene editing to prepare CAR T cells to attack myeloma. This is just the beginning of efforts to maximize and finetune CAR T-cell therapies. The high level of enthusiasm is reflected by Celgene's recent $9 billion purchase of Juno's CAR T-cell portfolio. On the commercial side, this sets up major competition between Celgene and Janssen, which recently acquired Legend Biotech, another company developing CAR T-cell therapy. On the patient side, this means that there will be huge resources directed towards rapid clinical development and making CAR T-cell therapies effective and safe,  
although high costs and the fact that the complex technology is only feasible at a few large centers is raising significant concerns about broad patient access.
The latest on CRISPR
The pace of CRISPR research continues to be fast and furious, particularly in China. This past week, it was startling to see the first cloned monkeys born in China. These types of cloned animals can be genetically altered using CRISPR, which opens up enormous opportunities to study the genetic basis of diseases. Major ethical concerns, which I have emphasized in the past, will limit studies outside of China. It seems that a heated scientific and ethical debate will become challenging for all concerned in trying to balance the value of new applications versus real concerns about abuses and moral boundaries. We are entering interesting times!
As always, stay tuned for updates… 
---
Dr. Brian G.M. Durie serves as Chairman of the International Myeloma Foundation and serves on its Scientific Advisory Board. Additionally, he is Chairman of the IMF's International Myeloma Working Group, a consortium of nearly 200 myeloma experts from around the world. Dr. Durie also leads the IMF's Black Swan Research Initiative®.