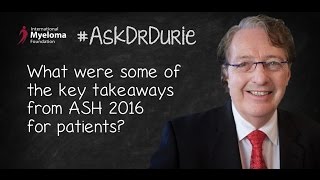 What were some of the key takeaways from ASH 2016 for patients?
Post date
January 05, 2017
In this week's video, Dr. Brian Durie identifies key takeaways for myeloma patients from the ASH 2016 abstracts.
BOTTOM LINE:
Look for ASH abstract summaries at myeloma.org, in the upcoming Myeloma Today, and at the Best of ASH teleconference on January 12, 2017.
IMF Chairman and Co-Founder Brian G.M. Durie, MD welcomes your questions about the latest myeloma treatments, research, controversies and quality of life issues. If you have a question you think might be of interest to the myeloma community, please send to askdrdurie@myeloma.org!

For questions of a specific personal nature, please call the IMF InfoLine coordinators at 800.452.2873 or email them at infoline@myeloma.org.
Next Post
The good and the good for 2017: how results of the SWOG 0777 trial and serum Freelite testing can help myeloma patients