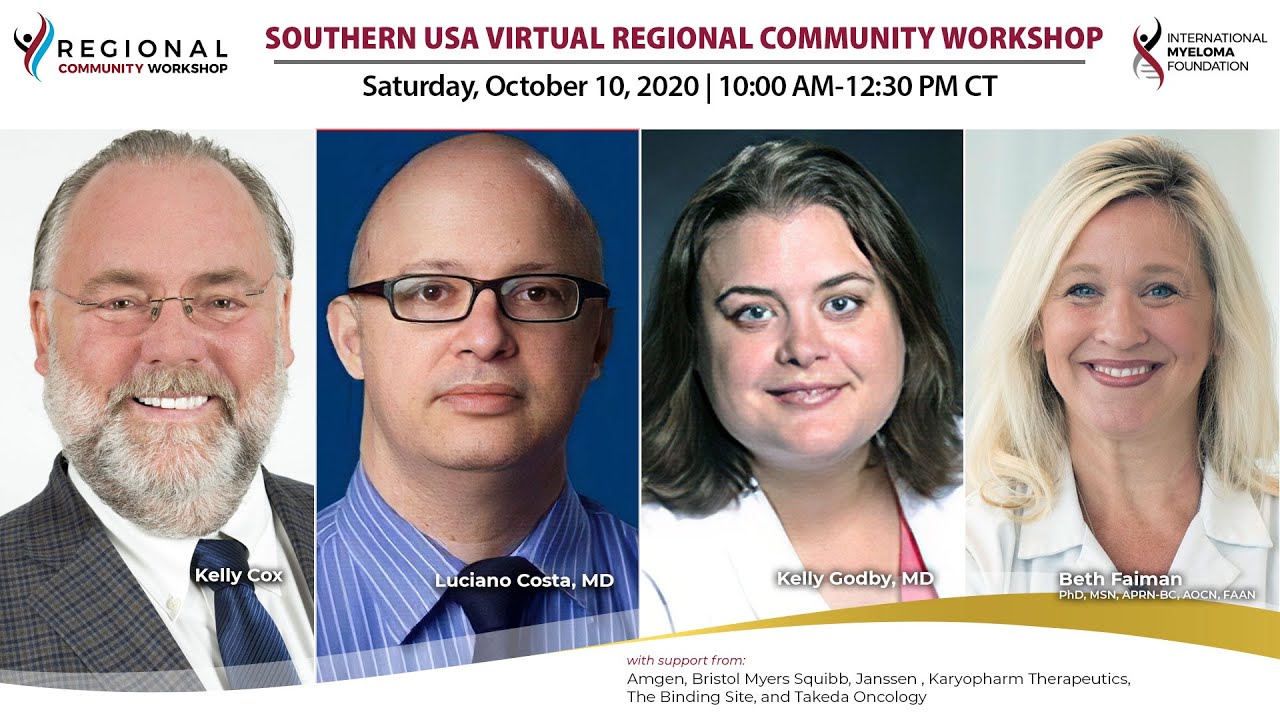 Southern USA Regional Community Workshop
click on the image above to view the video
Watch this all virtual meeting to get the latest updates from myeloma experts. 
This RCW will highlight key topics of greatest current interest in the myeloma field. We are also including Question and Answer time with the panel of experts.  We are excited to bring this important unique event to members of the myeloma support groups in the following areas: Birmingham, AL; Montgomery, AL; Atlanta, GA North; Atlanta, GA South; Columbus, GA; Charleston, SC; and Myrtle Beach, SC
Speakers and Topics (subject to change):
Kelly Godby, MD
University of Alabama Birmingham

Myeloma 101
Frontline Therapy

Luciano Costa, MD
University of Alabama Birmingham

Relapsed Therapy
Emerging Therapies and Clinical Trials

Beth Faiman, PhD, MSN, APRN-BC, AOCN, FAAN
IMF Nurse Leadership Board
Living Well with Myeloma

with support from:
Amgen; Bristol-Myers Squibb; Janssen; Karyopharm Therapuetics; The Binding Site; Takeda Oncology
Please check out these multiple myeloma resources from our sponsors:
Download Understanding Series booklets:
Previous Post
2020 IMF Patient & Family Webinar: Multiple Myeloma - New Treatments, Diversity, and Caregiver Support
Next Post
COVID-19 FAQ #23: As the pandemic continues, what does the future hold for myeloma patients?