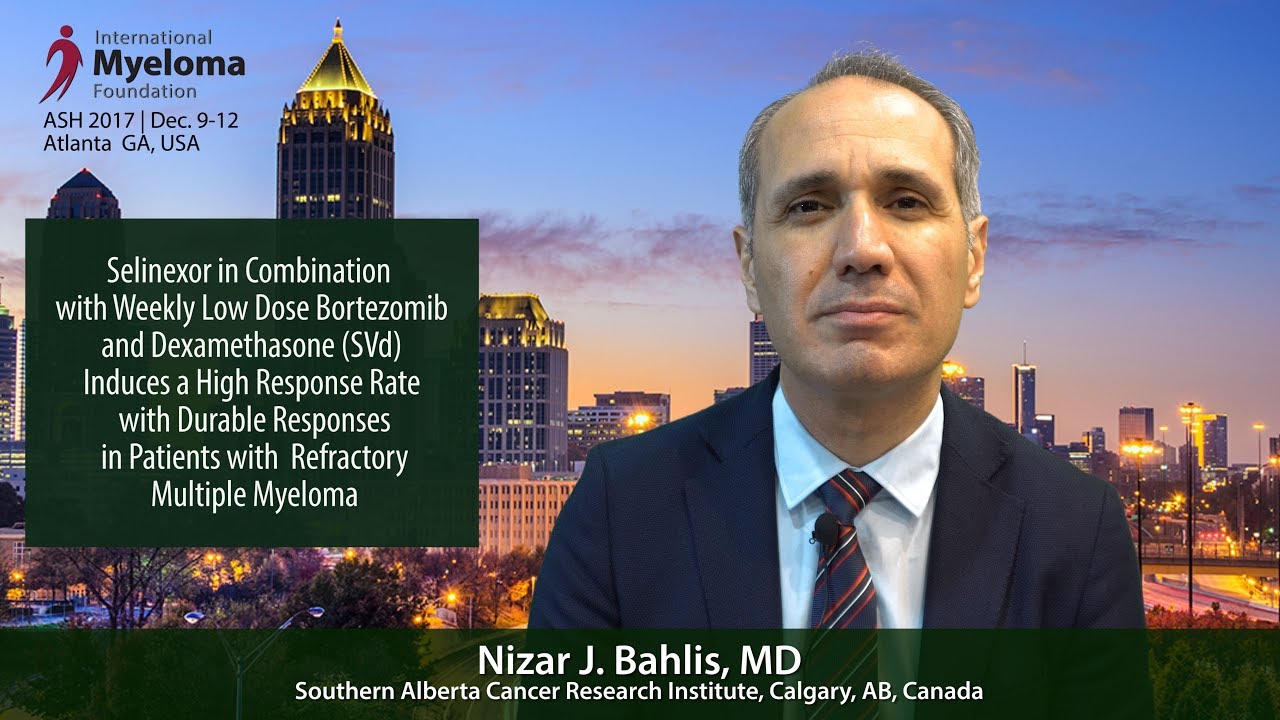 Selinexor in Combination with Weekly Low Dose Bortezomib and Dexamethasone Induces a High Response Rate in Patients with Relapsed MM
Selinexor is a first-in-class Selective Inhibitor of Nuclear Export (SINE) compound that binds and inactivates Exportin 1 (XPO1). Twice weekly (BIW) bortezomib in combination with dexamethasone (Vd) is an established therapy in relapsed and refractory mul
Nizar J. Bahlis, MD
Southern Alberta Cancer Research Institute
Calgary, AB, Canada
Background:  Selinexor is a first-in-class Selective Inhibitor of Nuclear Export (SINE) compound that binds and inactivates Exportin 1 (XPO1). Twice weekly (BIW) bortezomib in combination with dexamethasone (Vd) is an established therapy in relapsed and refractory multiple myeloma (RRMM). While the activity of bortezomib (bort) BIW in combination with other agents is efficacious, prolonged use is limited due to peripheral neuropathy (50-60%) as well as acquired resistance to bort. Strategies to identify new dosing regimes with high response rates, improved tolerability and the ability to overcome resistance are needed. Preclinical studies have shown that selinexor, when combined with bort, can restore sensitivity of bort-resistant MM, inhibiting tumor growth and increasing survival in murine MM xenografts. In this clinical trial (NCT02343042), we investigated the safety, tolerability and efficacy of the combination of selinexor, bortezomib and low dose dexamethasone (XVd) in patients (pts) with RRMM.
Conclusions: Selinexor in combination with weekly bort and dex is well tolerated and highly active in RRMM. The ORR of 83% and PN rate of 13% in PI non-refractory MM with 1-3 lines of prior therapy compares favorably to the previously reported ORR of 63% and >40% PN for Vd demonstrated in previous phase III trials. The high ORR with XVd is achieved with 40% less bort and 25% less dex and no overt major organ toxicities. Furthermore, in pts with PI refractory MM, the ORR of 42% and CBR of 68% support preclinical findings that selinexor re-sensitizes and overcomes resistance to PIs. XVd has shown durable responses regardless of prior PI sensitivity status and has an improved side effect profile. This data supports the ongoing phase 3 BOSTON study examining XVd vs Vd.
Authors: Nizar J. Bahlis, MD, Heather Sutherland, MD, Darrell J White, MD, Michael Sebag, MD, PhD, Suzanne Lentzsch, MD, PhD, Rami Kotb, MD, Christopher P. Venner, MD, Cristina J. Gasparetto, MD, Gary J Schiller, MD, Richard Leblanc, MD, FRCPC, William Bensinger, MD, Brea Lipe, MD, Aldo Del Col, BSPharm, MBA, Michael G. Kauffman, MD, PhD, Sharon Shacham, PhD, MBA, Jacqueline Jeha, Jean-Richard Saint-Martin, BS, Jatin Shah, MD and Christine I Chen, MD
---
ABOUT NIZAR J. BAHLIS, MD
Dr. Nizar Bahlis is an Associate Professor in the Department of Hematology and Oncology at the Cumming School of Medicine, The University of Calgary in Alberta, Canada Visit Dr. Nizar Bahlis' full biography.
Previous Post
Is it important for a multiple myeloma patient to see a myeloma specialist?