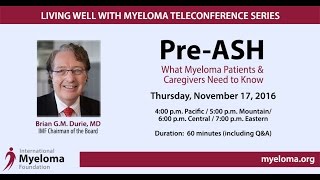 Pre-ASH 2016: What Myeloma Patients & Caregivers Need to Know
click on the image above to watch the teleconference
(to view the teleconference in fullscreen, click on the bottom right square icon beside the YouTube logo)
IMF's Chairman of the Board Dr. Brian G.M. Durie summarizes for multiple myeloma patients and their caregivers what they can learn from abstracts that are to be presented at the 2016 American Society of Hematology's Annual Meeting during the first week of December. Of note, Dr. Durie distills the most high-level topics into knowledge for patients to apply to their day-to-day care, or as Dr. Durie describes, "the clinical pearls" from the latest medical research.
---
This teleconference is sponsored by an educational grant from:
​Amgen, Celgene Corporation,  Janssen, and Takeda Oncology
Previous Post
Treatment Advances in Multiple Myeloma: Expert Perspectives on Translating Clinical Data to Practice
Next Post
Is it safe to have surgery if my myeloma is in remission?