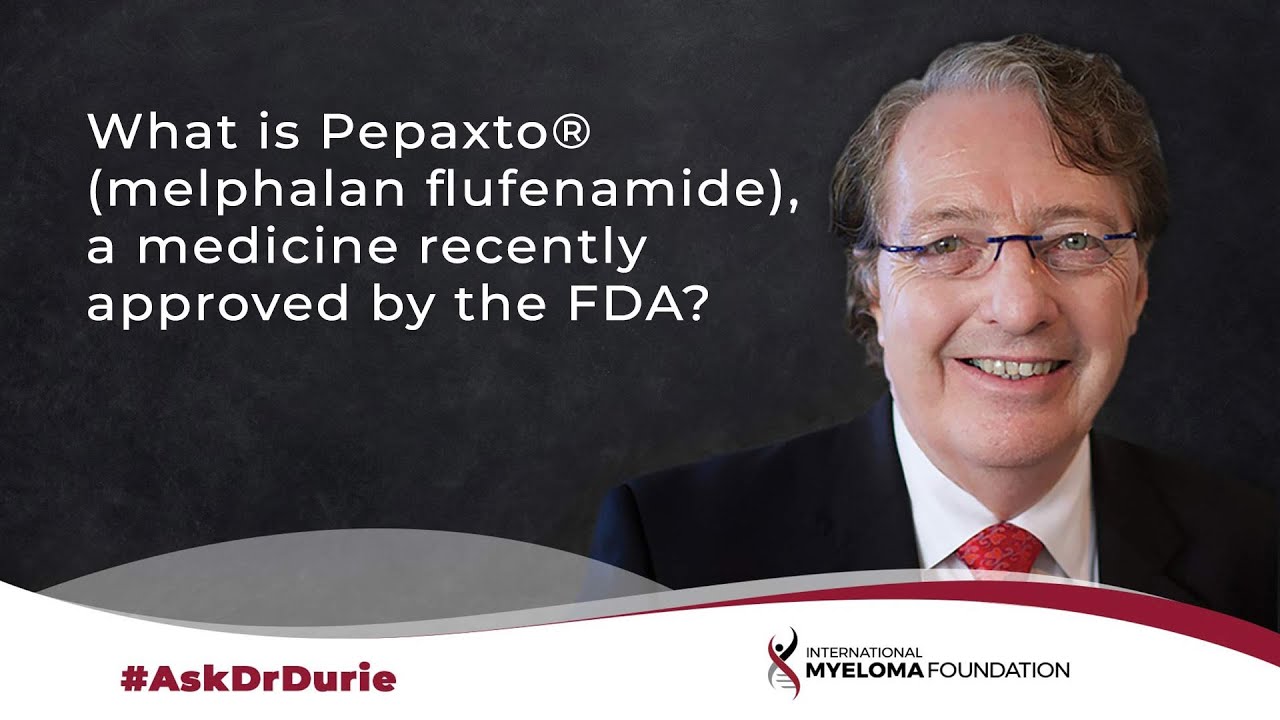 What is Pepaxto®(melphalan flufenamide), a medicine approved by the FDA?
What the FDA-Approved Drug Pepaxto Means for Myeloma Patients
In this episode, Dr. Brian G.M. Durie discusses the newly FDA-approved drug Pepaxto, and in what setting it can be used for patients with multiple myeloma.
The BOTTOM LINE: 
Pepaxto (melphalan flufenamide) is a promising first-in-class drug that is recently approved for use in patients with triple-class refractory myeloma.
If you have a question that you'd like to suggest for a future episode of Ask Dr. Durie, please submit it to [email protected]. 
To reach the IMF InfoLine Coordinators, please call 800.452.2873 or email them at [email protected].  
Transcript:
This week's "Ask Dr. Durie" comes from a patient checking out the recent news and noticing that there is word of FDA-approval for a new drug called melphalan flufenamide, Pepaxto® is the trade name. And, obviously, new words for all of us. And, quite a good question to find out; "what is this new agent, and is that an important new drug?"    
Well, this is a new class of drug, what is called, "first-in-class." It's a modified form of melphalan, which is a medicine we've used in myeloma-treatment for many years, but it's modified so that the melphalan is introduced and activated within the myeloma cells so that the melphalan is really targeted more directly towards the myeloma. And so, this is the innovation with this particular new drug. 
And so, the approval is important because the study, the HORIZON trial, that was the basis for the approval, did show excellent results in patients relapsed and refractory. These are patients who have previously received the main therapies for myeloma, what we call triple-refractory, these are patients who have previously received an IMiD such as Revlimid® or pomalidomide, a proteasome inhibitor such as Velcade®, and an anti-CD38 monoclonal antibody such as Darzalex®. 
The overall response rate for these kinds of patients was twenty-nine percent, which is quite respectable in this setting. And the response duration, the progression-free survival was 8.5 months in responding patients. So, really an important length of remission in patients who have received so many treatments in the past. 
And so, BOTTOM LINE: This is an important first-in-class agent, and the results are promising. And, we look forward to ongoing results using this new agent in combinations, and in earlier disease settings. So, Thanks for this question to allow me to explain about this important new drug. 
---
Dr. Brian G.M. Durie serves as Chairman of the International Myeloma Foundation and serves on its Scientific Advisory Board. Additionally, he is Chairman of the IMF's International Myeloma Working Group, a consortium of nearly 200 myeloma experts from around the world. Dr. Durie also leads the IMF's Black Swan Research Initiative®.
Previous Post
Virtual Webinar On Building Your Resilience During Challenging Times
Next Post
From Vaccine to Variants: The Latest COVID-19 Safety Guidance