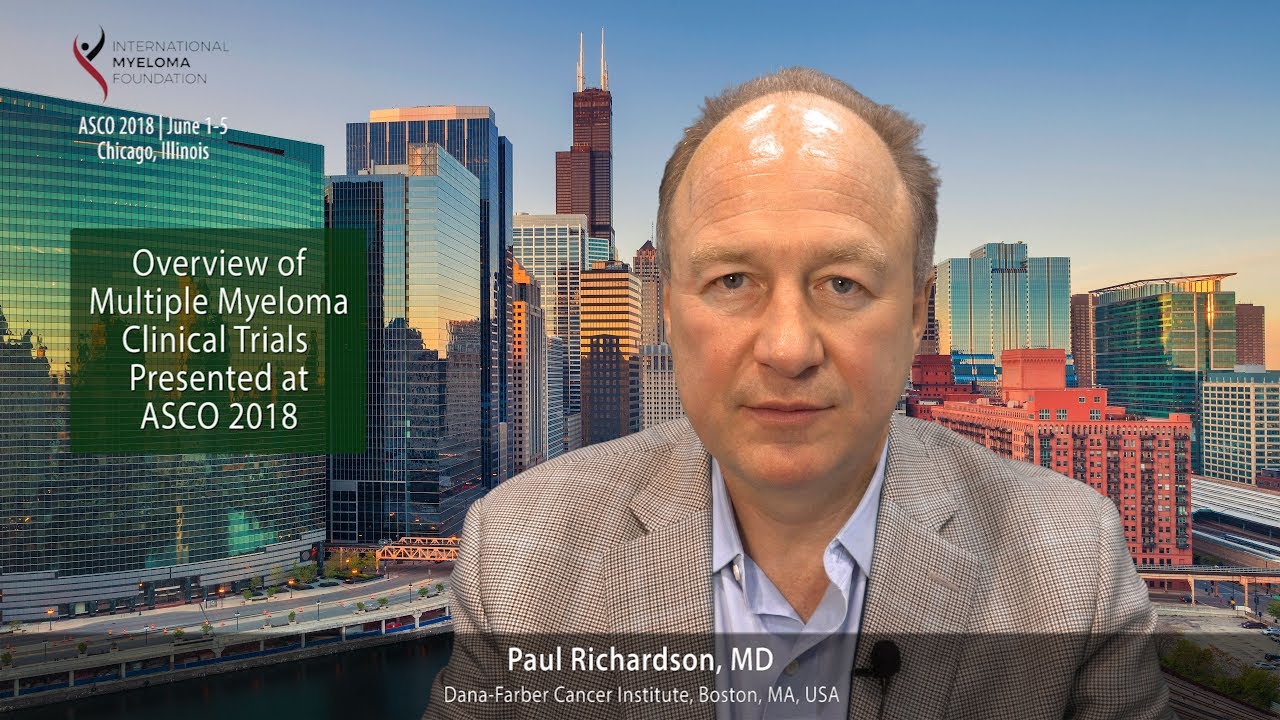 Overview of Multiple Myeloma Clinical Trials Presented at ASCO 2018
Dr. Paul Richardson on Myeloma Highlights from ASCO 2018
In this video, Dr. Paul Richardson (Dana Farber Cancer Institute, Boston) talks about the most exciting multiple myeloma clinical trials presented at ASCO 2018.
He comments on the bb2121 Bluebird study that treats heavily refractory multiple myeloma patients with CAR T-cell therapy. He notes that the study shows a striking response rate and impressive progression-free survival (up to 12 months). He also discusses how the side effect management of the patients in this study is encouraging, yet it is still relatively early to make the most of these learnings.
Dr. Richardson mentions that investigators also gained important insights from an early phase I study that used venetoclax in combination with proteasome inhibitor for t(11;14) multiple myeloma patients. And, he points to the positive data results of the A.R.R.O.W. study. He also discusses what can be learned from the recent FDA halting trials of pembrolizumab in combination with lenalidomide.
Finally, he comments on a study that treats refractory myeloma patients with the combination of pomalidomide + bortezomib + dexamethasone + a proteasome inhibitor, with a 53% response rate and excellent tolerability, and how its results are "both encouraging and very reflective of the (ASCO 2018) meeting overall."
---
ABOUT PAUL RICHARDSON, MD
Paul Richardson, M.D. is the Clinical Program Leader and Director of Clinical Research at the Jerome Lipper Multiple Myeloma Center at Dana-Farber Cancer Institute in Boston. He is also an Institute Physician and a RJ Corman Professor of Medicine, at Harvard Medical School in Cambridge, MA. In addition to multiple myeloma, his key clinical interests are regimen-related toxicity, stem cell transplantation, experimental therapies and cancer pharmacology, and more. Visit Dr. Paul Richardson's full biography.
Next Post
Top five promising multiple myeloma research studies presented at ASCO 2018