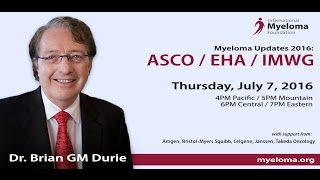 Myeloma Updates 2016: Post ASCO/EHA/IMWG
click on the image above to watch the teleconference
(to view the teleconference in fullscreen, click on the bottom right square icon beside the YouTube logo)
Dr. Brian G.M. Durie Provides Updates from 2016 ASCO, EHA, and IMWG Annual Meetings
Learn more about current trends in myeloma treatment and research with this update from three major medical meetings held in June 2016. Dr. Brian G.M. Durie will explain what's new and exciting from the American Society of Clinical Oncology (ASCO), the European Hematology Association (EHA), and the International Myeloma Working Group Summit (IMWG).
This teleconference is sponsored by an educational grant from:
​Amgen, Bristol-Myers Squibb, Celgene Corporation,  Janssen, and Takeda Oncology
Previous Post
Is it possible to have symptoms of myeloma in your head?
Next Post
iStopMM (Iceland Screens, Treats, or Prevents Multiple Myeloma)