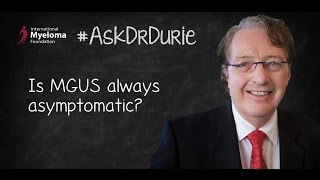 Is MGUS always asymptomatic?
Post date
December 08, 2016
In this week's video,  Dr. Brian Durie explains that even though MGUS is benign, some MGUS patients may develop symptoms due to the presence of abnormal monoclonal protein in the blood.
BOTTOM LINE:
MGUS patients may have symptoms that will need to be treated accordingly.
IMF Chairman and Co-Founder Brian G.M. Durie, MD welcomes your questions about the latest myeloma treatments, research, controversies and quality of life issues. If you have a question you think might be of interest to the myeloma community, please send to askdrdurie@myeloma.org!
For questions of a specific personal nature, please call the IMF InfoLine coordinators at 800.452.2873 or email them at infoline@myeloma.org. 
Previous Post
Is it safe to have surgery if my myeloma is in remission?
Next Post
Are tandem stem cell transplants necessary?