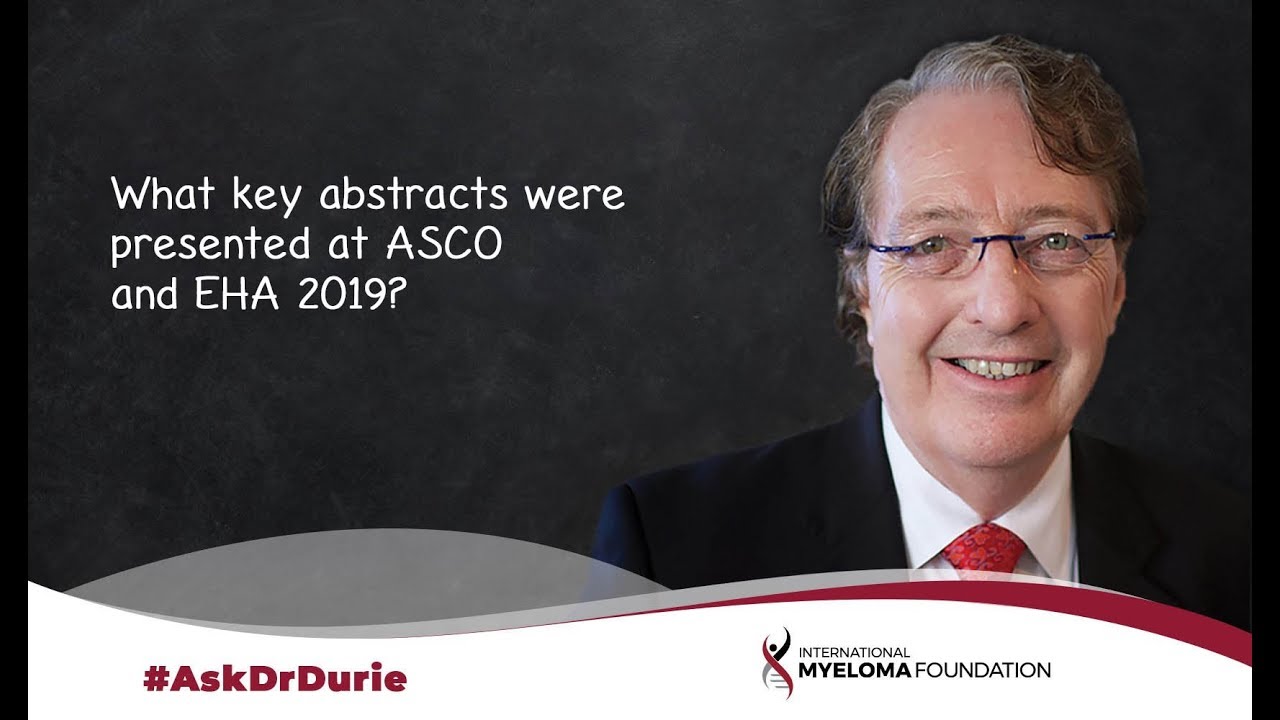 What key abstracts were presented at ASCO and EHA 2019?
In this video, Dr. Brian G.M. Durie provides details of the CASSIOPEIA trial.
BOTTOM LINE:
The IFM's CASSIOPEIA trial shows that the use of daratumumab, Velcade, thalidomide, and dexamethasone may be a good choice for frontline therapy.
If you have a question that you'd like to suggest for a future episode of Ask Dr. Durie, please submit it to [email protected]. 
To reach the IMF InfoLine Coordinators, please call 800.452.2873 or email them at [email protected]. 
Transcript:
This week's Ask Dr. Durie comes from a patient who wants to know, "What were the key abstracts presented at ASCO and EHA in 2019?"
The ASCO meeting is held at the end of May, and the EHA meeting is held at the beginning of June. There were a number of quite important abstracts, and I summarized the top 10 ASCO abstracts in a blog, which was published on May 23rd. So this summarizes a series of those top abstracts.
However, I would say there has been one abstract which has garnished the most commentary, and this is a report from the IFM—the French clinical trials group—where the results of a trial called the CASSIOPEIA trial are presented with the lead author, Dr. Philippe Moreau. This abstract was presented in oral fashion in ASCO, and in fact, is part of the presidential symposium at the EHA meeting in Amsterdam.
And so, what do the results show. Well, this is what's called a phase III randomized trial for newly diagnosed patients. And this means that half of the patients received, in this case, received a four-drug combination of daratumumab, Velcade, thalidomide, and dex. And those patients were compared to the patients who receiving the  Velcade, thalidomide, and dex-alone, VTd alone.
So very important comparison, and as you might expect, the addition of the daratumumab, the new monoclonal antibody against CD38, trade name Darzalex. The addition of the daratumumab increased the number of patients who responded and in particular, the depth of response.
And so, the patients who achieved a complete remission with MRD-negative, where there was absence of the disease with careful testing of minimal residual disease. In the dara-VTd, this percentage was 33-some percent versus 19.9 percent in the patients receiving the VTd-alone.
And so it's clear that this is going to be a new standard of care in Europe where VTd is used in preference to VRd, just because of availability. So we are definitely going to be seeing this as a regimen that will be important and used widely, particularly with the upcoming availability of daratumumab by the subcutaneous route.
And so as has been emphasized by a variety of reviewers, by seeing these data, this has been a very important study and gives us key new information to think about and discuss with patients in the frontline setting.
 
---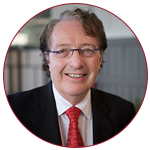 Dr. Brian G.M. Durie serves as Chairman of the International Myeloma Foundation and serves on its Scientific Advisory Board. Additionally, he is Chairman of the IMF's International Myeloma Working Group, a consortium of nearly 200 myeloma experts from around the world. Dr. Durie also leads the IMF's Black Swan Research Initiative®.