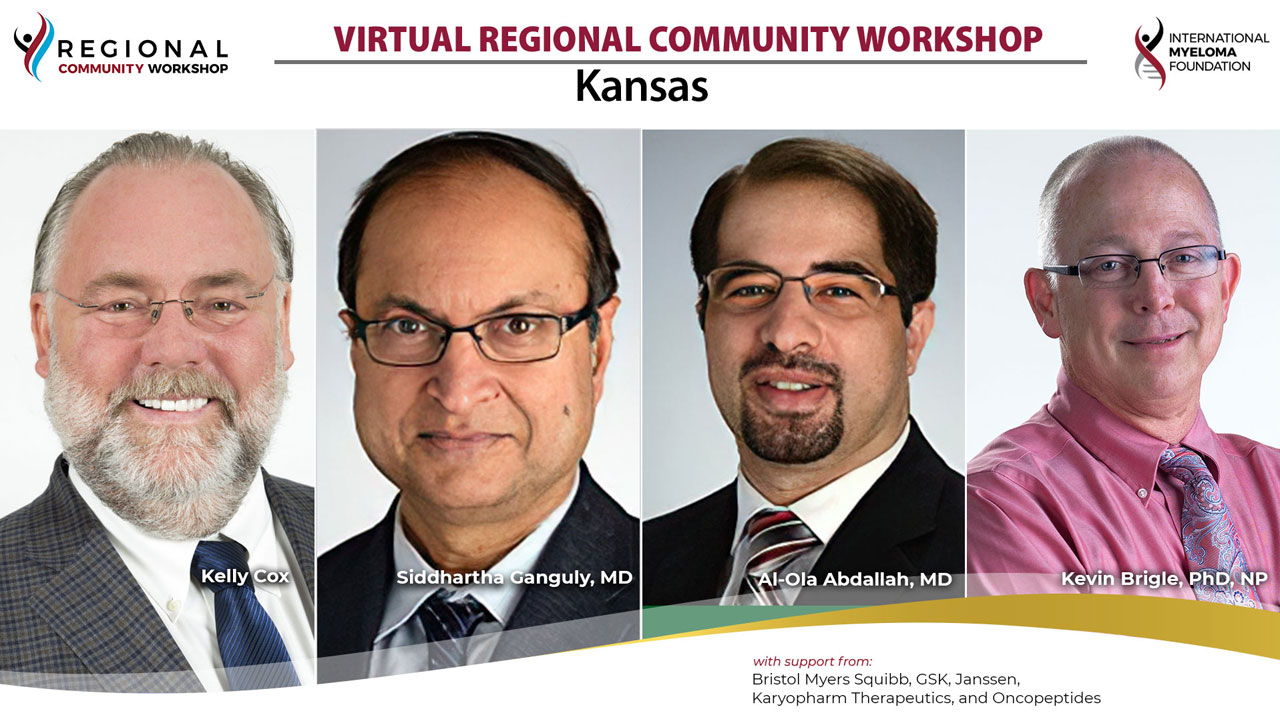 Kansas Area Virtual Regional Community Workshop
This International Myeloma Foundation Regional Community Workshop is a virtual workshop, set in an engaging environment that offers myeloma patients and caregivers up-to-the- minute information about multiple myeloma. Topics include an introduction to myeloma (Myeloma 101), upfront treatments at diagnosis, maintenance therapy, relapse information, and an update on clinical trials. Also, a member of the IMF Nurse Leadership Board will talk about managing side effects and symptoms of myeloma and treatments.
Speakers and Topics:
Kelly Cox, Senior Director
Regional Community Workshops
International Myeloma Foundation

Siddhartha Ganguly, MD
The University of Kansas Cancer Center

Al-Ola Abdallah, MD
The University of Kansas Cancer Center

Kevin Brigle, PhD, NP
VCU Massey Cancer Center
(please click on the links to view the video segments)
Workshop Sponsors:
With Support From: Bristol Myers Squibb; GSK, Janssen; Karyopharm Therapeutics; and Oncopeptides
(The IMF is not responsible for content provided by the links below and you may be subject to the Privacy Policy and Terms & Conditions of the destination site(s).)
Previous Post
COVID-19 FAQ #29: Can COVID-19 vaccinations trigger active myeloma?
Next Post
Patient & Family Webinar: The Future is Looking Bright for Myeloma Patients!