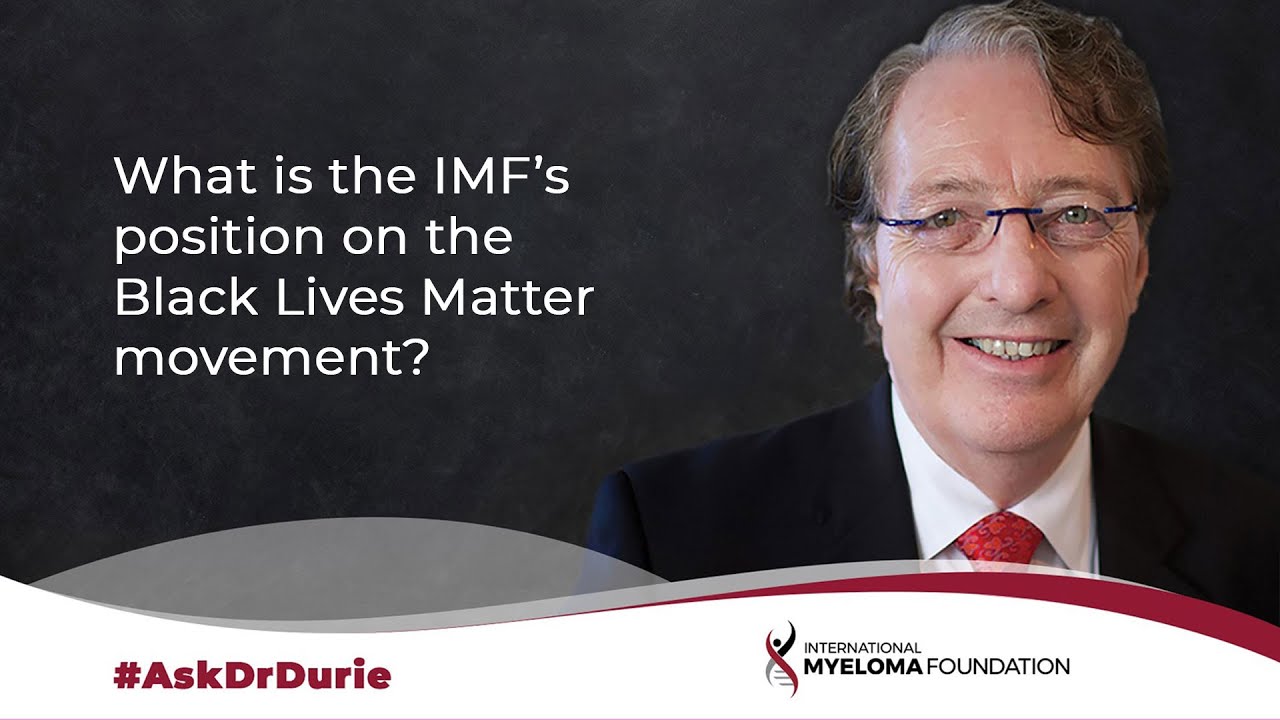 What is the IMF's position on the Black Lives Matter movement?
In this video, Dr. Brian G.M. Durie affirms the IMF's commitment to stand in solidarity with the Black Community in fighting racial disparities in healthcare and beyond. The IMF vehemently believes that Black Lives Matter.  
BOTTOM LINE:
The IMF will work tirelessly to improve healthcare access for Black Americans and diverse communities all around the world. 
IMF Chairman Brian G.M. Durie, MD welcomes your questions about the latest myeloma treatments, research, controversies and quality of life issues. If you have a question you think might be of interest to the myeloma community, please send to [email protected]!

For questions of a specific personal nature, please call the IMF InfoLine coordinators at 800.452.2873 or email them at [email protected]. 
Transcript:
This week's "Ask Dr. Durie" is a key question The questioners, many in this case, want to know, "What is the IMF's position on the Black Lives Matter movement?"  
 
The brutal killings of George Floyd at the hands of police enraged people in the U.S. and around the world. There is no doubt this has raised a level of anxiety and concern about Black lives that has never been felt so strongly before. 
The IMF is committed to help in any way that we can to make sure that justice and equity can prevail for Black Americans and to Black individuals around the world. 
The IMF does not from shrink from the responsibility from recognizing that Black lives matter, and to do everything we can to make things better. We are aware that systemic racism has had an impact on the Black community for many, many years. And this impact has been pervasive at every level, from education, housing, and the access to high-level healthcare.
  
And the access to healthcare has been particularly troubling during this time of COVID-19. And the COVID-19 crisis has laid bare the true inequities in the ability to get access to high-level care necessary to beat this pandemic. 
And so, the IMF is committed to help in every way we can to enhance and improve healthcare. We will work strongly to be a force in making a difference for all Black Americans, and to enrich the diverse communities of peoples all around the world. 
---
Dr. Brian G.M. Durie serves as Chairman of the International Myeloma Foundation and serves on its Scientific Advisory Board. Additionally, he is Chairman of the IMF's International Myeloma Working Group, a consortium of nearly 200 myeloma experts from around the world. Dr. Durie also leads the IMF's Black Swan Research Initiative®.
Previous Post
Primary analysis of the randomized phase II trial of RVd with/without elotuzumab for newly diagnosed, high-risk multiple myeloma: SWOG-1211
Next Post
COVID-19 FAQ #15: Is dexamethasone helpful against the COVID-19 infection?