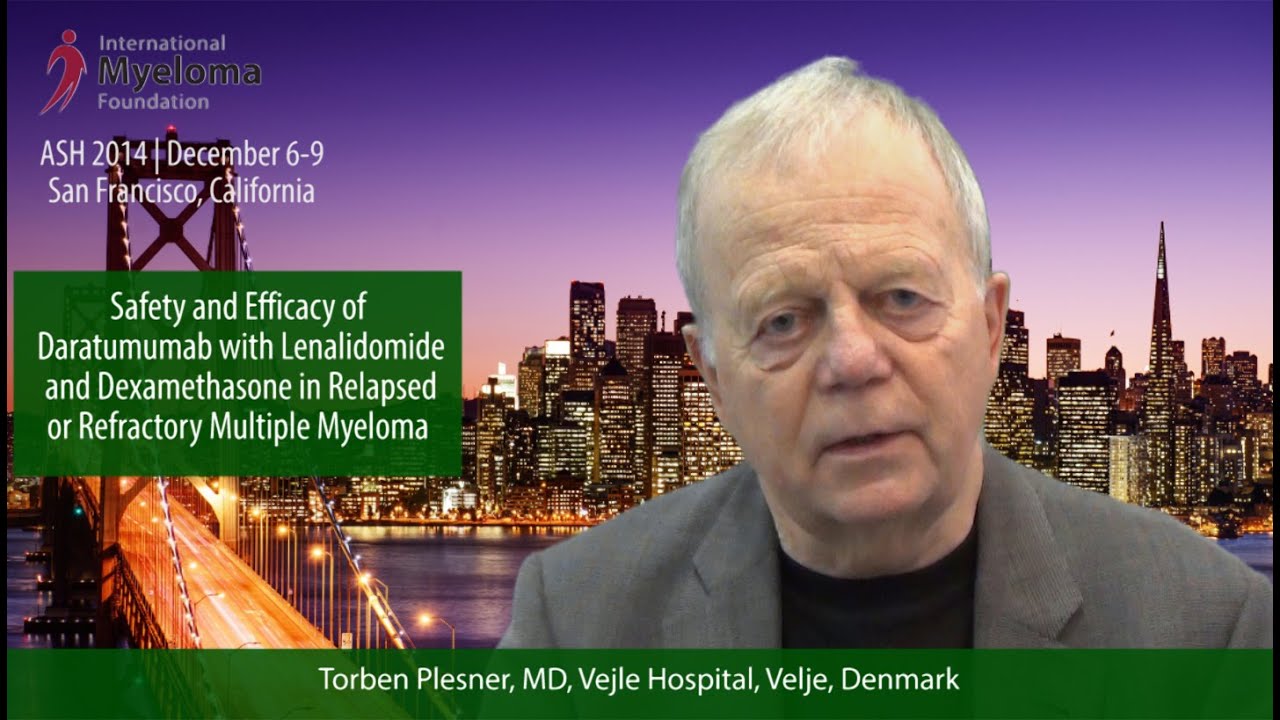 Dr. Torben Plesner on daratumumab/lenalidomide/dexamethasone in RRMM (ASH 2014)
Safety and Efficacy of Daratumumab with Lenalidomide and Dexamethasone in Relapsed or Relapsed, Refractory Multiple Myeloma

Torben Plesner, MD
Vejle Hospital
Velje, Denmark
Program: Oral and Poster Abstracts
Type: Oral
Session: 653. Myeloma: Therapy, excluding Transplantation II
Torben Plesner, MD1*, Hendrik-Tobias Arkenau, MD2*, Henk M. Lokhorst, MD PhD3, Peter Gimsing, MD, PhD4*, Jakub Krejcik, MD5*, Charlotte Lemech, MD6*, Monique C. Minnema, MD PhD3, Ulrik Lassen, MD PhD7*, Jacob P. Laubach, MD8, Tahamtan Ahmadi, MD, PhD9, Howard Yeh, MD10*, Mary E Guckert, MSN, RN11*, Huaibao Feng12*, Nikolai Constantin Brun, MD PhD13, Steen Lisby14, Linda Basse, MD DMSc13*, Antonio Palumbo, MD15 and Paul G. Richardson16
1Vejle Hospital, Velje, Denmark
2Sarah Cannon Research Insitute, London, United Kingdom
3Hematology, UMC Utrecht, Utrecht, Netherlands
4Department of Haematology, Rigshospitalet, University of Copenhagen, Copenhagen, Denmark
5Vejle Hospital, Vejle, Denmark
6Sarah Cannon Research Institute, London, United Kingdom
7Rigshospitalet, Copenhagen, Denmark
8LeBow Institute for Myeloma Therapeutics, Jerome Lipper Multiple Myeloma Center, Department of Medical Oncology, Dana-Farber Cancer Institute, Harvard Medical School, Boston, MA
9Janssen, Springhouse, PA
10Janssen Research & Development, Raritan, NJ
11Janssen, Spring House, PA
12Janssen Research&Development, Raritan, NJ
13Genmab A/S, Copenhagen, Denmark
14Genmab, Copenhagen, Denmark
15Myeloma Unit, Division of Hematology, University of Torino, Torino, Italy
16The LeBow Institute for Myeloma Therapeutics and Jerome Lipper Myeloma Center, Department of Medical Oncology, Dana-Farber Cancer Institute, Harvard Medical School, Boston, MA
 
Background:   Daratumumab (DARA) (HuMax™-CD38), a human IgG1κ monoclonal antibody effectively mediates destruction of CD38-expressing malignant plasma cells. In the first-in-human dose-escalation study, 42% of heavily pretreated patients with relapsed, or relapsed, refractory (RR) multiple myeloma (MM) treated with DARA alone (≥4mg/kg) achieved partial response (PR) and 25% had minimal response (MR) (modified IMWG guidelines) (1). In preclinical studies, DARA + lenalidomide (LEN) enhanced killing of MM cells in vitro (2). We evaluated safety, pharmacokinetics (PK) and efficacy of DARA + LEN + low-dose dexamethasone (DEX) in patients with relapsed or RR MM.
Methods:   This ongoing phase I/II open-label multicenter study consisted of 2 parts: Part1 was dose-escalation study  in which patients (≥ 18 years old) with life expectancy ≥3 months and ECOG status 0, 1 or 2 received DARA+LEN+DEX (DARA [2-16 mg/kg] per week [8 weeks], twice a month [16 weeks], then, once monthly until disease progression, unmanageable toxicity or 24 months in total; LEN [25 mg PO day 1 through 21 of  28-days cycles]; DEX [40 mg] once weekly). Part 2 was cohort expansion study which explored the testing of maximum tolerated DARA dose (MTD) (16 mg/kg) determined in part 1 along with LEN (25 mg mg PO day 1 through 21 of  28-days cycles) and DEX (40 mg) once weekly.
Results:   Data from 22 patients (13 patients [fully enrolled] from part 1 and 9 patients from part 2, [ongoing enrollment]) were presented at ASCO earlier this year (3). These results demonstrated that the most frequent (>30% patients) adverse events (AEs) were neutropenia and diarrhea; no dose limiting toxicities (DLTs) were reported. Infusion reactions (grade 1 and 2) were reported in 4 patients. 8 serious AEs were reported, all assessed as unrelated to DARA. MTD was not reached. DARA+LEN+DEX PK-profile was similar to DARA alone suggesting LEN and DEX do not affect the DARA PK-profile. Available preliminary efficacy data from 20 patients demonstrated marked decrease in M-protein in all patients; 15/20 patients achieved PR or better, 3/20 with CR, 6/20 with VGPR. Median time to response was 4.3 weeks (range: 2.1-11.3). Overall response rate (ORR) was 75% (15/20) combining all patients in part 1 and 2 and 92.3% (12/13) for part 1 patients, who had at least 2 months of follow-up or discontinued earlier.
Conclusions:  DARA+LEN+DEX has favorable safety profile with manageable toxicities in relapsed and RR MM. Encouraging early activity is seen with marked reduction in M-protein and majority of the patients (~75%) achieved PR or better. Results of approximately 30 patients from part 2 with at least 2 months of treatment exposure and 10 patients (out of 30 patients) with shortened duration of infusion will be presented.
---
ABOUT TORBEN PLESNER, MD
Dr. Torben Plesner is an internationally recognized myeloma expert, Hematologist in the Department of Hematology at Vejle Hospital in Denmark, and Professor at the University of Southern Denmark. Dr. Plesner was involved in the earliest work on daratumumab (Darzalex), which is one of the very promising monoclonal antibodies for the treatment of multiple myeloma. Dr. Torben Plesner has published in several peer-reviewed journals.
Previous Post
Dr. Elena Zamagni on the role of FDG PET/CT in monitoring smoldering myeloma (ASH 2014)
Next Post
Dr. Tomer Mark on Car-Bird for Newly Diagnosed Multiple Myeloma Patients (ASH 2014)