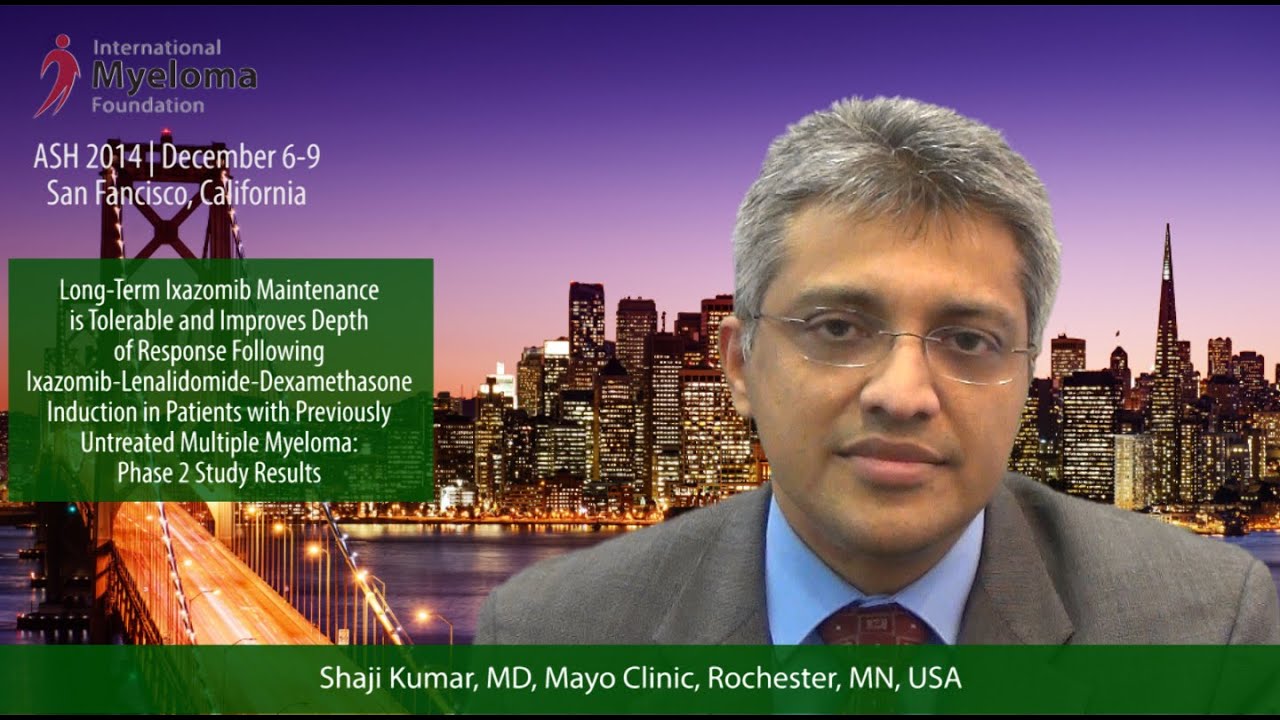 Dr. Shaji Kumar on long-term myeloma maintenance treatment with ixazomib (ASH 2014)
Dr. Shaji Kumar (Mayo Clinic, Rochester, Minnesota) discusses results of a phase II clinical trial in multiple myeloma patients showing that long-term maintenance treatment with ixazomib is tolerable and improves depth of response following ixazomib-lenalidomide (Revlimid)-dexamethasone induction in patients with previously untreated multiple myeloma. These phase II study results were presented at the 56th American Society of Hematology (ASH) Annual Meeting. ASH 2014 abstract 82.

Program: Oral and Poster Abstracts
Type: Oral
Session: 653. Myeloma: Therapy, excluding Transplantation II
Shaji Kumar, M.D.1, Jesus G. Berdeja, MD2, Ruben Niesvizky, MD3, Sagar Lonial, MD4, Jacob P. Laubach, MD5, Mehdi Hamadani, MD6, A. Keith Stewart, MD7, Parameswaran N. Hari, MD8, Vivek Roy, MD9, Robert Vescio, MD10*, Jonathan L. Kaufman, MD4, Deborah Berg, RN, MSN11, Eileen Liao, PhD11*, Ai-Min Hui, MD, PhD11, S. Vincent Rajkumar, MD1 and Paul G. Richardson12
1Division of Hematology, Mayo Clinic, Rochester, MN
2Sarah Cannon Research Institute, Nashville, TN
3Myeloma Center, Weill Cornell Medical College, New York, NY
4Hematology and Medical Oncology, Winship Cancer Institute of Emory University, Atlanta, GA
5Dana-Farber Cancer Institute, Boston, MA
6Hematology/Oncology, West Virginia University, Mary Babb Randolph Cancer Center, Morgantown, WV
7Division of Hematology/Oncology, Mayo Clinic, Scottsdale, AZ
8Division of Hematology and Oncology, Medical College of Wisconsin, Milwaukee, WI
9Division of Hematology & Medical Oncology, Mayo Clinic, Jacksonville, FL
10Cedars-Sinai Outpatient Cancer Center at the Samuel Oschin Comprehensive Cancer Institute, Los Angeles, CA
11Takeda Pharmaceuticals International Co., Cambridge, MA
12The LeBow Institute for Myeloma Therapeutics and Jerome Lipper Myeloma Center, Department of Medical Oncology, Dana-Farber Cancer Institute, Harvard Medical School, Boston, MA 
Background:
Triplet regimens combining a proteasome inhibitor, an immunomodulatory drug, and a steroid have been shown to be active and well tolerated in previously untreated MM pts. Extended treatment represents an alternative paradigm to induction followed by ASCT in this setting; however, agents for continuous therapy need to be convenient and well tolerated. The investigational agent ixazomib is the first oral proteasome inhibitor to be studied clinically. Phase 1 studies have indicated single-agent activity in relapsed/refractory MM and shown ixazomib to be well tolerated with a manageable safety profile, including limited peripheral neuropathy (PN) (Richardson PG et al, Blood 2014; Kumar SK, et al, Blood 2014). Weekly ixazomib plus lenalidomide-dexamethasone has been investigated in a phase 1/2 study in previously untreated MM pts (NCT01217957); treatment comprised triplet induction therapy followed by single-agent ixazomib maintenance therapy. Results of induction therapy have been previously reported (Kumar SK, et al, ASH 2012). Here we report phase 2 efficacy and safety data in pts receiving ixazomib maintenance.
Methods:
In phase 2, pts aged ≥18 yrs with measurable disease and no grade ≥2 PN received oral ixazomib 4.0 mg on d 1, 8, 15, lenalidomide 25 mg on d 1–21, and dexamethasone 40 mg on d 1, 8, 15, 22, for up to twelve 28-d induction cycles, followed by maintenance ixazomib on d 1, 8, 15 every 28 d until progression at the dose last tolerated during induction. Transplant-eligible pts could discontinue from study for ASCT after 6 cycles. The primary objective was CR+VGPR rate. Responses were assessed by IMWG criteria. Adverse events (AEs) were graded by NCI-CTCAE v4.02.
Results:
Fifty pts were enrolled in phase 2; 29 discontinued during induction (cycles 1–12), primarily to undergo ASCT (n=14) or due to AEs (n=6) or pt withdrawal (n=4). Twenty-one pts received ixazomib maintenance therapy (cycle ≥13); 13 (62%) were male, and median age was 68 (range 34–77) years. At data cut-off (June 11, 2014), pts had received a median of 27 treatment cycles (range 15–32), including both induction and maintenance, with a median treatment duration of 26.6 mos (range 13.4–29.6). Mean ixazomib relative dose intensity was 95% and 89% in the induction and maintenance phases, respectively. The mean ixazomib dose administered during maintenance was 3.6 mg weekly. At data cut-off, 11 (52%) pts remained on ixazomib maintenance. Among 49 evaluable phase 2 pts, 44 (90%) achieved ≥PR, including 29 (59%) ≥VGPR. All 21 pts who received ixazomib maintenance had responded to induction therapy. Overall best confirmed/unconfirmed responses in the 21 pts included ≥CR in 11 (52%, of which 4 [19%] were stringent CRs [sCR]), ≥near-CR in 13 (62%), and ≥VGPR in 15 (71%), plus 6 (29%) PR. Responses were rapid and improved during treatment. Median time to first response (≥PR) was 0.99 mos (range 0.92–5.78) and to best response was 7.46 mos (range 1.02–24.74); 33% of pts improved their response during maintenance, including 2 VGPR to near-CR, 3 VGPR to CR, 1 VGPR to sCR, and 1 CR to sCR. At data cut-off, median duration of response was 26.5 mos (range 5.6–26.6+). Among 15 pts achieving ≥VGPR, 5 (33%) had progressed; median duration of ≥VGPR was 23.0 mos (range 3.7–26.1+). All pts were alive after follow-up of 24.6–30.3 mos, including a median follow-up from start of maintenance of 16.9 mos (range 12.9–18.9). Ixazomib maintenance was well tolerated; 15 (71%) pts had drug-related AEs, with only 2 (10%) pts with grade 3 drug-related AEs (hypokalemia, thrombocytopenia) and no grade 4 AEs. The most common (>1 pt) grade 1–2 drug-related AEs were diarrhea (n=8, 38%), nausea, pain in extremity (each n=3, 14%), anemia, and headache (each n=2, 10%). No PN was reported. Serious AEs were reported in 3 (14%) pts during maintenance, including grade 3 acute myocardial infarction, grade 3 pneumonia, and grade 3 orthostatic hypotension; all were considered not related to treatment. Only 1 pt required an ixazomib dose reduction due to an AE (neuralgia).
Conclusions:
These data indicate that single-agent ixazomib maintenance for up to 1.5 yrs was feasible and generally well tolerated, improved responses following ixazomib-lenalidomide-dexamethasone induction, and contributed to durable responses (median >2 yrs) in previously untreated MM pts not undergoing ASCT. The results support the ongoing phase 3 trial of ixazomib in the maintenance setting (NCT02181413).
---
ABOUT SHAJI K. KUMAR, MD
Dr. Shaji Kumar is the Medical Director for the Cancer Center Clinical Research Office at the Mayo Clinic Cancer Center in Rochester, Minnesota. Dr. Kumar holds membership in several professional organizations including the American Society of Hematology, American Society of Clinical Oncology, American Association for Cancer Research, American Society of Blood and Marrow Transplantation, the Association of Physicians of India, and the European Hematology Association. He has published numerous articles, abstracts, editorials, and letters in the peer-reviewed literature, including Blood, Journal of Clinical Oncology, Leukemia, American Journal of Hematology, British Journal of Haematology, and Bone Marrow Transplantation. Visit Dr. Shaji Kumar's full biography.
Next Post
Dr. Giampaolo Merlini on ixazomib in systemic light-chain amyloidosis (ASH 2014)