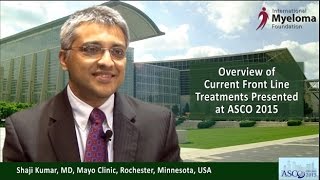 Dr. Shaji Kumar - ASCO 2015 Overview
Post date
October 13, 2015
Dr. Shaji Kumar overview on what abstracts and posters generated the most excitement for the field of Multiple Myeloma at ASCO 2015.
---
ABOUT SHAJI K. KUMAR, MD
Dr. Shaji Kumar is the Medical Director for the Cancer Center Clinical Research Office at the Mayo Clinic Cancer Center in Rochester, Minnesota. Dr. Kumar holds membership in several professional organizations including the American Society of Hematology, American Society of Clinical Oncology, American Association for Cancer Research, American Society of Blood and Marrow Transplantation, the Association of Physicians of India, and the European Hematology Association. He has published numerous articles, abstracts, editorials, and letters in the peer-reviewed literature, including Blood, Journal of Clinical Oncology, Leukemia, American Journal of Hematology, British Journal of Haematology, and Bone Marrow Transplantation. Visit Dr. Shaji Kumar's full biography.
Previous Post
Dr. Sagar Lonial discusses the results from the ELOQUENT-2 Phase III clinical trial (ASCO 2015)
Next Post
Dr. Morie Gertz Overview on Frontline Therapies presented at ASCO 2015