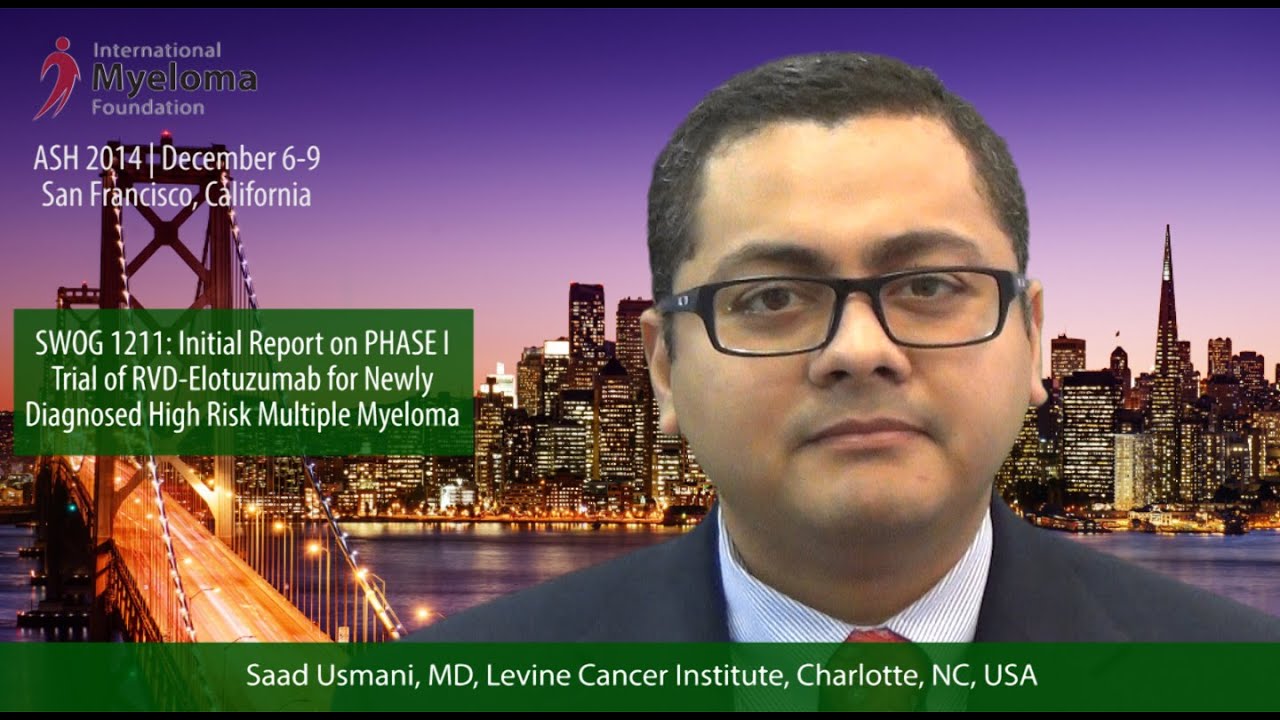 Dr. Saad Usmani on SWOG-1211 newly diagnosed high-risk myeloma trial (ASH 2014)
Post date
October 15, 2015
Dr. Saad Usmani (Levine Cancer Institute, Charlotte, North Carolina) discusses results from the SWOG 1211 clinical trial, providing an initial report on the phase I portion of the trial evaluating RVD (Revlimid, Velcade, dexamethasone)-elotuzumab in newly diagnosed high-risk multiple myeloma patients. These phase I study results were presented at the 56th American Society of Hematology (ASH) Annual Meeting. ASH 2014 abstract 4762.

Program: Oral and Poster Abstracts
Session: 653. Myeloma: Therapy, excluding Transplantation: Poster III
Saad Z. Usmani, M.D.1, Rachael Sexton2*, Sikander Ailawadhi, MD3*, Jatin J. Shah4, Natalie S Callander, MD5, Todd Zimmerman, MD6, Jason Valent, MD7*, Michael Rosenzweig, MD8, Brea C. Lipe, MD9, Jeffrey Zonder, MD10, Sandi Fredette11*, Brian G. M. Durie, MD12, Antje Hoering, PhD13*, S. Vincent Rajkumar, MD14, Paul G. Richardson15 and Robert Z. Orlowski, PhD, MD4
1Hematologic Oncology and Blood Disorders, Levine Cancer Institute, Charlotte, NC
2Research and Biostatistics, Cancer Research and Biostatistics, Seattle, WA
3Division of Hematology & Medical Oncology, Mayo Clinic, Jacksonville, FL
4Department of Lymphoma/Myeloma, The University of Texas MD Anderson Cancer Center, Houston, TX
5William S. Middleton Memorial Veterans Hospital and University of Wisconsin- Madison, Madison, WI
6Department of Medicine, Section Hematology/Oncology, University of Chicago Medicine, Chicago, IL
7Taussig Cancer Institute, Department of Hematology & Medical Oncology, Cleveland Clinic, Cleveland, OH
8City of Hope, Duarte, CA
9Division of Hematology and Oncology, University of Kansas Medical Center, Kansas City, KS
10Karmanos Cancer Institute, Detroit, MI
11SWOG Operations, San Antonio, TX
12Cedars-Sinai Outpatient Cancer Center at the Samuel Oschin Comprehensive Cancer Institute, Los Angeles, CA
13Cancer Research and Biostatistics, Seattle, WA
14Division of Hematology, Mayo Clinic, Rochester, MN
15The LeBow Institute for Myeloma Therapeutics and Jerome Lipper Myeloma Center, Department of Medical Oncology, Dana-Farber Cancer Institute, Harvard Medical School, Boston, MA
BACKGROUND: The introduction of novel agents and proteasome inhibitors, and advances in high dose therapy administration has made an impact on the survival outcomes for MM patients. However, HRMM still remains a therapeutic challenge with poor prognosis. Even with aggressive approaches such as the Total Therapy protocols, patients with poor genomic risk have a 2-year event-free survival of ~50% (Nair et al, Blood 2010). A randomized Phase I/II trial was designed to evaluate the efficacy of adding immunotherapy into the first line for HRMM patients, comparing lenalidomide, bortezomib and dexamethasone (RVD) with or without addition of elotuzumab (Elo), a humanized monoclonal antibody that binds to SLAMF7/CS1. We are reporting on the Phase I portion of the study.
PATIENTS & METHODS: The objective of Phase I was to determine the maximum tolerated dose (MTD) of RVD-Elo. Both low/standard risk MM and HRMM patients were eligible. HRMM was defined by one or more of the following: (1) poor risk genomics by the Arkansas 70-gene model, (2) translocation (14;16), translocation (14;20) and/or deletion (17p) by florescent in-situ hybridization (FISH), (3) primary plasma cell leukemia and (4) serum LDH > 2 times normal levels. The treatment consisted of induction chemotherapy for 8 cycles with RVD-Elo (lenalidomide 25 mg orally days 1-14 of every 21-day cycle; bortezomib 1.3 mg/m2 subcutaneously days 1,4,8,11; dexamethasone 20 mg orally days 1,2,4,5,8,9,11,12; elotuzumab 10 mg/kg intravenously days 1,8,15 cycles 1-2 then days 1,11 cycles 3-8) followed by dose-attenuated RVD-Elo maintenance (lenalidomide 25 mg orally days 1-14; bortezomib 1.0 mg/m2 subcutaneously days 1,8,15; dexamethasone 12 mg orally days 1,8,15; elotuzumab 10 mg/kg intravenously days 1,15) until disease relapse, progression or intolerance. Adverse events (AE) were recorded as per the NCI CTCAEv4.0.
RESULTS: Eight newly diagnosed MM patients were enrolled on the Phase I run-in study. Six patients (Figure 1) were evaluable for dose limiting toxicities (DLT) during Cycle 1 as per protocol. The median age of patients was 67 years (range: 56-79 years), with 67% ≥65 years, Hgb was less than 10 g/dL in 50%, creatinine was greater than 2 mg/dL in all patients. ISS stage distribution was 17% (I), 33% (II) and 50% (III). Deletion 13 was observed in 1 patient (17%). The most common AEs (all grades) were fatigue (100%), peripheral sensory neuropathy (83%), edema (83%), lymphopenia (66%) and leukopenia (50%). The most common Grade 3 AEs were peripheral sensory neuropathy (33%), one of which was a DLT, neutropenia (17%) and thrombocytopenia (17%). One Grade 4 lymphopenia was observed. All 6 patients have completed 8 cycles of RVD-Elo induction therapy and 5 patients have completed at least 4 cycles of RVD-Elo maintenance. Overall median days on therapy per cycle were 13 days during induction and 20 days per cycle during maintenance. Dose adjustments were made in 83% of patients for bortezomib, 83% for lenalidomide and 33% for dexamethasone. There were no dose reductions for elotuzumab, although three patients had 1 event each of dose delays/missed dosing attributable to AE/SAE from RVD. Efficacy data will be released at the time that the phase II study of RVD +/- Elo is mature.
Discussion/Conclusion: The RVD-Elo is a safe well-tolerated regimen for newly diagnosed MM patients without major additive AE/SAE beyond what is already known about RVD. This is the first report of the only phase I experience combining the triple-drug regimen RVD with the monoclonal antibody Elotuzumab for newly diagnosed MM.
---
ABOUT SAAD USMANI, MD
Dr. Saad Usmani is Chief of Plasma Cell Disorders and Director of Clinical Research in Hematologic Malignancies at the Levine Cancer Institute Hematologic Oncology and Blood Disorders and Carolinas HealthCare System.
Previous Post
Dr. Jeffrey Zonder: Pomalidomide/bortezomib/dex in amyloidosis, light chain dep. disease (ASH 2014)
Next Post
ASH 2014: Dr. Jeffrey Zonder Overview