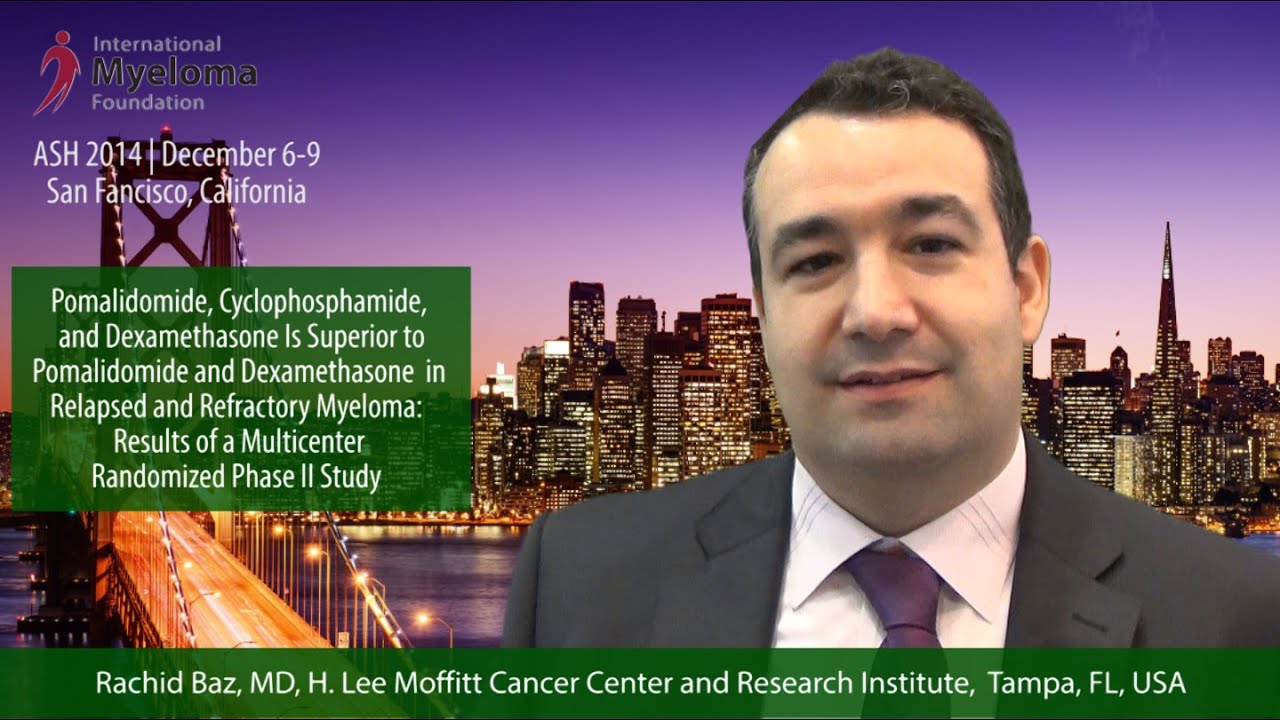 Dr. Rachid Baz on cyclophosphamide/pomalidomide/dexamethasone in myeloma phase II trial ASH 2014)
Dr. Rachid Baz of the H. Lee Moffitt Cancer Center and Research Institute in Tampa, Florida was interviewed at the 2014 American Society of Hematology (ASH) meeting about Dr. Rachid Baz on cyclophosphamide, pomalidomide, dexamethasone in a myeloma phase II trial (Abstract 303).

Pomalidomide, Cyclophosphamide, and Dexamethasone Is Superior to Pomalidomide and Dexamethasone in Relapsed and Refractory Myeloma: Results of a Multicenter Randomized Phase II Study.
Program: Oral and Poster Abstracts
Type: Oral
Session: 653. Myeloma: Therapy, excluding Transplantation: Treatments For Relapsed/Refractory Disease; AL Amyloidosis
Rachid Baz, MD1, Thomas G. Martin III, M.D.2, Melissa Alsina, MD3, Kenneth H. Shain, MD, PhD1, Hearn J. Cho, MD, PhD4, Jeffrey L Wolf, MD2, Anuj Mahindra, M.D.2, Ajai Chari, MD4, Daniel M Sullivan, MD5, Lisa A Nardelli, BS, CCRP6*, Kenneth Lau, BA4*, Xiuhua Zhao7*, Hui-Yi Lin, PhD7* and Sundar Jagannath, MD4
1Department of Malignant Hematology, H. Lee Moffitt Cancer Center and Research Institute, Tampa, FL
2University of California San Francisco, Helen Diller Family Comprehensive Cancer Center, San Francisco, CA
3Department of Blood and Marrow Transplantation, H. Lee Moffitt Cancer Center and Research Institute, Tampa, FL
4Multiple Myeloma Program, Tisch Cancer Institute, Mount Sinai School of Medicine, New York, NY
5Malignant Hematology, Moffitt Cancer Center, Tampa, FL
6Department of Malignant Hematology, H. Lee Moffitt Cancer Center & Research Institute, Tampa, FL
7Biostatistics & Biomedical Informatics, H. Lee Moffitt Cancer Center & Research Institute, Tampa, FL 
Background: Pomalidomide-dexamethasone results in an overall response rate of 33% and median PFS of 4.2 months in patients with prior lenalidomide and bortezomib (Richardson et al. Blood 2014). In this randomized phase II trial, we compared pomalidomide-dexamethasone (arm B) versus the addition of oral weekly cyclophosphamide to pomalidomide-dexamethasone (arm C) in patients with lenalidomide-refractory multiple myeloma (MM). We have previously reported that the recommended phase II dose of cyclophosphamide with standard-dose pomalidomide + dexamethasone was 400 mg PO D1, 8, 15.
Patients and Methods: Eligible patients had relapsed and refractory MM after at least 2 prior therapies and were lenalidomide refractory. Patients had a platelet count ≥ 50,000/mm3 and ANC ≥ 1,000/mm3 (patients with ≥50% bone marrow plasmacytosis were allowed if platelet count was ≥ 30,000/mm3and ANC could be supported with GCSF during screening and therapy). Patients were randomized (1:1) to receive pomalidomide 4 mg PO D1-21 and dexamethasone 40 mg PO D1, 8, 15, 22 (20 mg if older than 75 years) (arm B) with or without oral cyclophosphamide 400 mg PO D1, 8, 15 of a 28-day cycle (arm C). Patients randomized to arm B were allowed to cross over to arm C in the event of disease progression. Thromboprophylaxis was mandated with aspirin, warfarin, or LMWH. The primary endpoint was overall response rate using IMWG criteria. Secondary endpoints included an evaluation of PFS, OS and safety of the two arms.
Results: Between 7/2012 and 3/2014, 36 patients were randomized to arm B and 34 to arm C. Patients characteristics were not different between the 2 arms (table below). The median number of prior therapies was 4 (2-12). All patients were lenalidomide refractory and none received prior pomalidomide. After a median follow up of 15 months, the overall response rate (partial response or better) was 39% and 65% (p=0.03) for arm B and C, respectively. The clinical benefit rate (minimal response or better) was 64% and 79% (p=0.2) for arm B and C, respectively. The median PFS was 4.4 months (95% CI 2.3-5.9) for arm B and 9.2 months (95% CI 4.6-16) for arm C (log rank p=0.04). As of July 2014, 28 patients had died (16 arm B, 12 arm C) with median overall survival of 10.5 versus 16.4 months (p=0.08) for arm B and C, respectively. Hematologic grade 3/4 adverse events were more frequent in arm C, although this was not statistically significant (see table). Thirteen patients crossed over and oral weekly cyclophosphamide was added to their tolerated dose of pomalidomide dexamethasone. For those patients, the best response was as follows: 2 PR, 2 MR, and 6 SD, 3 PD.    
Conclusions: Pomalidomide-dexamethasone in combination with oral weekly cyclophosphamide resulted in a superior response rate and PFS compared to pomalidomide-dexamethasone alone in patients with relapsed and refractory MM. The increased hematologic toxicities, as a result of the addition of oral cyclophosphamide, were manageable.
---
ABOUT RACHID BAZ, MD
Dr. Rachid Baz is a board-certified Hematologist and Oncologist at the Moffitt Cancer Center, Cleveland Clinic. Currently, Dr. Baz is Myeloma Section Head in the Department of Malignant Hematology at the Moffitt Cancer Center. In addition, he is the Director of Clinical Research in the Malignant Hematology Department. Among other awards, he was the recipient of the Junior Clinical Science Award at Moffitt, and the University of South Florida Outstanding Resident Teaching Award. Visit Dr. Rachid Baz's full biography.
ASH 2018 Satellite Symposium
Next Post
Dr. Benedetto Bruno: on post-transplant minimal residual disease monitoring in myeloma (ASH 2014)