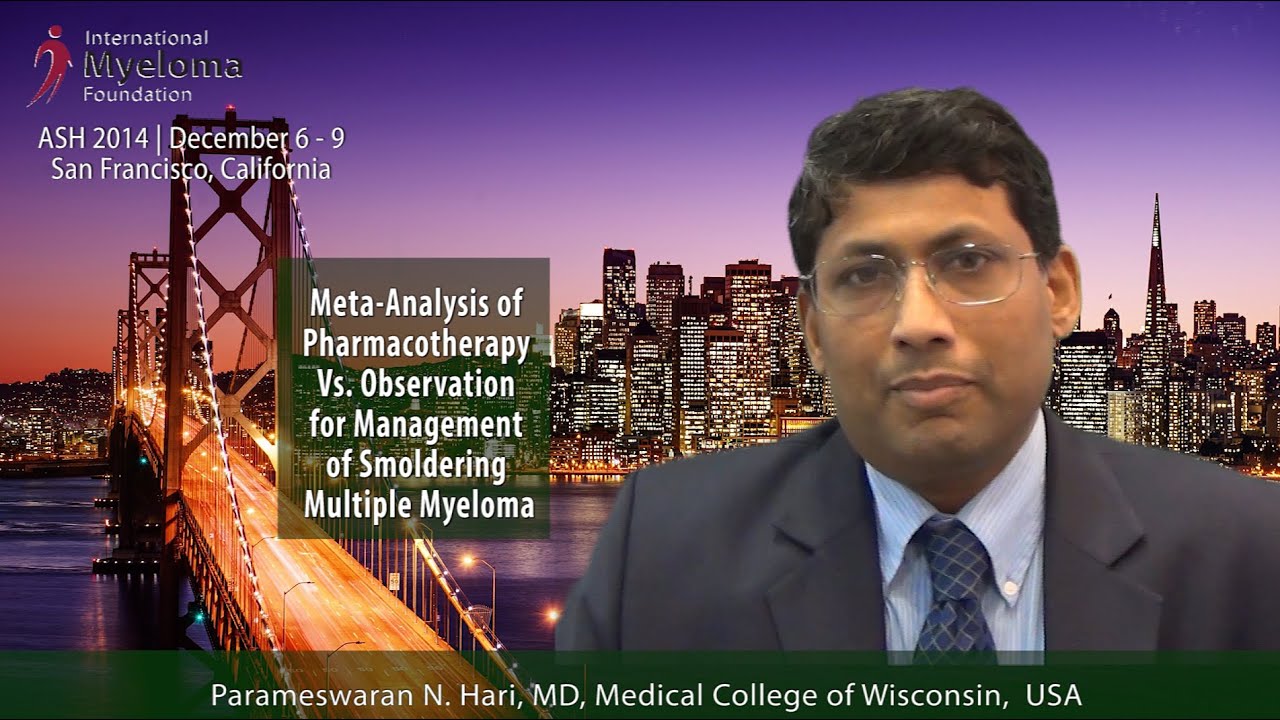 Dr. Parameswaran Hari on pharmacotherapy vs. observation for smoldering multiple myeloma (ASH 2014)
Post date
October 15, 2015
Dr. Parameswaran N. Hari (Medical College of Wisconsin, Milwaukee) discusses a meta-analysis of pharmacotherapy vs. observation for patients with smoldering multiple myeloma. The results from this meta-analysis were presented at the 56th American Society of Hematology (ASH) Annual Meeting. ASH 2014 abstract 4471.
Program: Oral and Poster Abstracts
Session: 653. Myeloma: Therapy, excluding Transplantation: Poster III
Jayanthi Vijayakumar, MBBS1*, Jeffrey Jackson, MD, MPH2*, Kwang W Ahn, PhD3*and Parameswaran N. Hari, MD, MRCP, MS4
1University At Buffalo, Buffalo, NY
2Medical College of Wisconsin, Milwaukee, WI
3Biostatistics, Medical College of Wisconson- CIBMTR, Milwaukee, WI, Milwaukee, WI
4Center for International Blood and Marrow Transplant Research, Medical College of Wisconsin, Milwaukee, WI

Introduction:
Asymptomatic or smoldering multiple myeloma (SMM) is usually 10-15% of all patients with multiple myeloma. Currently, national guidelines do not recommend early treatment of SMM though the majority of patients progress to active disease over time. Multiple trials have been conducted to evaluate implications of early therapy for SMM. Some of these trials, most notably, Mateos et al. (N Engl J Med 2013; 369:438-447) have shown benefit for treating SMM. However, there is lack of consensus as to whether early treatment of SMM prior to symptomatic disease progression is superior to observation alone. Hence we conducted a meta- analysis to determine if observation or treatment is superior in the management of SMM.
Methods:
We searched MEDLINE, the Cochrane database and hand-search of articles to identify 12 clinical trials which allocated SMM patients to treatment. Study quality was assessed using the Cochrane risk of Bias tool. Our main outcomes were progression free survival (PFS) and overall survival (OS). Sub-analysis examined the difference in treatment with antineoplastic agent (C), bisphosphonates (B), or their combination (CB). Data were pooled using a random effects meta-analysis using STATA (College Station Texas, V13.2).
Results:
Among the 12 trials, 4 trials were excluded due lack of survival curves for OS, PFS, TTP. Characteristics of the 8 included clinical trials are given in Table 1. Participants treated for early SMM had reduced mortality (HR: 0.64, 95% CI 0.4-1.0) and better PFS (HR=0.83, 95% CI, 0.64-1.07) compared to the observation group. In subgroup analysis, patients treated with either antineoplastic agents or the combination of antineoplastic agents and bisphosphonate had a better OS and PFS, whereas therapy with only bisphosphonate did not impact OS or PFS (Figures 1, 2).
Conclusion:
We conclude that antineoplastic treatment or a combination of antineoplastic agents and bisphosphonates is better than observation in improving overall survival in SMM patients. A similar trend is seen with PFS. This conclusion merits caution given the limited data available and the differences in the agents used for therapy.
---
ABOUT PARAMESWARAN HARI, MD
Parameswaran Hari, MD, MRCP, MS, is the Armand J. Quick/William F. Stapp Professor of Hematology at the Medical College of Wisconsin. He serves as Chief in the Division of Hematology and Oncology in the Department of Medicine. His main areas of focus include allogeneic hematopoietic stem cell transplantation, plasma cell disorders, multiple myeloma, amyloidosis, and other monoclonal gammopathies. Visit Dr. Parmeswaran Hari's full biography.
Previous Post
Dr. Emma Scott: Hydroxychloroquine, Cyclophosphamide, Plus Dex, Rapamycin in myeloma (ASH 2014)
Next Post
Dr. Andrew Spencer on the myeloma LEOPARD Study: Maintenance Lenalidomide, Prednisolone (ASH 2014)