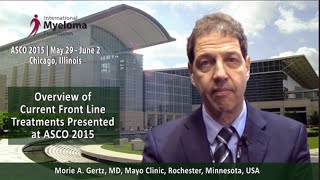 Dr. Morie Gertz Overview on Frontline Therapies presented at ASCO 2015
The IMF brings you highlights from the 50th annual meeting of the American Society of Clinical Oncology (ASCO) held May 29-June 2, 2015 in Chicago, Illinois. The ASCO Annual Meeting brings together more than 25,000 oncology professionals from a broad range of specialties. 
---
ABOUT MORIE GERTZ, MD
Dr. Morie Gertz is a Hematologist/Oncologist and Chair of General Internal Medicine at the Mayo Clinic in Rochester, Minnesota. He treats both amyloidosis and multiple myeloma. View Dr. Morie Gertz's full biography here.
Next Post
Myeloma Updates 2015: Post ASCO/EHA/IMWG